'Girl Meets Farm': Molly Yeh's Comforting Chicken Alfredo Lasagna Is 'Creamy, Rich and Super Indulgent'
Food Network star Molly Yeh loves all types of casseroles. Since moving to the border of North Dakota and Minnesota with Nick Hagen in 2015, she has embraced one-pan dishes as a way to present a complete meal without too much fuss. The Girl Meets Farm star has put her own twist on these decadent oven-friendly meals over the years. However, her comforting and traditional meal creation, Chicken Alfredo Lasagna, is "creamy, rich, and super indulgent" with the addition of chicken and alfredo sauce.
Molly Yeh made Chicken Alfredo Lasagna to celebrate husband Nick during a special episode of 'Girl Meets Farm'
Yeh whipped up this ultra-rich pasta dish as a way to celebrate her husband, Nick, on Father's Day.
Hagen is the father of the couple's two daughters Bernie and Ira.
Yeh paired Chicken Alfredo Lasagna with a Toasted Ravioli salad served with a Creamy Marinara Ranch.
She satisfied their sweet tooth with a dessert of chocolate-dipped Strawberry Krumkaka Cannoli. This dessert is a mashup of the crispy Norwegian rolled cookie, krumkake (typically unfilled), and Italian cannoli, which is bursting with a creamy and flavorful ricotta filling.
How to make Molly Yeh's Chicken Alfredo Lasagna
The method for making Yeh's Chicken Alfredo Lasagna is almost identical to creating a traditional Italian lasagna dish filled with tomato sauce, ground beef, ricotta, and mozzarella cheese.
The addition of a different protein and rich Alfredo sauce adds an exciting twist to the dish.
Italian seasoning is used to flavor the raw chicken. Yeh adds salt, pepper, and olive oil as well. Sear the chicken on either side until browned and cooked through. Remove from pan.
For the Alfredo Sauce, add butter to the same pan the chicken was cooked in. Then add garlic followed by flour to make a roux. Whisk flour until smooth, then add milk and heavy cream until a sauce consistency is achieved. Add nutmeg and pepper, followed by Parmesan cheese.
The dish is then layered to create a finished casserole.
Begin with several ladles of Alfredo Sauce on the bottom of a casserole dish so the noodles do not stick. Follow this with a layer of noodles, topped with chicken and mozzarella cheese.
Repeat the process again until the top layer of the finished dish ends with noodles. Top the noodles with the remaining Alfredo sauce and mozzarella cheese.
Bake until the noodles are tender and the sauce is bubbling and browned. Let rest for 10 minutes for the casserole to set, cut into squares, and serve.
You can make the recipe even easier with one quick step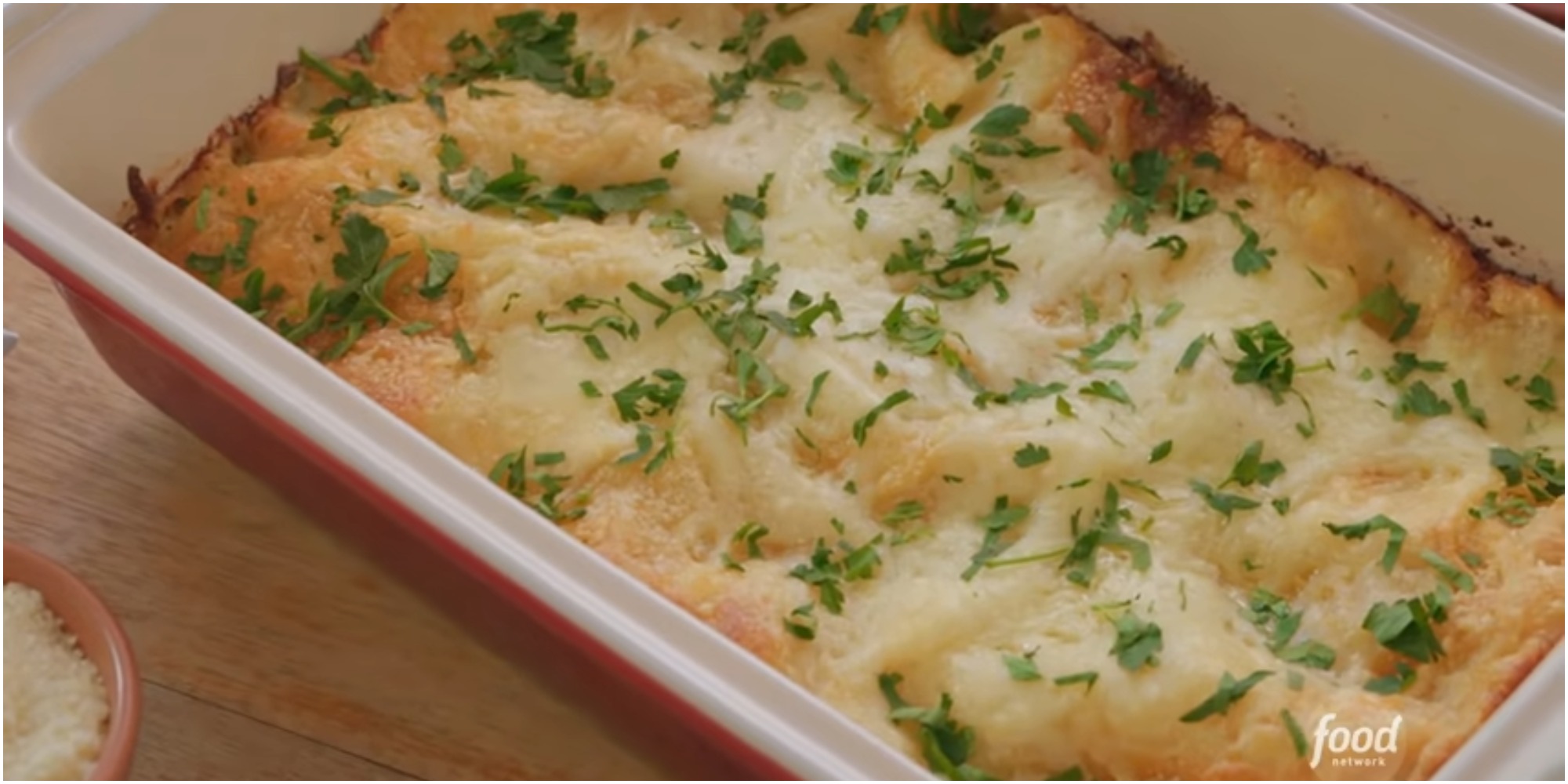 To make the process of making this recipe even easier, instead of roasting your own chicken, you can purchase a rotisserie chicken from the grocery store.
Just remove the chicken from the bones and take off the skin. Then, take the chicken and cut it into smaller pieces before adding it to the recipe. Overall, three cups of meat are needed to complete the recipe.
If you choose not to make your own Alfredo sauce, supermarket jarred sauce is also another tasty option. Just find the one variety your family enjoys and use that to make the process even easier overall.
Molly Yeh's recipe for Chicken Alfredo Lasagna can be found on the Food Network website.
Girl Meets Farm airs Sundays at 11 a.m. EST on The Food Network.
RELATED: 'Girl Meets Farm': Molly Yeh's Sausage and Broccolini Pizza Pockets are Bundles of Handheld Happiness