'Girlfriends': Why Jill Marie Jones Didn't Tell Her Co-Stars She Quit the Show
Fans weren't the only ones surprised by Jill Marie Jones, who played Toni Garrett, quitting Girlfriends. She didn't tell her co-stars she planned to leave either. Jones revealed the reason why and how she would do things differently if she left the show today.
Jill Marie Jones quit 'Girlfriends' after season 6
Fans fell in love with Joan Clayton (Tracee Ellis Ross), Maya Denise Wilkes (Golden Brooks), Lynn Ann Searcy (Persia White), and Toni's friendship. So it was a big adjustment when Jones decided to quit the show.
"First of all, let me tell you why I left. I left because I wanted to do movies," she told The Grape Juice. "My contract was up after my sixth season and people forget that just like the network can choose whether or not to renew your contract, I can also choose and evaluate whether or not I want to come back."
There was a rumor she left because of money but the actor claimed this isn't true. "I've never made a decision based on money," Jones said. "I was on the show for six years and I think that's a good run. There's so much more I want to do in my career and so much more I want to know and learn, but my departure definitely had nothing to do with money."
The show continued until it was canceled after eight seasons. Fans still hoped to see their beloved characters again.
There was a 'Girlfriends' reunion on 'Black-ish'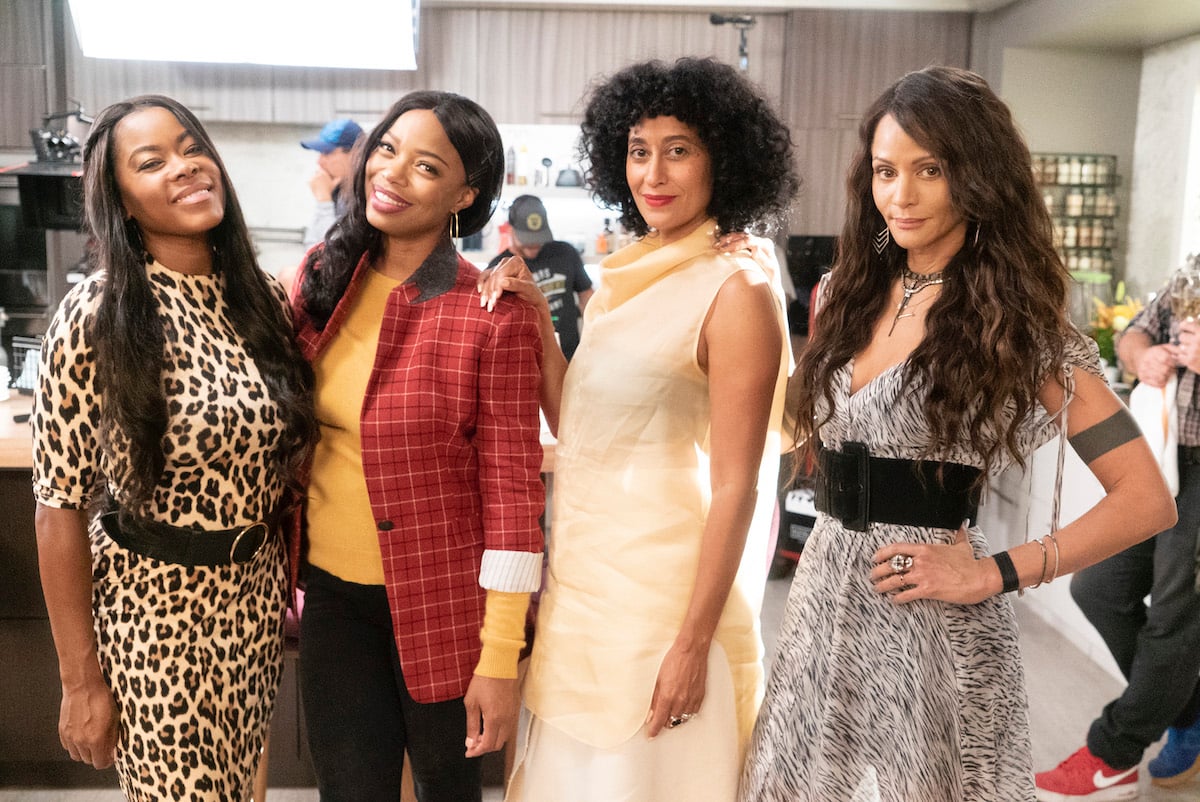 Fans have been waiting for years for the stars of the show to somehow reunite. It finally happened in 2019 on Black-ish.
The title of the episode was "Feminisn't" and Bow (Ross) brings Diane (Marsai Martin) to her feminist group. Bow realizes her group needs to be more inclusive so she invites her three friends played by Jones, White, and Brooks.
The episode is proof the actors are still willing to come together years after Girlfriends ended. But Jones' exit didn't exactly happen with all of them being on the same page.
She didn't know to tell her co-stars
Jones' exit from Girlfriends came as a shock to her co-stars. She didn't tell them and explained why to Jammin' 105.7.
"I didn't," she admitted in the interview. "By the way, I'm green," she said. "I'm new. I didn't know that you have to make an announcement."
She added, "But if I could go back I would do things differently for sure. I sent them flowers on their first day back."
Jones revealed Girlfriends was the third audition she'd ever done so she was new to the industry. She has continued acting in television shows since then and was more recently on the drama, Monogamy playing Maggie.