'Girlfriends': Will the Show Be Revived?
Classic sitcoms from the '90s and 2000s are having a moment. A new generation of fans is being introduced to these shows, thanks to their additions to streaming services and reboots of classics like Boy Meets World, Full House, Roseanne, Will and Grace, Gilmore Girls, and, most recently, The Babysitters Club. One show that fans are eager to revive is Girlfriends, which went off the air in 2008. Recent reunions and comments from cast members are giving fans new hope that a revival might be a possibility.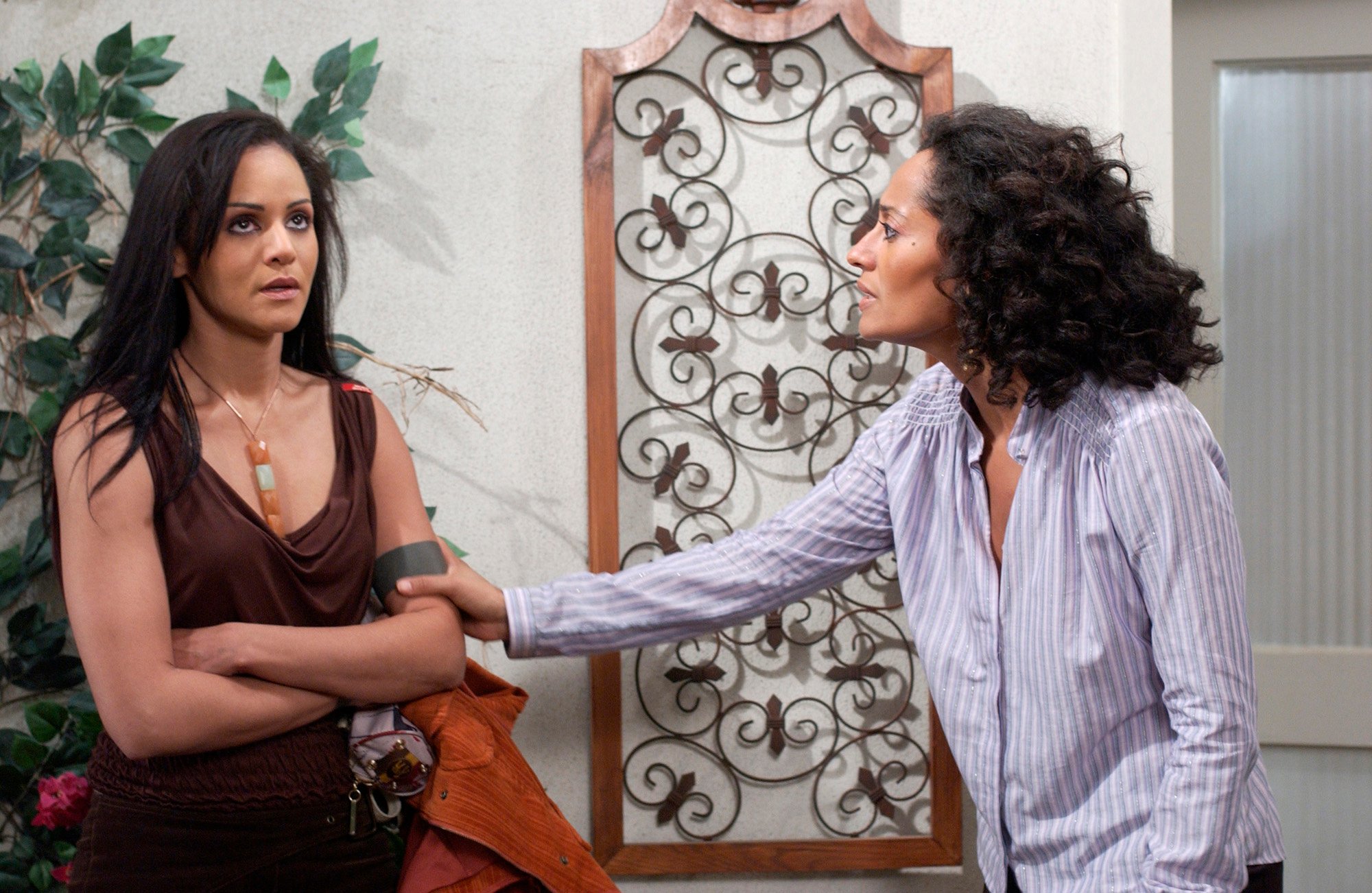 What was 'Girlfriends' about?
Girlfriends, created by Mara Brock Akil, debuted on UPN on September 11, 2000. It later ran on UPN's successor, The CW, until its cancellation in 2008. The show centered on four friends, Joan (Tracee Ellis Ross), Maya (Golden Brooks), Lynn (Persia White), and Toni (Jill Marie Jones) as they navigated life, love, and work in Los Angeles. The show was one of the highest-rated scripted shows among Black adults ages 18–34, and one of the most influential Black comedies of all time, notable for starring an all-Black, mostly female cast. Girlfriends also inspired a spinoff, The Game, which starred Tia Mowry and ran for nine seasons.
On July 29, Netflix announced that Girlfriends is among the classic black TV shows slated to be added to the streaming service in the upcoming months. Sister, Sister, Moesha, The Game, The Parkers, Half & Half, and One on One will all also be added, through October.
RELATED: Before Black-ish: How Did Tracee Ellis Ross Get Her Big Break?
Related post url: 
Has the cast ever reunited?
More than 10 years after Girlfriends went off the air, fans got the reunion they'd always wanted, but on a different show entirely. In 2019, the cast got back together in an episode of Black-ish, titled "Feminisn't." In the episode, Bow (Ross) is shocked to find out that her daughter Diane and mother-in-law Ruby don't believe in feminism. She brings Diane to her feminist group but winds up calling her college friends (of course played by Brooks, White, and Jones) for "Black-up" and an honest discussion about the importance of Black feminism.
Ross spoke with Entertainment Weekly about the reunion, saying, "Being able to merge the worlds of Black-ish and Girlfriends was surreal for me — and so much fun. These are women I grew up with and love deeply and it was easy to tap back into the magic of our chemistry and how much we love each other. It was giggles on top of giggles on top of giggles."
Seeing the cast back together left fans wanting more, and many wondered about the possibility of a reboot or even a Girlfriends movie.
Is there a chance for a reboot?
Girlfriends was abruptly canceled in 2008, leaving the storyline unfinished. Luckily for fans, cast members and show runners have been outspoken about their desire to bring back the show in some way.
In a September 2019 appearance on the talk show The Real, Ross was asked about a reboot and said, "Let me just be clear. There's always been a chance. There's always been a desire for that. None of us said that we didn't want to do that. We've all wanted to do that. And so maybe this moment on Black-ish, seeing us all together, the love will formulate itself and translate and bring it to fruition."
Brooks understands why fans are so adamant about bringing back the show, telling ABC News Radio, "I think people still are fighting for this movie, or a reboot of the show, because they're still really honestly … thirsting for this," she says. "I think Black women especially. And I know Girlfriends transcended just Black women, but … they still need it. I still think that there's so many more stories to be told."
As far as the possibility of bringing the show to the big screen, executive producer Kelsey Grammar exclusively told Black Film, "A Girlfriends movie would be fun, but you would have to get Mara (Brock Akil) to write it and I'm not sure she's available right now."
Only time will tell if Girlfriends will get the green light on a reboot, like so many other classic sitcoms currently riding the wave of nostalgia. For now, fans can look forward to binge-watching the show when it drops on Netflix on September 11.