Gisele Bündchen Considered Leaving Tom Brady After Learning He and Bridget Moynahan Were Expecting a Baby Together
Think of power couples and chances are Gisele Bündchen and Tom Brady's names come to mind. The Brazilian-born supermodel has reached a level of fame where she's among those celebrities often called by only their first names. As for Brady, he's won the Super Bowl multiple times as is considered by many to be the best quarterback the NFL has ever seen.
Together, they have a net worth of more than $700 million. While they've been married for more than a decade, Bündchen and Brady's relationship almost came to an end before it really ever started. Ahead, find out more about the football player's first child with his ex-girlfriend, actress Bridget Moynahan, and how Bündchen reacted to the idea of one day becoming a stepmom. 
How Gisele Bündchen and Tom Brady met
RELATED: Tom Brady Opens Up About His 'Challenging' Marriage to Gisele Bündchen
When they went on their first date, both Brady and Bündchen had been coming off of long-term relationships. Bündchen had dated Oscar-winning actor Leonardo DiCaprio for five years before they split in 2005. And Brady had previously been involved with Blue Bloods actress Moynahan. 
Bündchen and Brady met in late 2006 after being set up by a friend. The model described their first date as love at first sight, later telling Vanity Fair, "I knew right way–the first time I saw him." She continued, saying she remembered his "beautiful, charismatic smile" and how they talked for three hours.
Not 3 months later, Bridget Moynahan shared pregnancy news
Not long after their romance had started to blossom, the athlete and model got some unexpected news. Moynahan had been pregnant with Brady's child and she was three months along. As Bündchen later described, it burst the romantic bubble she and Brady were in.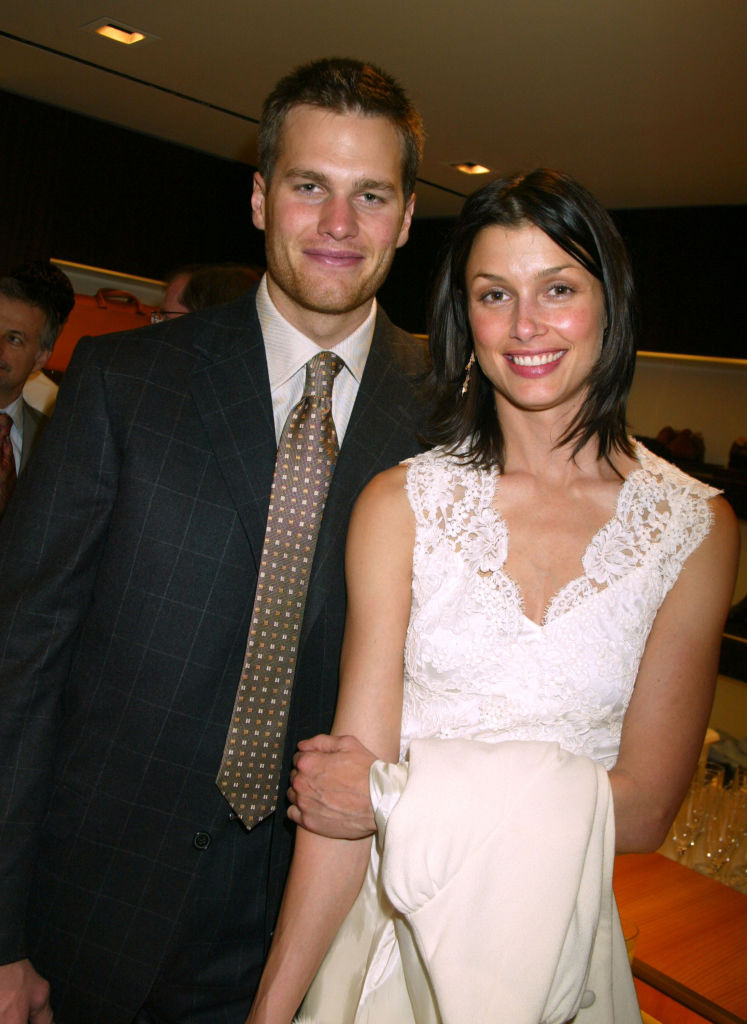 RELATED: Tom Brady and Gisele Bündchen Once Sought Marriage Counseling to Save Their Relationship
"In the beginning you're living this romantic fantasy; you're thinking, this can't be true, it's so good," she said. "And then, whoops — wake-up call! We were dating two and a half months when he found out, and it was a very challenging situation. Obviously, in the beginning, it's not the ideal thing."
She continued, "You question at times–'Should I stay here? Maybe you should work this out.'"
Gisele Bündchen 'didn't know what to do'
While Moynahan's due date crept closer, the model had to determine what path she'd take; would she stay with Brady or end their relationship? Gisele Bündchen once questioned whether she should 'run away' from Tom Brady
In a separate 2015 interview with CBS This Morning Bündchen discussed the experience again. She reiterated that at the time she'd been conflicted about the situation. The now-39-year-old said she agonized over her decision and shared that at one point she thought about calling it quits with Brady.
RELATED: Inside Tom Brady's Mixed Family, Including the 1 Kid Who Brady Says 'Owns My Life'
"I didn't know what to do. It was kind of one of those moments of like, 'Do I just run away?'" Bündchen said. "I think it was very challenging for everyone involved."
Ultimately, Bündchen continued her relationship with Brady. The two went on to marry in 2009 after Moynahan and Brady welcomed their son, John Moynahan, in 2007. Today, Bündchen and Brady share two children together; Benjamin and Vivian Brady. Meanwhile, Bündchen refers to John as her "bonus child."