How the 'Glass Onion: A Knives Out Mystery' Cast Tortured Leslie Odom Jr.
Glass Onion: A Knives Out Mystery premiered in September 2022. While it's meant to be a sequel to the original Knives Out film, this Netflix movie definitely has its own character, as well as an all-star cast.
Said cast includes the iconic Leslie Odom Jr., well-known for portraying Aaron Burr in the Broadway classic Hamilton. It seems Odom Jr.'s castmates will never let him forget that role. 
The 'Glass Onion' cast has stayed close
The cast of Glass Onion: A Knives Out Mystery is a notable one. Edward Norton, Kate Hudson, Kathryn Hahn, Madelyn Cline, Janelle Monae, and Leslie Odom Jr. all shine in their roles. And their bond goes way beyond the big screen.
The group is friendly off-screen. In fact, they played games like Mafia together while filming. Apparently, their bonding also included a little light "torture" for Odom Jr. 
Making Leslie Odom Jr. watch 'Hamilton'
During an interview with Netflix, the cast lovingly recalled "forcing" Odom Jr. to watch Hamilton with them. "Remember when we made Leslie watch Hamilton with us?" asked Cline, as the rest of the cast burst out laughing and said, "Yeah."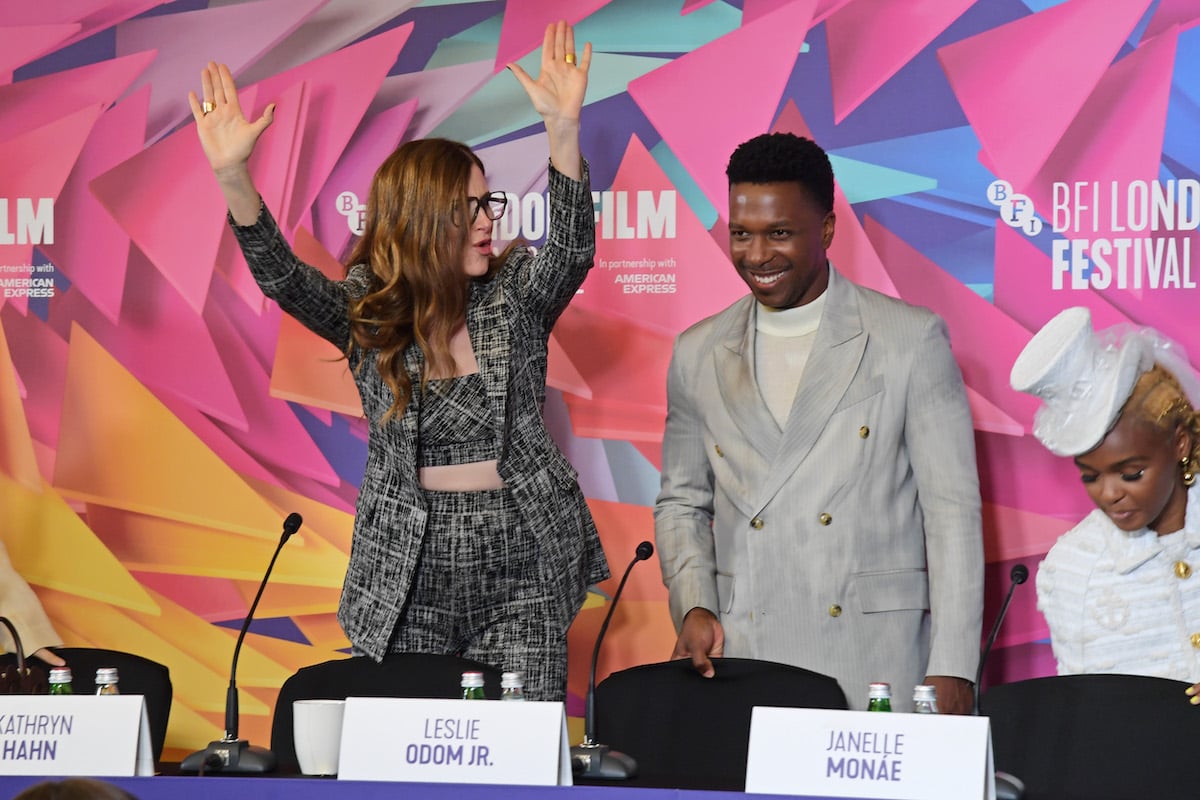 "He had finally gotten the songs out of his head," remarked Norton, as everyone laughed and Odom, Jr. shook his head. Cline added that he sang along quietly.
Of course, Odom Jr. looks back fondly on his time playing Aaron Burr in Hamilton. He loved the experience and was excited when the Broadway production was released as a film on Disney+. In fact, he said the only bittersweet part about its Disney+ release was that he had been looking forward to watching the film with the original cast. Unfortunately, since it was released in 2020 during the COVID-19 pandemic, that wasn't possible. 
Still, performing the play time and time again meant all the classic Hamilton tunes were constantly stuck in Odom Jr.'s head. It's easy to understand why watching it with his new castmates was a little torturous. It must have been a blast for the group to watch Hamilton with Odom Jr. and get behind-the-scenes commentary. 
What's next for the 'Glass Onion' cast?
Obviously, the Glass Onion cast is in good spirits. We can't help but wonder if a sequel to this sequel will be in the works. Hudson enjoyed a bit of a Hollywood comeback in 2022, after focusing on her successful activewear line and her children. Norton seems to only do a film every few years, so he may enjoy a little break for awhile. 
Odom, Jr. is set to star in a sequel to The Exorcist, which premiere some time this year. While filming was shut down briefly in December while Odom Jr. recovered from a health issue, it is now back in production and sure to be a big hit. Perhaps the cast of The Exorcist will force Odom, Jr. to watch Hamilton with them as well.