Glenn Close Once Cut Lena Dunham's Corset off 'Like a Friggin' Angel' and Gave Her the 'Best Advice'
Many people know Lena Dunham as the writer, producer, and star of the HBO series Girls. Now, Dunham is breaking into the fashion space with a plus-size clothing line. Plus, she's sharing details of the time Glenn Close cut her out of a corset.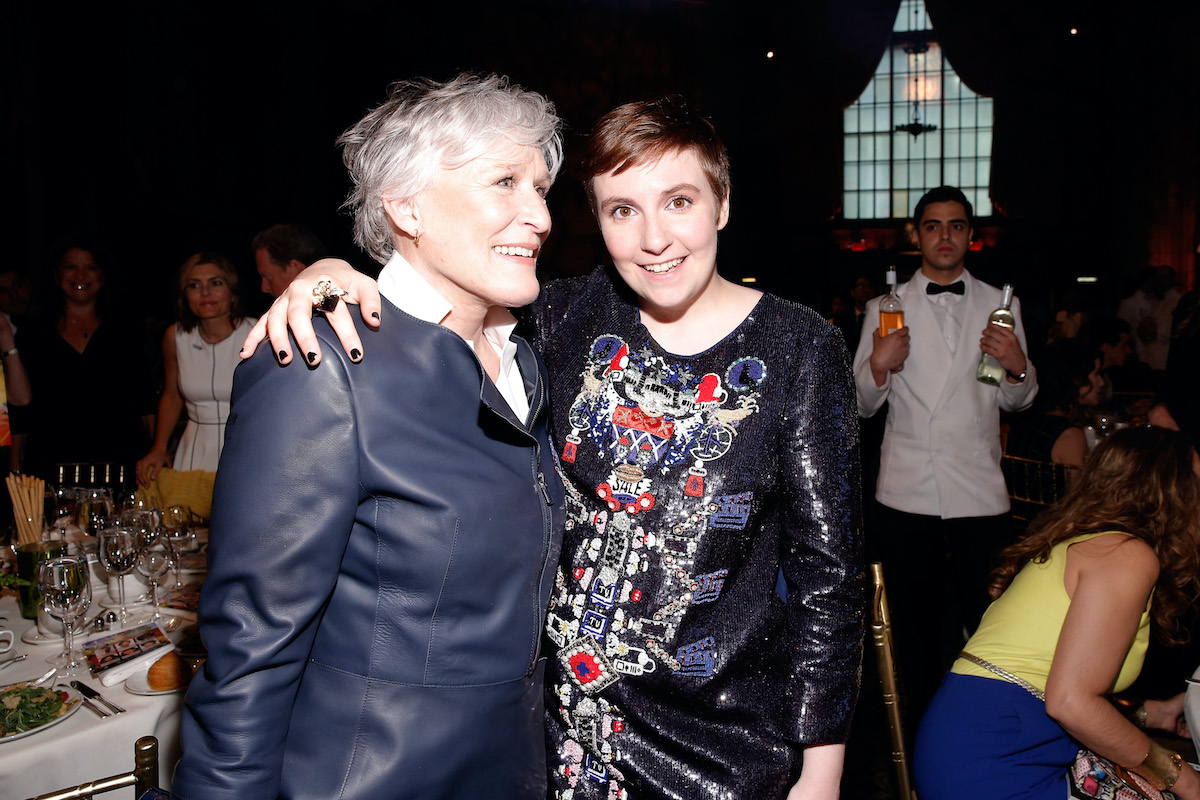 Lena Dunham is 'body tolerant,' not 'body positive' 
As a woman in the entertainment industry, Dunham often feels pressured to be a voice for other women. "It used to be [that] I thought my job was to be an important voice for women in Hollywood, an important voice for body positivity, an important voice for this [and that] in the world," she said on Refinery29 co-founder Christene Barberich's podcast UnStyled. 
Dunham doesn't take the "body positive" approach. Instead, she considers herself to be "body tolerant." 
"I've never called myself 'body positive' because my relationship with my curves and scars isn't overtly political — it's wildly personal," she wrote on Instagram in March 2020. "It isn't always positive. I take enormous comfort in the body positivity movement, but I think of myself as something more like 'body tolerant.'" 
Dunham said it could be hard "not to resent your body" having a chronic disease "or three." The Girls actor strives to remember no matter how much she "fights it," she is one with her body and they need to "stick together." 
Lena Dunham has a collaboration with 11 Honoré
According to the 11 Honoré website, the brand offers size-inclusive clothing that gives more women access to designer clothing while celebrating and honoring their bodies, beauty, and personal style. Dunham's collaboration with the brand was announced Apr. 5, 2021. 
The 11 Honoré x Lena Dunham collection champions high fashion for plus size women. The collection will feature five items of designer looks in sizes from 12 to 26. This is 11 Honoré's first celebrity collaboration.
"I've totally given up on the idea of being any type of impresario or person who had something to say to everyone," Dunham told the New York Times. 11 Honoré x Lena Dunham hasn't launched yet, but interested buyers can sign up for emails to receive information and exclusive offers. 
The 'Girls' star refuses to wear Spanx
"The thing that's been really interesting is how angry it makes people when you dress like yourself," Dunham explained to the New York Times. Most of the time, she gets negative feedback from women with body types similar to hers. "It's other women who have been igindoctrinated with the same message: 'We're all going to wear the Spanx.'"
Naturally, Dunham refuses to wear the popular shape wear. Most of the time, Dunham isn't even wearing a bra. That's likely because the one time Dunham wore a corset to an event, Hillbilly Elegy star and Hollywood powerhouse Close cut it off in the bathroom. 
Glenn Close cut Lena Dunham's corset off and gave her the 'best advice' 
"She had a little butterfly scissor like a friggin' angel," Dunham said of Close's heroic act. "She also gave me the best advice. I was crying in my heels, and she said, 'You get platform boots from a rave store, and you wear those.'" 
Dunham did just that. "So, thank you, Glenn Close," she concluded. Close's actions continue to inspire Dunham in her clothing choices. Her collaboration with 11 Honoré is an homage to not wearing a bra. None of the looks in the collection require undergarments.