'GMA's' Michael Strahan Talks About His Strained Relationship With Kelly Ripa
Michael Strahan of "Good Morning America" discusses his controversial departure from "Live!" and tension with Kelly Ripa.
Former pro football player Michael Strahan has become a fixture in broadcast television. Serving as co-host on ABC's Good Morning America , the network's afternoon show Strahan, Sara, and Keke, and football analyst of Fox NFL Sunday, Strahan is clearly thriving in his new career since retiring from the NFL.
Strahan's first high-profile gig headlining a show was with Kelly Ripa when he took over for Regis Philbin on the syndicated talk show Live! His sudden departure for GMA caused quite a public stir as well as an apparent rift between himself and Ripa.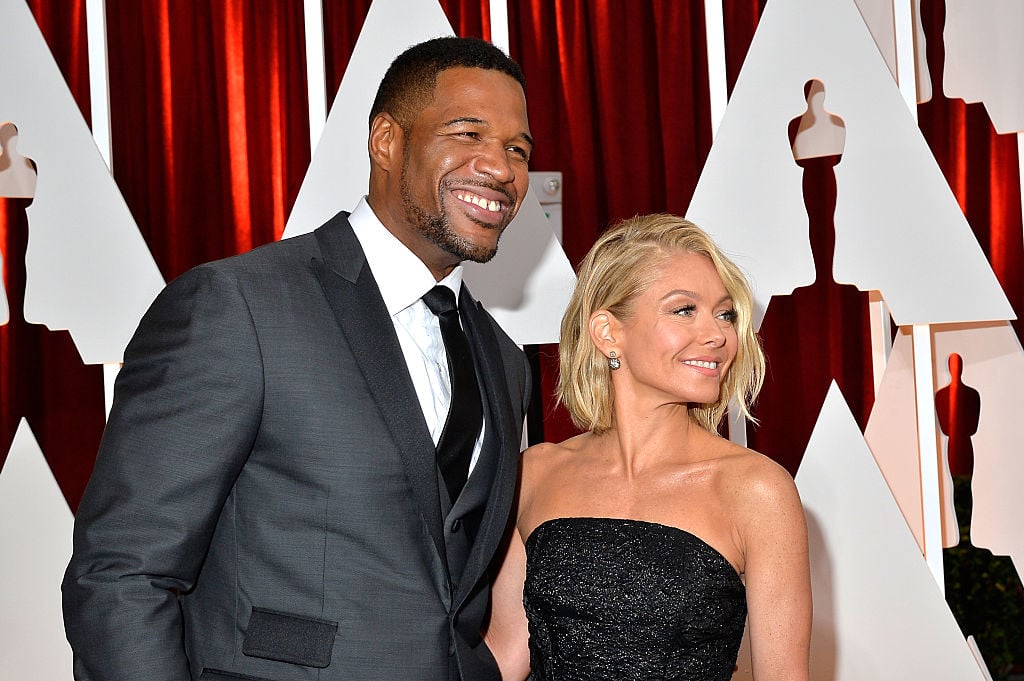 Taking over for Regis
According to Newsweek, Strahan started as subbing as a co-host for Live! With Regis and Kelly in 2010. When Philbin retired from the show in 2011, several candidates were paired with Ripa to see who would make the best pairing. In 2012, Strahan was hired and the show was rebranded as Live! With Kelly and Michael.
When it was suddenly announced in April 2016 that Strahan was leaving Live! to take a seat on Good Morning America, Ripa felt blindsided. After the news broke, Ripa didn't show up for work for the rest off the week. Upon her return, she addressed viewers and the live audience.
"I needed a couple of days to gather my thoughts. After 26 years with this company, I earned the right," ," she said of her absence. "In that time, I gained some perspective."
The former All My Children star also made a point of congratulating Strahan.  "I am thrilled for Michael. I am thrilled for you. This is a tremendous opportunity," Ripa said on camera. "I and we couldn't be prouder of you and everything we accomplished together."
Strahan's NYT interview
In a recent interview with The New York Times Magazine, Strahan was asked about the difference between playing football and working in television. The former NFL player's response may have contained an underlying message about his former role on the daytime talk show.
"In sports, you can put as many great players as you want on a team, but if one guy out there is worried about himself, it will not work," he said, adding, "Then on television, I've had jobs where I got there and felt like: Wow, I didn't know I was supposed to be a sidekick. I thought I was coming here to be a partner."
As for how Strahan's exit was orchestrated, he admits a different tack should have been taken yet wasn't thrilled with being perceived as abandoning the show. "It could have been handled better," he said. "I didn't wake up and say, 'I want a job at 'GMA.' I was asked to do it by the people who run the network… But it was treated as if I was the guy who walked in and said, 'I'm leaving.' That part was totally misconstrued, mishandled in every way."
Relationship with Ripa
Despite the well wishes Ripa gave Strahan on his last day in May 2016, their relationship was clearly strained at that point. "I learned through all that went down with that, you can't convince people to like you," Strahan told Time in January 2019, saying he hadn't had any recent communication with Ripa ."I haven't spoken to her in a long time."
Today, Strahan maintains he was his true self throughout the entire process. "I remained the same person I was from Day 1. One thing I will not do is alter my attitude for somebody else's," he said, then went on to praise his former colleagues. "I learned so much from Kelly, so much from [Live! Executive Producer] Michael Gelman. When it was time to go, it was time to go. Certain things that were going on behind the scenes just caught up."
The Strahan, Sara and Keke co-host revealed he attempted to keep the lines of communication open with Ripa, but over time was unsuccessful. "One thing I tried to do is have a meeting every few weeks with her," he said of Ripa. "We met a few times, and that was fine. But then eventually she said she didn't need to meet. Can't force somebody to do something they don't want to do."
In the NYT Magazine interview, Strahan was selective of his praise for his former colleague and gave a shout out to Philbin, who originally launched the show in 1985.
"If you look at the show, it really hasn't changed since Regis started the damn thing. He created this formula. It's kind of a plug-and-play," Strahan explained. "You learn how to craft a story. Those are things that I learned from her. She's brilliant in that way. If people think, Oh, he hates her — I don't hate her. I do respect her for what she can do at her job. I cannot say enough about how good she is at her job."
Though they are no longer an on-air team, both Ripa and Strahan have firmly made their mark in daytime television.