'God Friended Me': Arthur and Trish's Wedding Could Mean Facing the Decision to Sacrifice for This Character
One couple is getting closer while another is tearing apart on God Friended Me. That's because Arthur (Joe Morton) and Trish (Erica Gimpel) are getting married. However, Miles (Brandon Micheal Hall) and Cara (Violett Beane)'s relationship is over. Find out what the actors have to say about the upcoming wedding episode and what it means for their characters.
Miles and Cara broke up on 'God Friended Me'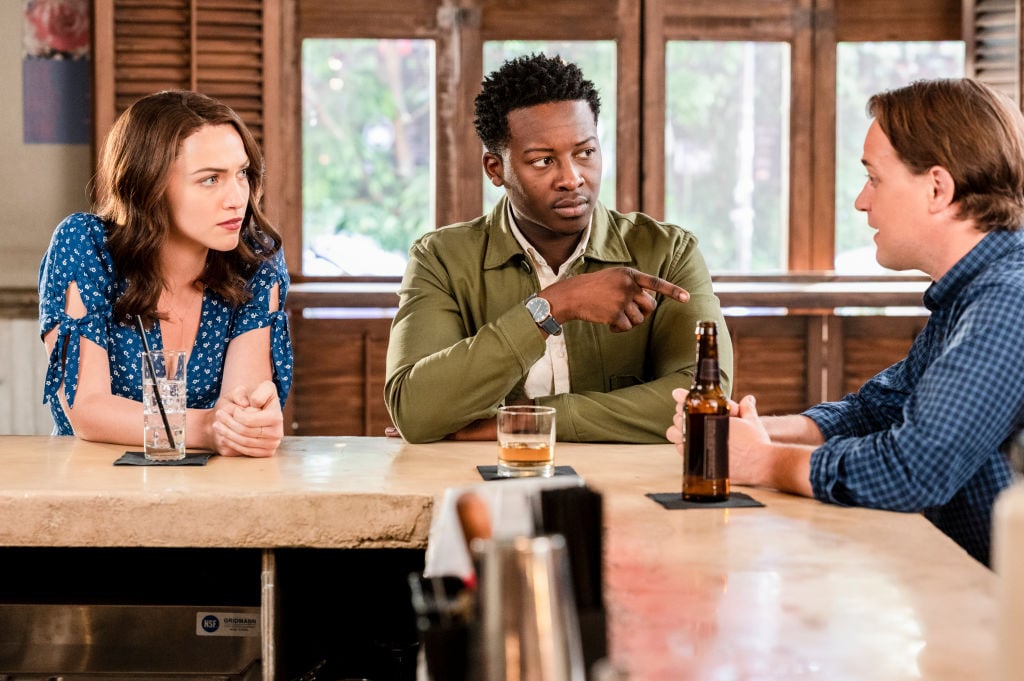 The couple's relationship is sadly over. That's because things got too close for comfort with the God Account in the episode, "Prophet & Loss."
Cara's stepfather, Paul Levine (Tom Everett Scott) was suggested through the account. Cara and Miles later confronted Paul about it and he revealed that his company isn't doing as well as he led Susan (Rachel Bay Jones) to believe. He said the market's been struggling and his clients are losing money. Paul claimed he would figure things out. It turns out, he was resorting to insider trading.
The episode ended with law enforcement catching onto him. Paul was ready to run by leaving the country. Miles was still able to stop him and he went with the police.
Cara questioned her relationship with Miles because she still saw his push for Paul to turn himself in as breaking up her family. "You chose the God Account over me and that's the choice we're both going to have to live with," she told him.
Cara also decided to step away from the God Account
The two are no longer dating or working together. Cara made this decision in "High Anxiety." Miles claimed that the God Account was just trying to help her family, but she had a different theory.
"If that were true then it would have sent us his name six months ago before he even got involved with Jonathan Carter," She told him. "But it didn't because this was never about helping my family. Whoever's behind this didn't care what happened to them." She then said, "I need to step away from the God Account."
Miles accepted this then asked what about their relationship. Cara said she didn't know. In the end, she officially broke up with him when he offered to give up the God Account.
The wedding could make Miles face his big decision
Hall talked about what the upcoming wedding could mean for his character. His father's relationship will make him reflect on his own life.
"Miles is getting to see the type of life that he could possibly have to give up," he told Entertainment Weekly. This means Miles' relationship with Cara. "It's an on-going struggle and battle for him."
Arthur is going down a different direction from his son. "Interestingly enough, I think as much as Miles is becoming more faithful to the God Account, they're portraying Arthur as a lot more human with making choices between his job and his life with Trish — in terms of how ambitious is he in terms of wanting to be Bishop as opposed to what his responsibilities are at home," said Morton. "So it's a kind of an interesting balance between what Miles is going through and what Arthur is going through."
Fans will have to wait and see what conclusions Miles will come to watching his father make a big step. Will this mean Miles might never have a wedding day of his own?