'The Golden Girls': Why Did Betty White Say the Girls Could Get Away With Murder?
Classic TV fans know The Golden Girls was a bit ahead of its time in terms of subject matter and humor. But it perfectly encapsulates the feeling of the late '80s and '90s. But what was it about the show prompted Betty White to claim the girls "could get away with murder" on television?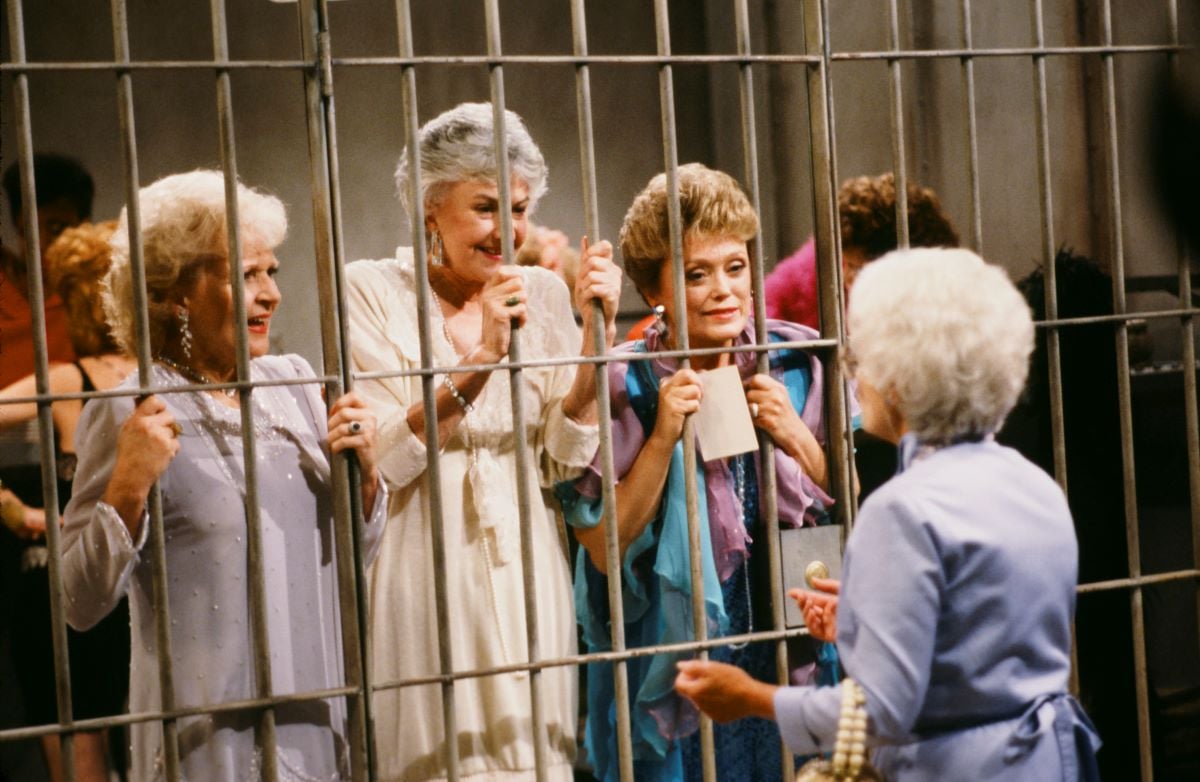 Betty White 'could feel the chemistry' with co-stars from first table read
So much of what is great about The Golden Girls is in the writing, according to White — who played the lovably gullible Rose Nylund.
"The four of us get a lot of credit, but we couldn't do it if it weren't for the amazing scripts," she admitted in an essay shared in Golden Girls Forever: An Unauthorized Look Behind the Lanai. She went on, "I promise you, as an actor you can screw up a good show, but you can't save a bad one if it's not on the page."
But White noted that the cast dynamic was also crucial, and the four stars knew right away they were making something special. "I've never had a read-through like that," she shared. "All of a sudden, I'd start throwing them over the net, and I'd get them right back."
The energy was apparently palpable to everyone involved. White said, "We all had the same reaction. We could feel the chemistry. We could taste it."
And it seems like fans could feel and taste their chemistry, too, despite the supposed tension between White and co-star Bea Arthur. So, what prompted White to say the girls could have gotten away with murder?  
Getting away with 'murder'
According to White, The Golden Girls pulled off a lot of raunchy humor strictly because of their age. As she explained, "We could get away with murder and talk about so many things. At our age, everybody knew we'd been around the block, and so the talk wasn't as salacious as it would have been with younger women."  
As she sees it, audiences weren't ready to see a younger person engage in such risqué behavior as Blanche Deveraux showing the crew at The Rusty Anchor how she could tie a knot in a cherry stem with her tongue. But The Golden Girls got away with it. "And it was funnier because we were our ages," White added.
As an example, she pointed out how Blanche wasn't the only character writers suggested enjoyed sex. She shared, "Rue would always remark how evidently Rose and Charlie had had a very active sex life. Off camera, that was always Rue's thing. 'Come on, Rose gets more action than Blanche does!'"
Betty White on the privilege of being a 'Golden Girl'
In her essay in Golden Girls Forever, White went on to share how surprised all four stars were at the show's initial success.
"When the show premiered, we were at number one," she noted. "We felt, well, that's just curiosity, that first show. Four old broads are not going to continue to get that kind of ratings."
But they did just that. "Well, we stayed, and I don't think we were ever out of the top ten, which is such a privilege," White wrote.
And even 35 years after it premiered, it's still a fan-favorite for comfort-watching and late-night laughs. And White still knows a thing or two about getting away with a little playfully bad behavior at her age.