'Good Girls': Christina Hendricks Says the Cast Needed Massages After Filming Intense Scenes
As NBC prepares to say goodbye to the crime moms at Good Girls, many fans demand answers regarding the show. Amid its cancellation, reports have swirled about why the show is ending. According to sources, Christina Hendricks, who plays Beth, and Manny Montana, who plays Rio, affected the show's set. However, neither of them has addressed the rumors.
Although she declined our request for comment, Hendricks once admitted that the show became so "tense" that the cast needed extra care when the cameras stopped rolling.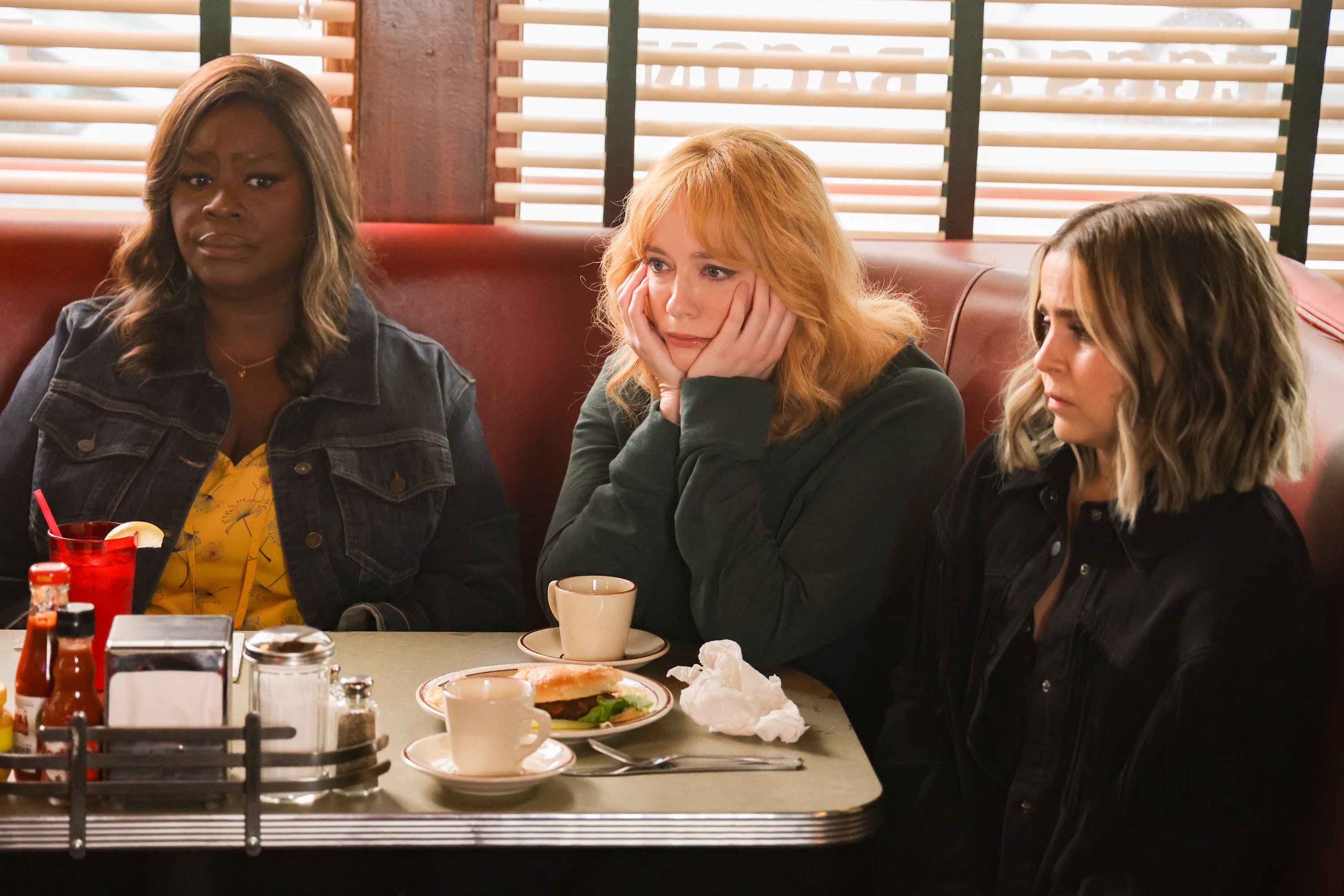 Christina Hendricks said the 'Good Girls' cast had 'tense muscles after filming
Good Girls follows Beth, Ruby (Retta), and Annie (Whitman) as three mothers desperate to make ends meet. Following their first robbery, though, they found themselves at the mercy of a local crime lord, Rio (Montana). The women also unintentionally involve their friends and co-workers in Rio's madness. During season 3, many fans witnessed him kill Beth's co-worker, Lucy (Charlyne Amanda Yi).
RELATED: 'Good Girls': Christina Hendricks Says Her Working Relationship With Manny Montana Is More 'Respectful' Than Beth and Rio's
In a 2018 interview with Variety, Hendricks said that the Good Girls cast strived to "take every scene" and "make it as real as possible." However, doing so meant that their bodies were uncomfortable after filming the "tense" scenes. 
"We were getting massages all of the time because we were like, 'Every one of my muscles is tense,'" Hendricks explained. "But no, I think we approach everything as trying to be as honest as possible."
The alleged tension between Christina Hendricks and Manny Montana
Although Hendricks stated that the show's scenes caused her and the cast to get massages, the alleged tension between her and Montana didn't help. According to TVLine, the cast members couldn't foster a friendly relationship. The outlet also stated that their "strained working relationship" and salary negotiations affected Montana's future on the show. 
RELATED: 'Good Girls': How the Cast Used Their Previous Jobs as Inspiration for the Show
Since the report, neither Hendricks nor Montana has confirmed the allegations. However, the Mad Men alum hinted in 2020 that she didn't like when her co-star referred to her by a different name. 
"Manny calls [me]… Chris," she said during a live Q&A session. "No one in my life calls me Chris. It's not my name. I think it's totally stupid. And he's never taken the chance to realize that I hate it. It's really weird."
Why was 'Good Girls' canceled?
Many Good Girls fans are standing behind Montana amid allegations that he caused the show's cancellation. Additionally, some viewers want to see Rio with a spinoff. Sadly, there are no plans for NBC to give Montana a show.
Although the alleged on-set drama made headlines, Good Girls ultimately ended due to ratings. Deadline reported that the series, which first aired in 2018, was one of NBC's "bubble" shows. After the network canceled it, Good Girls' execs shopped it around to streaming services like Netflix. However, its plans of finding another home are also over. 
For now, Good Girls fans can watch its final episodes on NBC. The series is also available on Netflix and Hulu.
RELATED: 'Good Girls': Why Manny Montana Says There Will Always Be 'Sexual Tension' Between Rio and Beth