'Good Girls': Why Christina Hendricks Says the Show 'Sparkles the Most' During Her Scenes With Mae Whitman and Retta
NBC's Good Girls is a comedy-drama centered around three women who have fallen on hard times. Once Beth (Christina Hendricks), Ruby (Retta), and Annie (Mae Whitman) decided to rob a grocery store together, their lives changed forever. Soon, the friends and suburban moms became part-time criminals lead by their money-laundering boss, Rio.
Although the characters face many challenges on the show, Hendricks said the scenes between the women are some of the show's best work.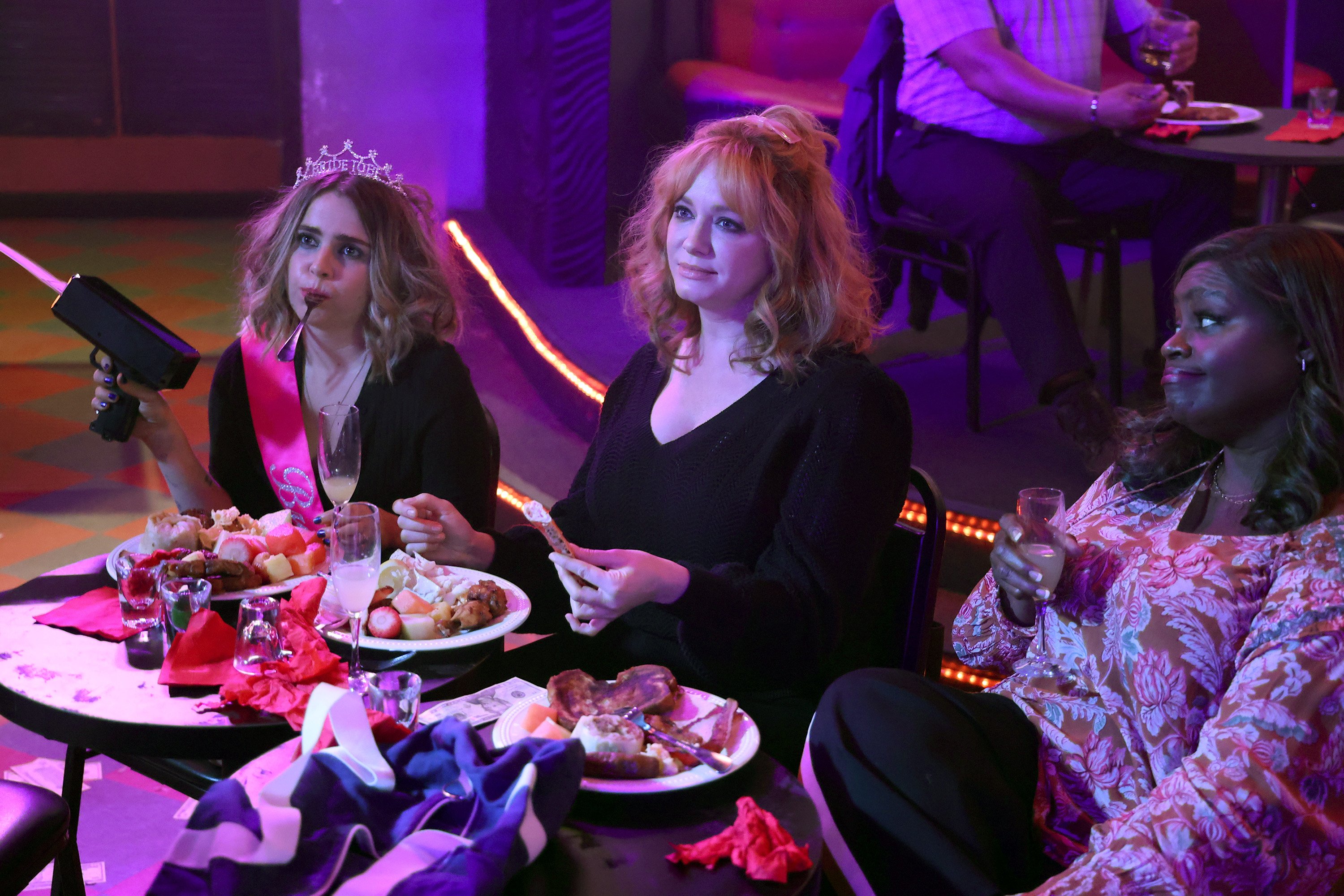 'Good Girls' star Christina Hendricks had mostly male co-stars before Mae Whitman and Retta
Hendricks' acting career began in the late 1990s. During that time, she appeared in ER and worked as a hand model. In 1999, Hendricks' hand was on the cover of the film American Beauty.
RELATED: 'Good Girls': Christina Hendricks Says Kissing Manny Montana is 'Easy': 'We Have Great Chemistry'
After landing supporting parts on long-running TV shows, the actor booked her first starring role as Joan Harris in Mad Men. On the show, Joan worked in a male-dominated advertising agency while tirelessly searching for a husband. In an interview with Awards Daily, Hendricks said that having Retta and Whitman by her side was a new experience for the actor. 
"I really loved the relationship with these women," she said.
"I loved that I was going to go to work with these two other women who were amazing," Hendricks continued, adding that she liked that "we'd be creating those bonds and creating female relationships because, for most of my career, I'd say I've been dealing with other males, so there were so many things I was excited about."
Christina Hendricks said her 'favorite moments' on 'Good Girls' are with Mae Whitman and Retta
RELATED: 'Good Girls': Mae Whitman Made 1 Big Purchase Once the Show Took Off: 'I Cried About It for Three Hours'
When Good Girls premiered in 2018, many fans saw that Beth, Ruby, and Annie had tumultuous personal lives. During the pilot, Beth found out that her husband, Dean (Matthew Lillard), cheated on her and spent almost all their money. In the same episode, Ruby and her husband Stan (Reno Wilson) can't afford their daughter Sarah's (Lidya Jewett) medication. Additionally, Annie struggled to provide for her son, Ben (Isaiah Stannard) and forces herself to compete with Ben's dad, Gregg (Zach Gilford). 
Although they have their dramas, the three women spend a significant amount of time together. Hendricks explained why the moments the ladies share on the screen stand out to her the most.
"I love it," Hendricks said of the scenes. "It's always a favorite for us. That's when the show sparkles the most. The three of us in a car or in a hotel. They have a history together. That's fun because they don't hold anything back. We know every moment, and you get to play that."
How Hendricks' co-stars help her through intense scenes
RELATED: 'Good Girls': During What Episode Do Beth and Rio Sleep Together?
Since its debut, Good Girls has blurred the lines between drama and comedy. Although several characters, including Annie and Rio, offer comic relief, the show consists of many intense moments. One of its most memorable scenes was when Rio killed Beth's co-worker when she discovered their scheme. The boss also threatened to murder the women and their families multiple times. 
Fortunately for the cast, many of the actors have comedic backgrounds. Hendricks shared with Awards Daily that the off-screen moments she shares with Retta and Whitman make the complex scenes easier to manage.
"There's this superhigh tension during the scenes, and Thank God that Mae and Retta are so hilarious that the three of us laugh so much when we're not on camera," she said. "We blow off steam and laugh. We have each other's backs, and we adore each other, and it makes the day fly by."