'Good Girls' Dropped a Subtle 'Weekend at Bernie's' Reunion You May Have Missed
Season 4 of Good Girls has been full of twists and surprises. And within the first few episodes of the season, the show featured a subtle Weekend at Bernie's reunion viewers may have missed. Jonathan Silverman and Andrew McCarthy are working on the NBC drama together, nearly 30 years after their cult comedy was released.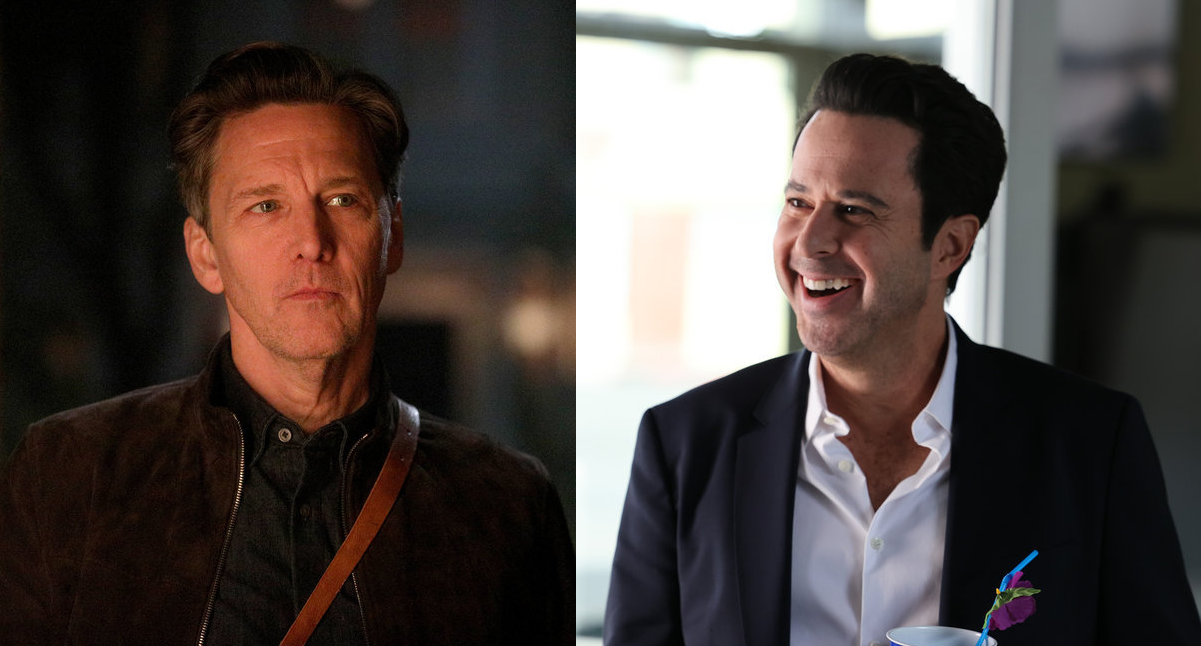 'Weekend at Bernie's' premiered in 1989
Silverman and McCarthy are known for their roles as Richard Parker and Larry Wilson in Weekend at Bernie's. The 1989 film follows two low-level insurance company employees who discover a case of insurance fraud. When they take the report to their boss, Bernie Lomax (Terry Kiser), they learn that he is the one committing the crimes. 
When Bernie ends up dying of an overdose, Richard and Larry worry they'll be implicated in his death and his crimes. So the two prop up his body and pretend that he's alive until they can find evidence to exonerate them.  
The movie earned over $30 million at the box office. Its sequel, Weekend at Bernie's II, was released in 1993. 
McCarthy was previously known as a member of Hollywood's Brat Pack, appearing in films like Pretty in Pink, Heaven Help Us, and St. Elmo's Fire. And before Weekend at Bernie's, Silverman starred in several comedies, including Gimme a Break! and Caddyshack II.
Andrew McCarthy is a hitman on 'Good Girls'
McCarthy joined the cast of Good Girls in 2019. In season 3, he was introduced as Mr. Fitzpatrick, a mysterious hitman hired by Beth (Christina Hendricks), Ruby (Retta), and Annie (Mae Whitman). Hoping to get their drug lord boss Rio (Manny Montana) out of their hair, the ladies hire Mr. Fitzpatrick. 
However, rather than do the job and set them free, the hitman is dragging his feet. In the first few episodes of season 4, he revealed his infatuation with Beth. And after gifting her jewelry and asking her out to dinner, he invites the married mom to go to Fiji with him. 
But with her husband in jail and the Feds on her back, Beth is fed up with Mr. Fitzpatrick's advances. So she demands that he do his job quickly.
'Good Girls' season 4 introduces Jonathan Silverman as an FBI agent
In Season 4 of Good Girls, Silverman appears as FBI Agent Phoebe Donnegan's (Lauren Lapkis) boss, Dave. A married man, Dave has secretly been sleeping with Phoebe's partner, Henry (Rodney To).
When Phoebe brings evidence supporting her case against Beth, Ruby, and Annie, Dave pursues Dean (Matthew Lillard) instead. He pretends to be a rep for a hot tub company called Big Kahuna. And after charming Dean with friendly banter and drinks, Dave gets Dean to hand over the books that would implicate him. 
It's been over 30 years since Weekend at Bernie's premiered, but it seems Silverman and McCarthy remain friends. On social media, the two often tag each other in posts about their film. 
New episodes of Good Girls air Sunday nights on NBC.