'Good Girls': During What Episode Do Beth and Rio Sleep Together?
Good Girls Season 4 shows a different side of Beth and Rio. However, some fans might not know the details of their sexual tension.
NBC hit Good Girls follows the lives of three suburban moms in Detroit who fall into a life of crime. Together, Beth (Christina Hendricks), Annie (Mae Whitman), and Ruby (Retta) run a money-laundering scheme. The group also reports to Rio (Manny Montana), a drug lord who routinely threatens to kill them. 
Although they're dysfunctional, some fans are rooting for Beth and Rio to become endgame. The theory from the viewers intensified after a random sex scene between the characters.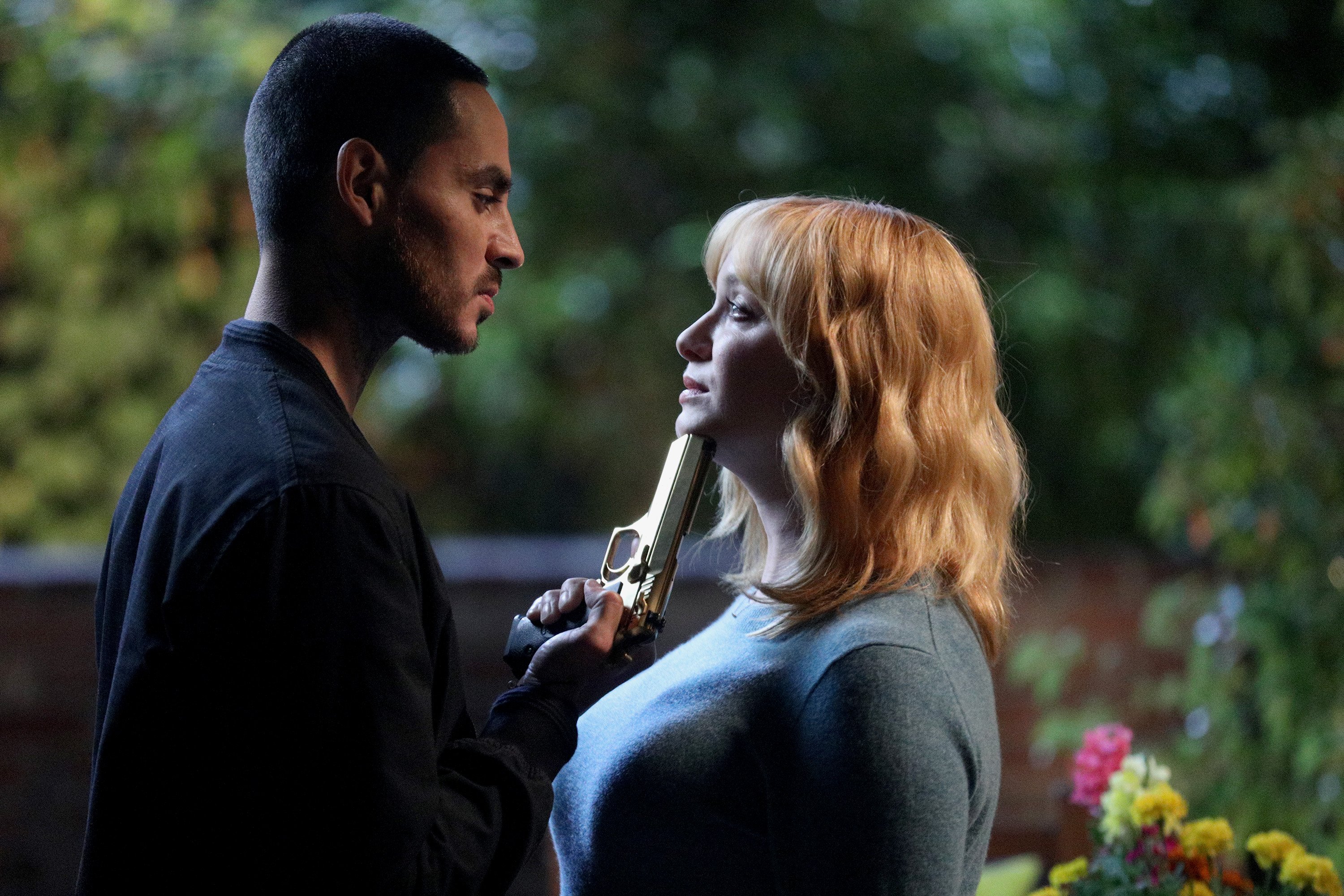 Beth and Rio in 'Good Girls' Season 4
Good Girls first premiered on NBC in Feb. 2018. During the pilot episode, Beth, Annie, and Ruby robbed a grocery store to make ends meet. What they discovered was that the grocery store was a business front ran by Rio. Ultimately, Rio puts the girls to work to make up for the money they stole. 
As the season progresses, Beth and Rio become an unofficial team. Although Beth is married to Dean (Matthew Lillard), fans can't help but notice the tension between her and Rio when they're together. However, the pair never go too far with each other in season 1. Montana shared in 2020 that he enjoys keeping the viewers wondering what will happen between Rio and Beth. 
"[There's] a huge cat-and-mouse game between Rio and Beth, and I feel it makes really good TV because they are both one-upping each other," he told The Neil Haley show ahead of the Season 3 premiere."It's weird because opposites attract. So they both dislike each other but love each other at the same time, so it just makes for a really complex relationship."
Do Beth and Rio ever have sex?
After one seemingly long season of sexual tension, Beth and Rio get together in season 2 of Good Girls. In Season 2, Episode 4, "Pick Your Poison," the twosome finally addressed the proverbial elephant in the room, per Bustle. While spending time together at a bar, Rio eventually directed Beth to the bathroom. The pair then have sex and continue their business as usual. 
Rio and Beth haven't slept together since season 2. Although they still manage to work together, Good Girls showrunner Jenna Bans said viewers would see more of their dynamic in later seasons. 
"That chemistry is not something that can be snuffed out, so it brings up all of that good stuff, them working in such close proximity," Bans told Entertainment Weekly. 
"That's something we're really looking forward to jumping into in season 4 and something we're sad we didn't get to show the fans in season 3, but it's all still coming," she continued. "You don't go from having the hottest sex of your life to wanting someone dead without conflicted feelings."
Did 'Good Girls' get canceled?
As of now, fans of Good Girls will see more of Beth and Rio. On March 7, 2021, the series returned to NBC for season 4. In 2020, the show shut down production due to the COVID-19 pandemic. The final episode of the season ended with the girls getting investigated by the FBI. 
Bans explained in 2020 that the cliffhanger was the perfect catalyst for reintroducing fans to the show in 2021. 
"The episode was always going to end that way. It was the last one we finished completely when we had to shut down for safety reasons. So, it was sort of making the best situation creatively of, what we were left with," Bans told TV Insider. "And I think, once we knew that was going to be our season finale, we sort of took an eye to editing and music and what we could do to make it feel finale-esque."