'Good Girls' Season 4: Did Rio Play Beth to Flush Out the Feds?
Good Girls season 4 has Beth and Rio playing another dangerous game. But this time, the ladies' freedom is at stake. 
In the NBC series' May 2 episode, "Carolyn With a Y," Beth, Ruby, and Annie try to pull a sting operation on Rio with Phoebe and Dave. But Rio is smarter than that. And he figures out what's going on by the end of the episode. 
However, certain clues hint he may have suspected the ladies were working with the agents all along. So did Rio play Beth just to flush out the Feds?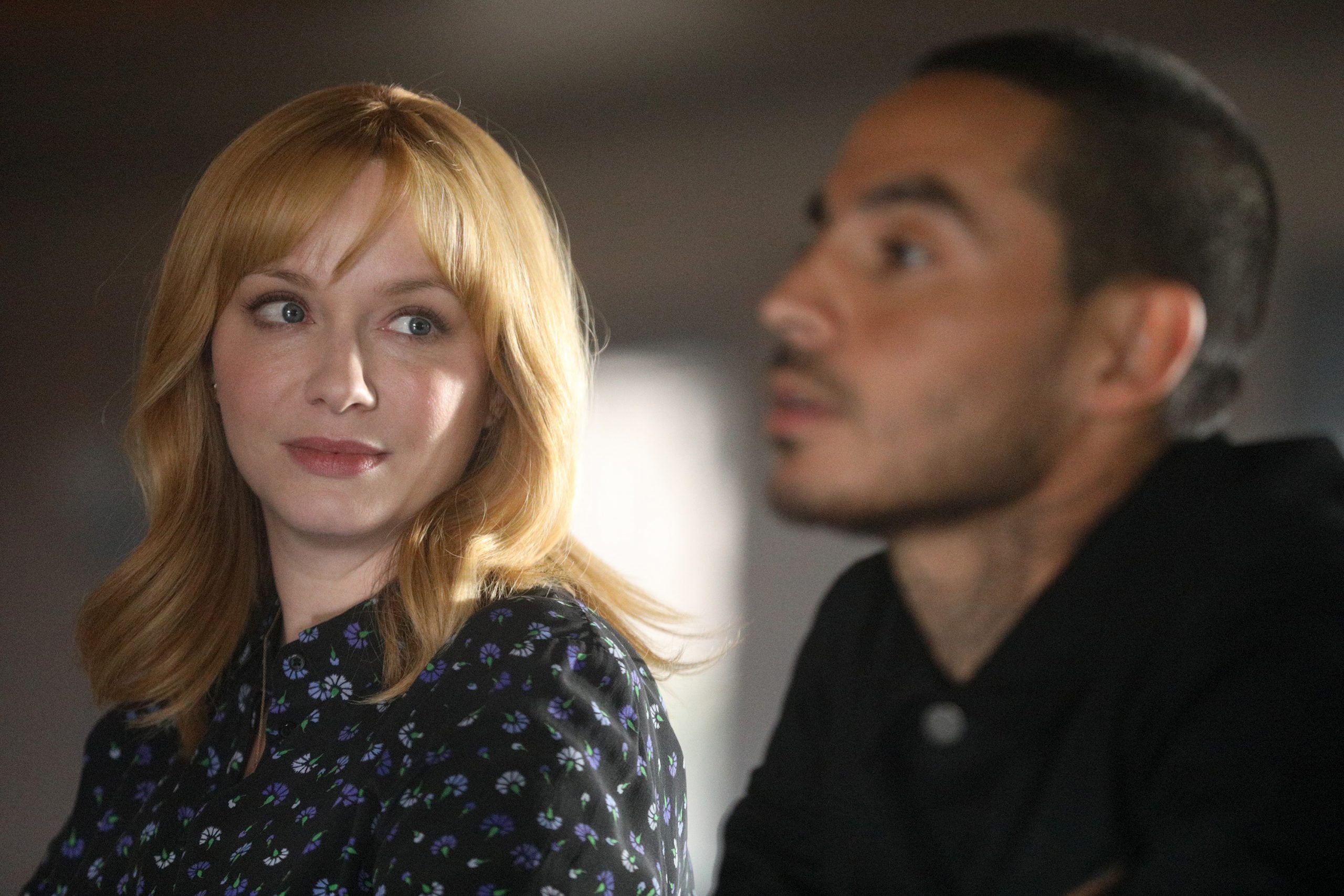 The ladies are working with the Feds in 'Good Girls' season 4
For three seasons, Beth (Christina Hendricks), Ruby (Retta), and Annie (Mae Whitman) have been trying to stay under the radar while they launder Rio's (Manny Montana) money. But in Good Girls season 4, the ladies' crimes are uncovered by Secret Service agents Phoebe (Lauren Lapkis) and Dave (Jonathan Silverman). 
After putting Dean (Matthew Lillard) in jail, the agents convince the ladies to get solid evidence of Rio's criminal activities in exchange for a new life under the Witness Protection Program. Knowing that not coming through could mean jail time for all of them, including Dean, Beth agrees to wear a wire during her meeting with Rio's "boss" family. 
But when she gets cornered by Rio at his house in episode 6, "Grandma Loves Grisham," Beth hides the wire behind his grandma's collection of Grisham novels. While the Feds listen in on the hot mic, Rio asks Beth to find him someone that will let him use their safety deposit box. 
The ladies turn to Phoebe, who then meets Rio in the guise of a suburban mom trying to grow her business. But Rio gets suspicious. 
On the day he's supposed to get caught in the act and get arrested, Rio hands Beth the wire and gives Phoebe a bag of costume jewelry. Rio now knows that Phoebe and Dave (he pretended to be her husband) are the federal agents working with the ladies to pursue him. So any other undercover tactics would be useless to catch him.
Did Rio play Beth this whole time?
At the beginning of Good Girls, Season 4, Episode 7, Rio meets with Beth and hands her a Grisham novel. She looks stunned and worried that he might have found the wire in the bookshelf. 
But Rio says that he told his grandma that Beth was a Grisham fan when she noticed her absence during dessert. So she suggested Beth read this particular book.
It's too coincidental that Rio hands Beth a book straight off the shelf with the wire. So when he went through the motions of checking out Phoebe, he may have already suspected Beth was working with the Feds. 
Some Good Girls fans think Rio may have just played this game to flush out the Feds and learn their identities. "The moment Rio took out The Pelican Brief and said he found the wire, he planned to play Beth and the girls to flush out the SS," one Redditor wrote. "He's known something was afoot since the hitman encounter, but the wire solidified it."
Now that Rio knows what the ladies have been up to, he'll make their situation even tougher. Plus, with the added pressure from the Feds, Beth, Ruby, and Annie will have to develop a new strategy to keep themselves safe.
New episodes of Good Girls air Sundays on NBC.