'Good Girls' Star Christina Hendricks Reveals the Cast Is 'Constantly' Teary-Eyed While Filming
The NBC hit comedy-drama, Good Girls, stars Christina Hendricks, Retta, and Mae Whitman as a crew of suburban moms who find themselves living a life of crime with no way out. The three actors share an immense chemistry on-screen. And Hendricks recently revealed that their behind-the-scenes antics keep them in tears while filming.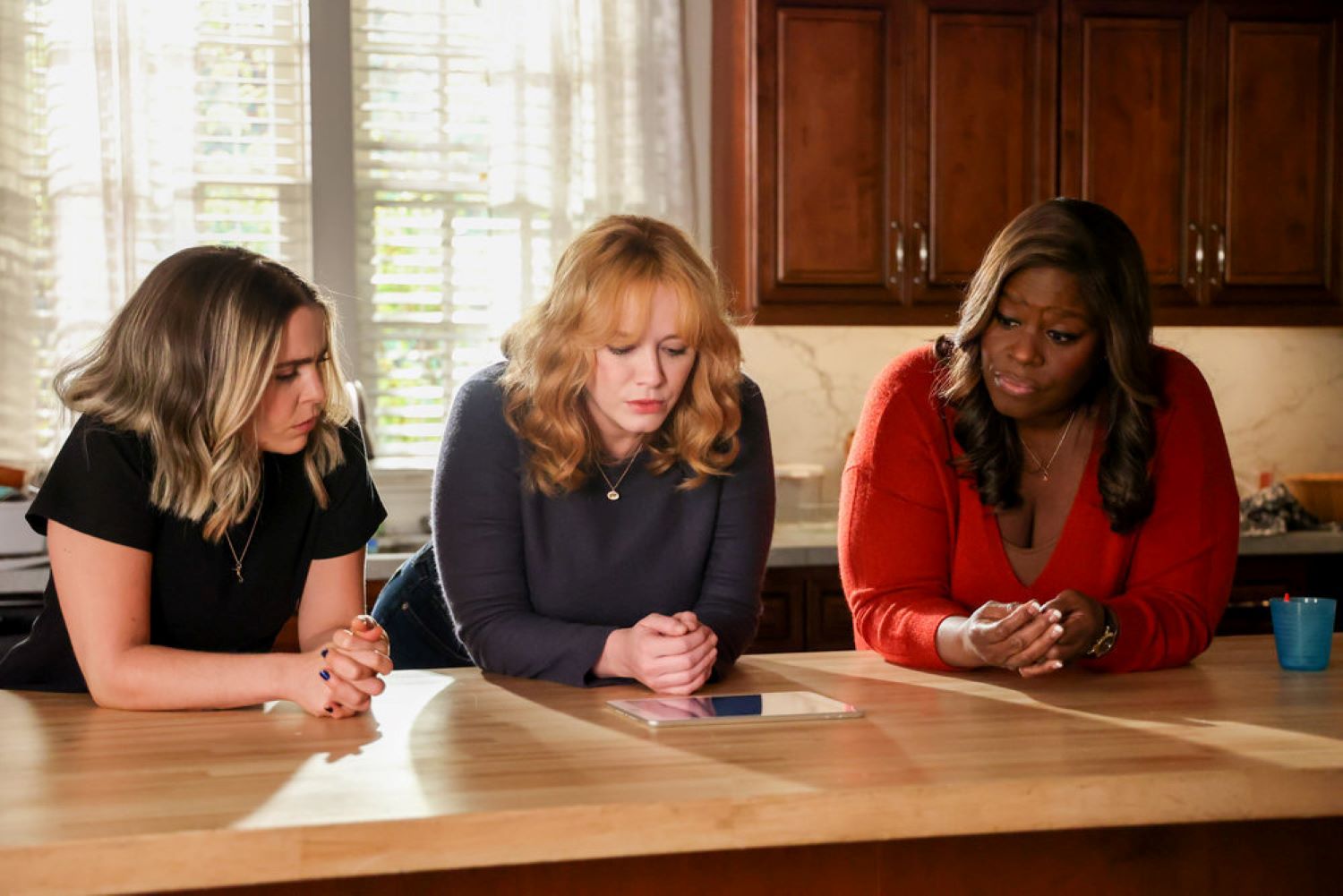 Christina Hendricks says the 'Good Girls' cast is constantly wiping away tears
In Good Girls, Hendricks, Retta, and Whitman play Beth, Ruby, and Annie — three best friends who rob a grocery store to provide for their children.  The actors get along splendidly in real life. And Hendricks says that they love joking with each other in-between takes, which often leaves them in tears. 
"We all crack each other up quite a bit," Hendricks told SiriusXM. "The three of us are kind of weirdos anyway. And we enjoy each other so much that one of them will do something that is just so ridiculous….I mean, we're laughing in between takes even more than what you see on screen."
"We're constantly trying to wipe tears away from our eyes," she continued. "So, yeah, the three of us have a really good time together."
The 'Good Girls' cast isn't getting to improvise as much for season 4
With humorous performers like Whitman and Retta (who started her career as a stand-up comic), it's easy to imagine how easily the actors could ad-lib jokes into the show. But Hendricks says that the cast isn't getting to improvise in season 4 due to the pandemic.
"In season 1 and 2 there may have been more ad-lib," the Good Girls star told SiriusXM. "But especially because of COVID reasons and our writers not being able to be on set, we're sort of really tied very tightly to our scripts. We're not really allowed to deviate in any way because if [the writers] don't like it, they're not there to say no."
They are really funny writers," Hendricks added. "They're really great, funny, quirky writers. And so, we find it quite easy to perform those jokes and perform their writing."
Christina Hendricks believes the show depicts realistic female friendships
Good Girls is unlike any other show on TV right now with its comedy-drama tone and nail-biting storyline. But Hendricks also credits Annie, Ruby, and Beth's realistic friendship in setting the series apart. "I think it's beautifully written in a way that it's three adult women, all very sort of very different personalities that are so supportive of one another, friends and family," she explained. 
"But if someone messes up, they call each other out. It's real. They find each other funny, they find each other annoying, they love each other to the ends of the Earth. They know each other's quirks, they know each other's highs and lows. And that I think is realistic. They're not contentious towards one another. They're not just always loving. It feels like real friendships." 
Good Girls airs Sundays, at 10 p.m. EST on NBC.