'Good Girls': Will Rio and Beth End up Together in the Series Finale?
While the entire cast of Good Girls is stellar in their own right, it's that of Christina Hendricks and Manny Montana fans can't get enough of it. Their characters Beth and Rio give the NBC bubble dramedy a twisted romance for the ages. That said, with news of the show's cancellation, will Beth and Rio be endgame in the series finale?
Rio and Beth have a sordid history on 'Good Girls'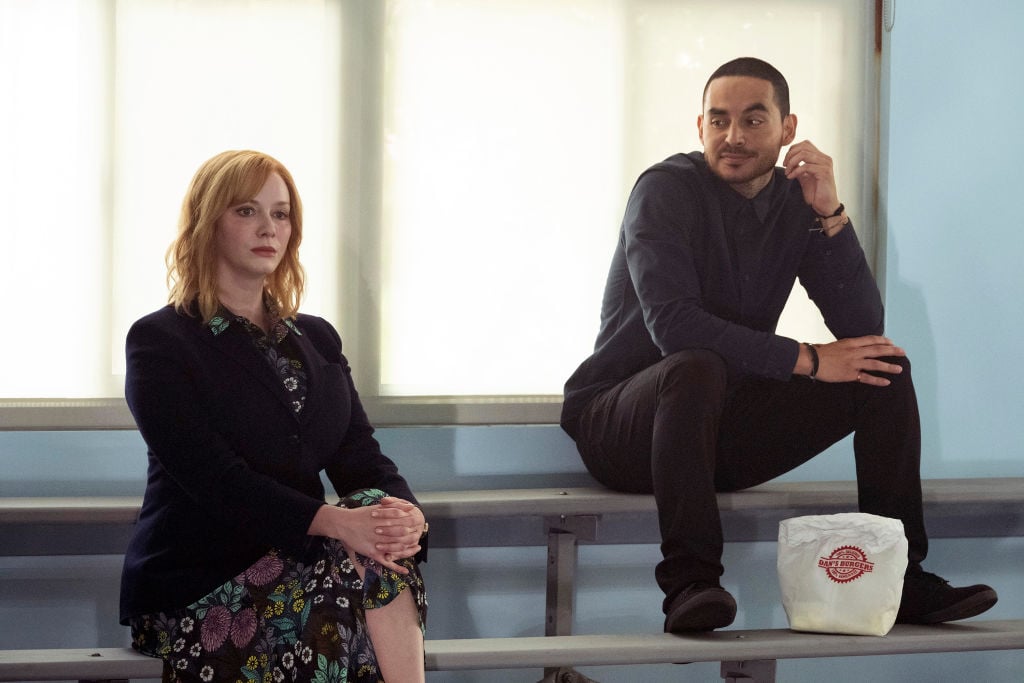 For four seasons, the Beth and Rio drama has managed to keep viewers wanting more. The two met in season 1 after Beth, her sister Annie (Mae Whitman), and friend Ruby (Rhetta) robbed a store to help pay their bills. It just so happened to be the store Rio laundered his money. Naturally, he demanded they work for him in exchange for them keeping their lives.
The tension between Beth and Rio was obvious from the start which led to a four-season-long cat-and-mouse game that only became more tense the longer the two worked together.
The pair affectionately deemed by fans as "Brio," went so far as to have a sexual encounter in a bar in season 2, and another one at Rio's family picnic in season 4. Fans love the heat between the two, hoping they'll end up together — despite Rio's criminal career and Beth's fall-guy husband Dean (Matthew Lillard).
Are Beth and Rio endgame for the 'Good Girls' finale?
Sure, Beth hired a hitman to kill Rio in season 3 so she could escape laundering money for the rest of her days, but it backfired. Rio returned very much alive — and he didn't forget what she did. Whatever happened in the past doesn't matter as they're both clearly infatuated with one another, if only sexually.
Showrunner Bill Krebs previously told Distractify, "a lot of the fans and the audience are high on Rio and they also want to know what makes Rio tick and what makes him this sort of dark, brooding awesome dude, who gets out of everything."
Co-showrunner Jenna Bans added that the love triangle between Beth, Rio, and Nick (Ignacio Serricchio) would "complicate their relationship and sort of elevates them to a different place than the audience has ever seen them." She continued adding, "they have a twisted obsession with each other."
Will they end up together? If fans have anything to say about — yes. From the sound of it, Bans and Krebs are equally interested in watching the toxic relationship unfold.
One fan noticed an interesting TV rating for the next episode
While we eagerly await the Good Girls finale, an eagle-eyed fan noticed something about the July 22 series finale: it contains D, L, and S ratings which mean suggestive dialogue, coarse launguage, and sexual situations. The rating gave "Brio fans" hope that they will see Beth and Rio in another inerlude.
"Lowkey I'm gonna be disappointed if it's wasted on dialogue or gestures; I think we deserve one last spicy moment," one fan said on Reddit. While another said they will "throw my laptop if it's for annie and kevin."
"I swear to God, it better not be Stan as a fireman on that pole," another added.
"I just hope that S is for Brio! We deserve it!"
Others think it might allude to something between Beth and Nick just to get under Rio's skin. We don't know how the finale will unfold but something tells us it'll end with Brio one way or another (i.e. death).
The Good Girls series finale airs July 22 on NBC.