'Good Girls': Will Rio Die in the Series Finale?
The series finale of Good Girls is upon us but fans of the NBC show aren't ready to say goodbye. News of the cancellation came in June, shocking stars and viewers alike. The show plans to end with the season 4 finale but we don't know how many storylines will come to a satisfying conclusion. One to note is that of Rio (Manny Montana). Will things go sour with Rio and his crew?
'Good Girls' bosses previously hinted at a death in season 4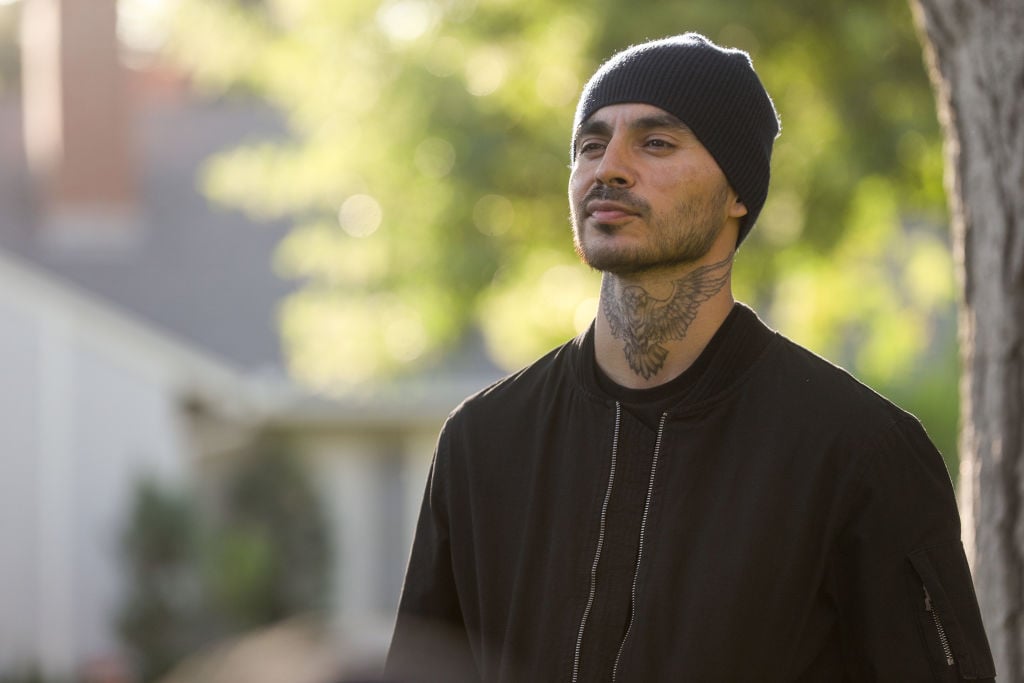 Not everyone lives to tell the tale of Rio. Such was the case in season 3 of Good Girls when Lucy (Charlyne Yi) when she inadvertently knows a little too much about the money laundering business. Luckily for Beth (Christina Hendricks), Annie (Mae Whitman), and Ruby (Rhetta), Rio spared their lives as long as they continued working for him.
Season 4 follows much of the same storyline with the three moms who have tried to get out from underneath Rio's thumb to no avail. Prior to the season 4 premiere, showrunners Jenna Bans and Bill Krebs told Distractify to expect a death sometime in the season.
 "We like calling back to other characters who you might only meet for a minute or two or might have a more involved storyline and bringing them back," Krebs said at the time. "There are a couple of characters that we bring back this season because of Lucy…"
Bans added: "One who also meets an untimely end." 
Both Krebs and Bans wouldn't confirm who would die. With the addition of the hitman Beth hired in season 3 — Mr. Fitzpatrick (Andrew McCarthy) — we know there's still a hit out on Rio. While some wonder if Fitz will die, others are concerned it might be Rio.
Will Rio die in the 'Good Girls' series finale?
Not to alarm the "Brio" base but in a May 2020 interview, Krebs and Bans warned that things could get dicey for Rio saying fans "should be" worried.
"I think, at the end of the day, Beth has such complicated feelings toward him. And right now, they are of the more angry variety, because she feels like he's masterminding her entire plan," Bans told TV Insider at the time. "She thought she was finally rid of him and starting her own business, and he basically has the women in his clutches again. So, she's desperate, and I think when these women are backed into a corner they are capable of anything."
Krebs added: "He also made the threat very clear when he killed Lucy in front of them. If this season is about anything, maybe it's about them trying to get back to a normal life. And he very much complicated that."
Bans noted that they're aware of Rio's popularity adding, "he's obviously one of our favorite parts of the show. We love the Beth-Rio relationship, the push and pull," she said. "So, regardless of what happens, I don't think we've seen the last of him."
Love for Rio is strong among the fans
There's no love loss for Rio (or Brio) in the Good Girls world. Some think he will meet his ultimate fate by the series finale.
"The show has been moving towards his doom since the end of Season 2 and the hitman arc just confirms that. But, it's also interesting that so far, Montana is the only cast member who has not commented or promoted the upcoming season," one fan wrote on Reddit."
"I wouldn't be surprised if they killed off Rio because I don't think they planned on him being on the show so long and I think they want to move on from the Rio story line. Viewers love him though," another said.
"I completely agree that if Rio dies the show is completely over," another added.
We now know the show won't return for another season and Netflix declined to pick it up. That said, anything goes with the remaining episodes. Rio's fate is literally in their hands.
The Good Girls series finale airs on July 22 on NBC.