Gordon Ramsay Restaurants: Which Are the Most Popular in the U.S.?
Gordon Ramsay has made quite a name for himself as a celebrity chef. But while Ramsay's multimedia empire extends quite far, he's a chef at heart.
With that in mind, Ramsay owns and operates a large number of restaurants throughout the world. It makes sense – Ramsay's calling has always been food preparation and delivery. But where exactly are his most popular spots in the U.S.? Let's take a closer look at where Ramsay's best restaurants are in America. 
Gordon Ramsay, the TV personality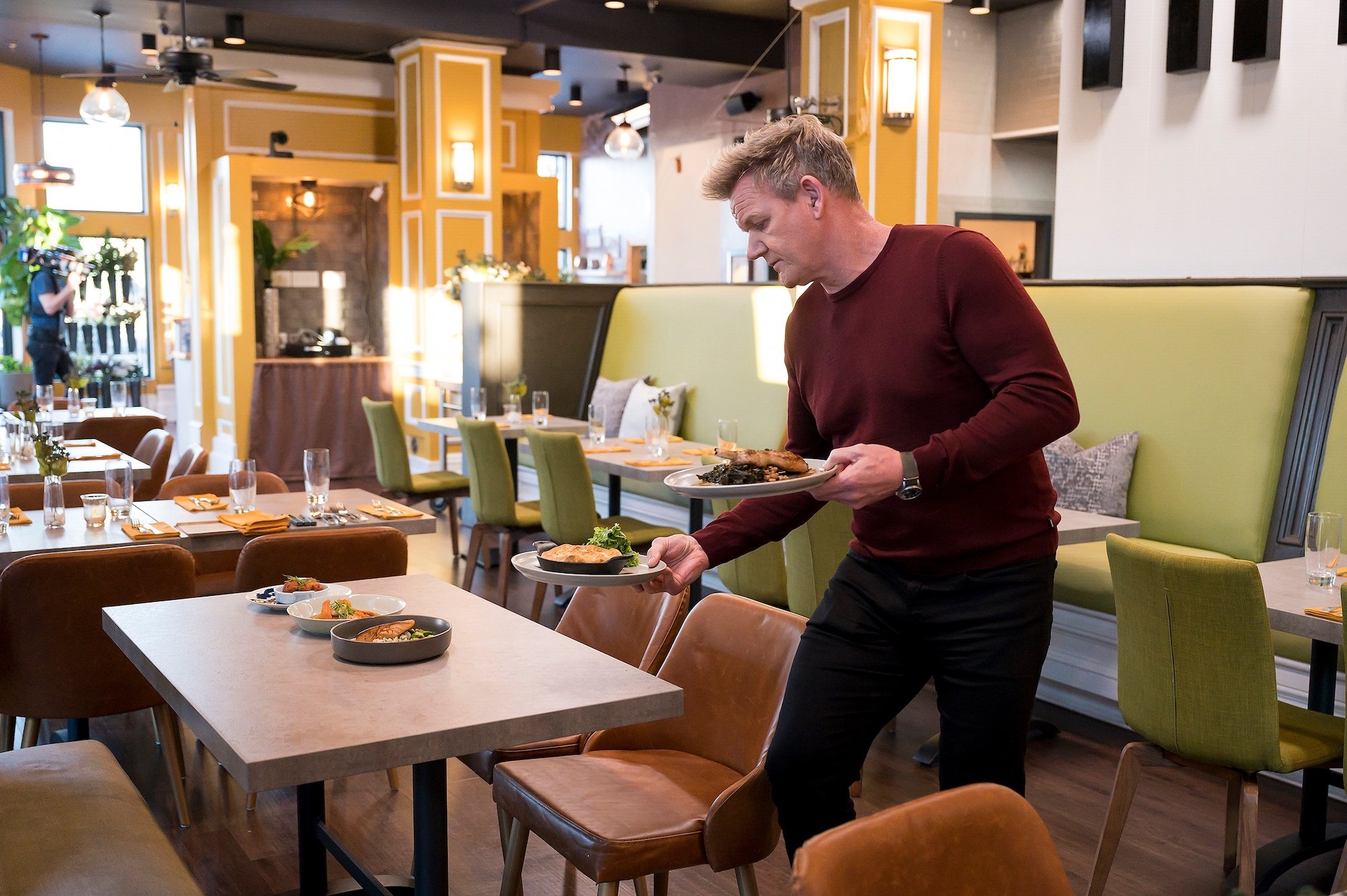 RELATED: Why Gordon Ramsay Refuses to Watch Himself on TV: 'I'd Rather Go Out to Dinner'
Ramsay's from the UK and became well known for the reality TV show Hell's Kitchen. In that show, he'd put groups of chef contestants through a series of grueling challenges, yelling and cursing at them all the way. He got a reputation as a harsh, demanding chef, and his show reflected that. Ramsay's show eventually bred a U.S. version.
Other shows that Ramsay hosted both in the U.K. and U.S. include:
Ramsay's Kitchen Nightmares. Ramsay would visit failing restaurants, address the problems, and try to help the owners and staff of the establishment turn their business around quickly.
MasterChef. Ramsay and two other celebrity chef judges evaluate two groups of aspiring expert chefs in a series of contests and challenges.
The F Word. In a magazine-style show, Ramsay let guests and celebrities cook in his own restaurant's kitchen. This footage was interwoven with news and entertainment pieces about food and the culinary arts. In each episode, Ramsay competed against a celebrity guest in cooking the same dish.
Ramsay's shows have made him a household name. It enabled him to build a global brand that includes a line of beloved restaurants.
Gordon Ramsay, the restaurateur
While Ramsay is equal parts entertaining and charming on TV, by trade, he's a restaurateur. According to his website, Ramsay opened his first restaurant at the age of 31 named Restaurant Gordon Ramsay in the Chelsea area of London. Specializing in French cuisine, the establishment had three Michelin stars by 2001 after only three years of operation.
To this day, it's widely regarded as an excellent restaurant. It's currently closed during the pandemic but hopes to open up when normal service has returned. 
If you're ever visiting England and dying to go, it's a tough restaurant to get a seat at. The restaurant itself seats only 45 people at a time. Lucky for American Ramsay fans, however, there are other options if you'd like to sample Ramsay's cuisine in this country.
Where are the most popular Gordon Ramsay restaurants in the U.S.?
Ramsay has 10 restaurants in the U.S. According to his website, he has five in Las Vegas, two in Atlantic City, one in Baltimore, one in Kansas City, and one in Lake Tahoe. Ramsay's Vegas establishments are probably his most popular as they reside in one of the biggest tourist destinations in the U.S. Below is a description of each one:
Gordon Ramsay Pub and Grill, Las Vegas, Atlantic City: This version of the Ramsay brand blends English pub grub with U.S. sensibilities.
Gordon Ramsay Burger, Las Vegas: Housed in Vegas's Planet Hollywood, this burger joint takes a casual classic to a new level.
Gordon Ramsay's Hell's Kitchen, Las Vegas, Lake Tahoe: Two locations nationwide give restaurant goers the feeling of being on the set of Ramsay's hit Fox show.
Gordon Ramsay Steak, Las Vegas, Atlantic City, Kansas City, Baltimore: Ramsay brings his name and style to the classic steakhouse setting in four locations across the country.
Gordon Ramsay's Fish and Chips, Las Vegas: Fish and chips are one of the classic English dishes, and this place specializes in exactly that.
You may have to travel to find one, but Ramsay has plenty of spots for American diners to indulge.