'Gossip Girl': Did the Coronavirus Pandemic Happen in the World of the Show?
The coronavirus (COVID-19) pandemic affected the entertainment industry in 2020 — and beyond. Theaters shut down, productions came to a halt, and movies and TV shows experienced delays. For many, COVID-19 didn't exist on-screen, while others embraced it for storytelling. Here's how Gossip Girl dealt with the pandemic.
'Gossip Girl' was delayed due to the pandemic
The original Gossip Girl series ran from 2007-2012. In 2019, WarnerMedia announced its new streaming service, HBO Max, would be the home of a new show. Later revealed to be not a revival or reboot, but a continuation or sequel series, the show would help bring attention to the platform after its 2020 launch.
However, before filming could begin, the pandemic led to productions around the world shutting down. Gossip Girl began shooting in November 2020 after several months of delay. HBO Max aired the first episode on July 8, 2021. However, filming continued for the second half of the season, to be released later.
The students return to in-person school after a year away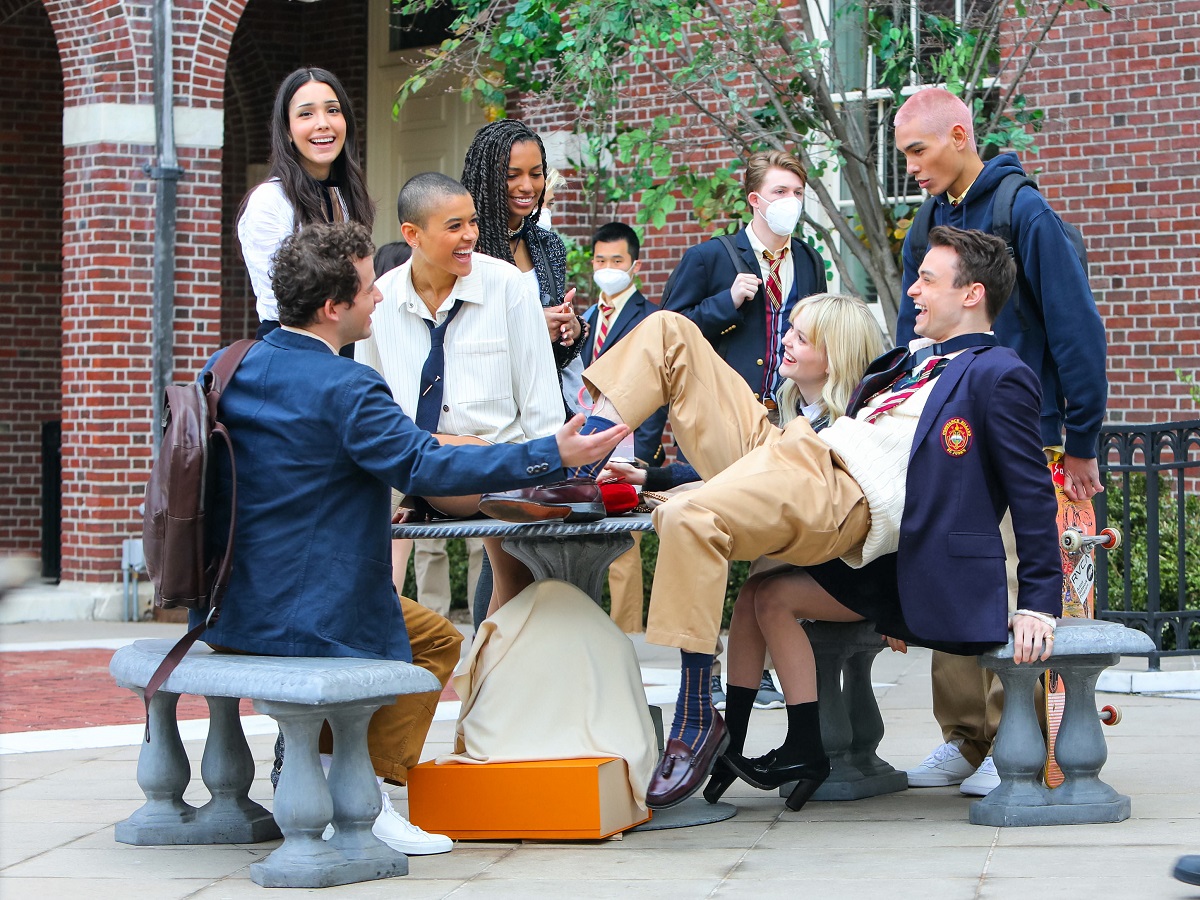 The Gossip Girl premiere, titled "Just a Girl on the MTA," mirrors the original pilot in a few ways. It takes place, naturally, on the first day of school. In both, an outsider joins the Upper East Side prep school Serena, Dan, and co. all attended more than a decade earlier.
As Julian gets ready for school, she tells her dad that returning to Constance Billard "is better than being stuck in here for another year." While hooking up, Aki says to Audrey, "We were together all quarantine." And when teacher Kate Keller arrives at school, she refers to "a year of [looking at] Zoom boxes."
While they don't specifically address coronavirus itself, the series clarifies that, time-wise, the action takes place in a post-COVID-19 world. No one wears any PPE — though Aki references it when he grabs Max by the chin and says, "Is that what your face looks like without a mask?"
Author Cecily Von Ziegesar was 'surprised' they wrote it in
While fans didn't have strong reactions to the coronavirus incorporation, one person was "surprised" by it. "I thought it was brave to do that, because I think a lot of people want to brush the pandemic aside and say, 'Well, that never happened,'" Cecily Von Ziegesar, author of the Gossip Girl books upon which the original series was based, told Esquire.
Though many series released in 2020 and 2021 keep the pandemic out of the plot, the writer felt it was a good choice for Gossip Girl to include it for its target audience. "If you're a younger person, it's a huge portion of your life," she said. "My son is 16. He just spent more than a year of his life going to Zoom school. That's huge."
Von Ziegesar worked her own teenage into the books. "I went to a small private school for girls on the Upper East Side," she said. "I fictionalized everything, but I based the character Dan on myself, and then I created these other characters based on people that I knew, mixing their personalities and names."