'Grace and Frankie' Almost Had Jane Fonda and Lily Tomlin Coupling Up on the Show
Find out how 'Grace and Frankie' creators were going to change up the relationship between the two female leads.
With the news that Grace and Frankie's seventh season will be its last, some fans are hoping more than ever that the title duo will end up as an actual couple. Shippers ahoy. But that will be easier said than done. 
For one thing, Jane Fonda's Grace just got married to Peter Gallagher. This has Lily Tomlin's Frankie upset. Simply put, she doesn't like change. She had thought that she and Grace would, metaphorically at least, go off into the twilight together.
Can the show do a reversal and get Grace and Frankie together when it wraps up? More to the point, should Grace and Frankie get together that way. 
Grace and Frankie: more than friends or just friends?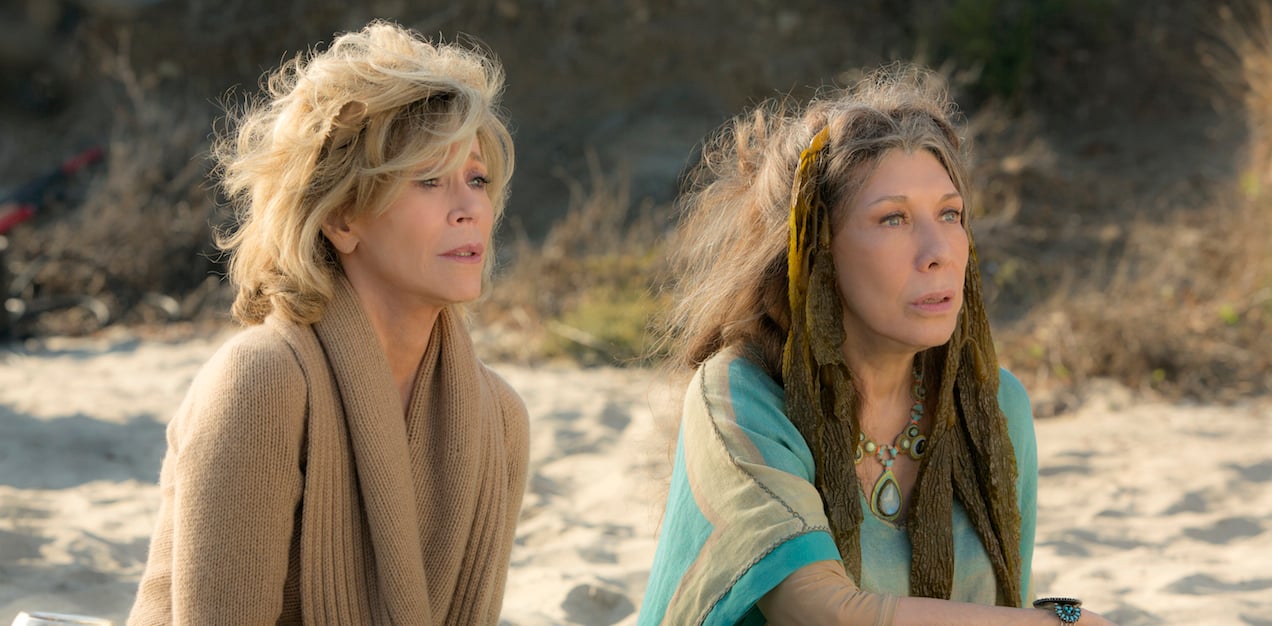 Grace and Frankie is the brainchild of Marta Kauffman, who had hit the zeitgeist in the 1990s as one of the creators of Friends. She learned that Fonda and Tomlin were looking to get back on TV, and Kauffman came up with the hook – they should do it together. 
"Once you know you have legends like Jane Fonda and Lily Tomlin, you have to come up with a concept that is worthy of women like that and talents like that. We were searching for a way to explore aging and coming into your own at a certain point in your life. After word, I was sitting in the car with Hannah KS, my development executive and she said, "What if their husbands fall in love with each other," and that was it. We were off and running," Kauffman told The Hollywood Reporter. 
Then, according to Screen Rant, Kauffman's own daughter had a brainwave. What if Grace and Frankie fell for each other? What if their husbands falling for each other led to Grace and Frankie falling for each other? Or is that too on the nose?
How will 'Grace and Frankie' end?
While Kauffman is keenly aware some fans ship Grace and Frankie, she's not convinced that their being endgame is the right way to go.
She told the Los Angeles Times: "The show is about these two women. I think it's no surprise that the audience wants them to be together, ultimately. I think making them a [romantic] couple is disingenuous. But they are a different kind of couple. They are best friends. They belong together. And I think there is something wonderful about finding that person who you want to be with in life."
So perhaps that's why Grace ended up with Peter. On the other hand, that could also be the final conflict that makes the title couple "meant to be." Grace and Frankie's seventh season has no debut date yet.
Jane Fonda and Lily Tomlin go way back 
Even if Grace and Frankie don't get back together, there's always Fonda and Tomlin. The two have known each other well since the late 1970s since they filmed the hit 9 to 5 with their co-star Dolly Parton. Fonda, in particular, had personal experiences that made Grace and Frankie more than a little relatable. 
"I know what it feels like to have the rug pulled out from under you, and to feel like your life is over and consider suicide and all that kind of thing. So I kind of identify with what happened to Grace and Frankie; I know what that feels like. I also know that, like what happened in the series, you shouldn't give up," she told the Washington Post. 
In real life, just as on the show, Tomlin has Fonda's back. Tomlin said: "I've been a fan of hers since before I met her. I had a Klute hairdo when she did Klute. I met her when she came backstage when I was doing Appearing Nitely at the Ahmanson Theatre in L.A. That was about '77 or '78. Next thing I knew, she asked me to be in 9 to 5. We've been friends ever since."