'Grace and Frankie': Jane Fonda and Lily Tomlin's Netflix Series Prepares for Final Season
Season 7 of Netflix's 'Grace and Frankie' will be its last.
While Netflix's Grace and Frankie will be back, its seventh season will be its last. That isn't entirely by choice, as the brave new streaming world tends to prefer keeping content fresh rather than letting shows run for years and years. 
A release date has not been determined. Still, when Grace and Frankie does wrap, it will have run for 94 episodes, just edging out the current record-holder Orange is the New Black, which ran for 91 episodes.
How did 'Grace and Frankie' get started?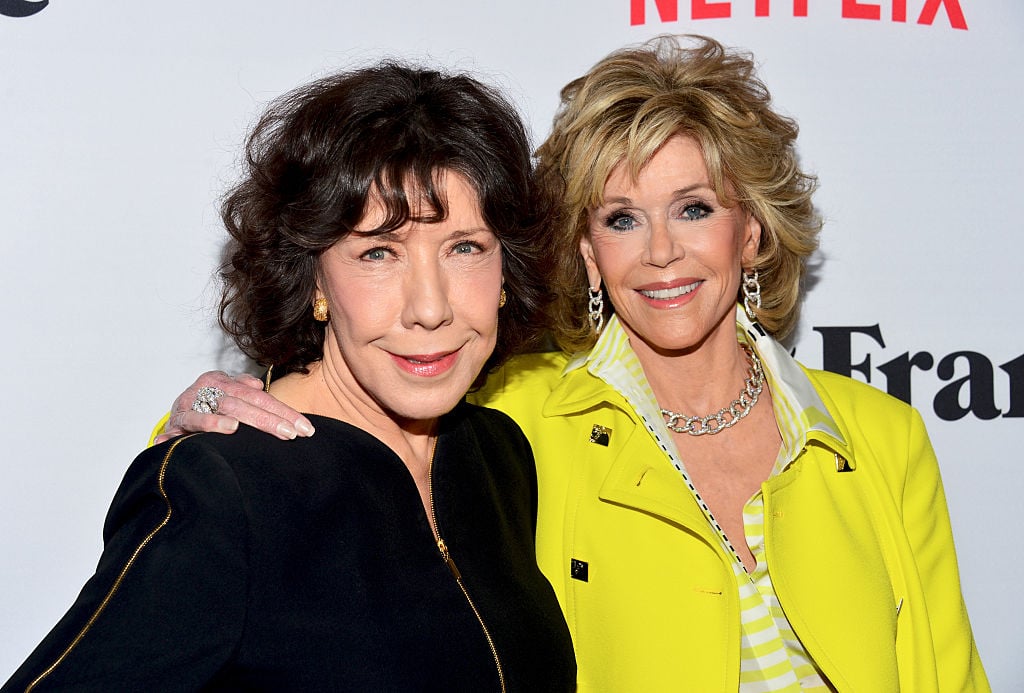 Grace and Frankie got started thanks to someone who was also behind another show that is enjoying a renaissance of sorts: Friends. That beloved sitcom, which is celebrating its 25th anniversary, was co-created by Marta Kauffman, who is also the creative force behind Grace and Frankie. 
The initial hook of the show is that it would feature two longtime friends reunited: Jane Fonda and Lily Tomlin. The two had starred together in the hit 1980 movie 9 to 5, with the omnipresent title tune by co-star Dolly Parton.
The sixth season saw Grace (Fonda) trying to settle into marriage with her younger husband, played by Peter Gallagher. This does not sit well with Frankie (Tomlin), who struggles to get used to this new arrangement. But a new product for older people draws them back together. 
While Kauffman, 62, still has a ways to go before she reaches her 80s as her stars have, she had begun contemplating the idea of how to spend one's twilight years. While she had once captured the trials and tribulations of being in your 20s on Friends, she wanted to do something similar for the older generation on Grace and Frankie.
Why is 'Grace and Frankie' ending?
Seven seasons is a solid run. Kauffman was willing to keep going, but according to an interview with the Los Angeles Times, she realized Netflix wanted to wrap it up.
"It was a combination of things," she said. "Netflix isn't doing long-term series anymore. And we are really lucky that we got the seventh season. I think when we started, we imagined seven seasons. But, really, this is the kind of decision that comes from Netflix. But as sad as I am that it's ending, there's something that makes sense about it."
As for what will happen in the final run, Kauffman, speaking to Good Housekeeping, kept the details vague.
"I can't say too much, but we're going to be dealing with Robert, Sol, Grace, and Frankie in a way in that we haven't seen before," Kauffmann said.
Kauffman is keenly aware that viewers ship Grace and Frankie. And like Frankie, they're troubled the title characters may not end up together. Kauffman and her team will have to find a way to reconcile the demands of shippers with their final scripts. 
In streaming, shows will never have marathon runs 
When shows became incredibly popular on broadcast TV, they were habits that hung on for years and years. In the early days, it was the western Gunsmoke that ran for 20 seasons. Then there was MASH, which ran for 11 seasons and whose finale is still one of the most-watched TV wrap-ups. 
Cable got into the act, with Game of Thrones running for eight seasons and Sex and the City running for six. 
Now, streamers are lucky if they last more than four seasons. Netflix has been pressing the cancellation button a lot lately, as unhappy viewers of Marvel TV shows have realized.
As Forbes put it, there are too many high-quality series to choose from. Not only must consumers decide what shows to watch, but where to subscribe to find them.
In other words, Grace and Frankie got to be too much of a good thing.