'Grace and Frankie': Martin Sheen and Sam Waterston Recall Their First On-Screen Kiss
Grace and Frankie was first released to Netflix in 2015. Now the series is reaching its end, with the final episodes anticipated for 2022. This makes Grace and Frankie Netflix's longest-running original series. The show follows Grace Hanson and Frankie Bergstein, whose husbands, Robert and Sol, leave them to be together. For over five years, Martin Sheen and Sam Waterston have played an on-screen couple. In an interview, they discussed their first kiss on Grace and Frankie.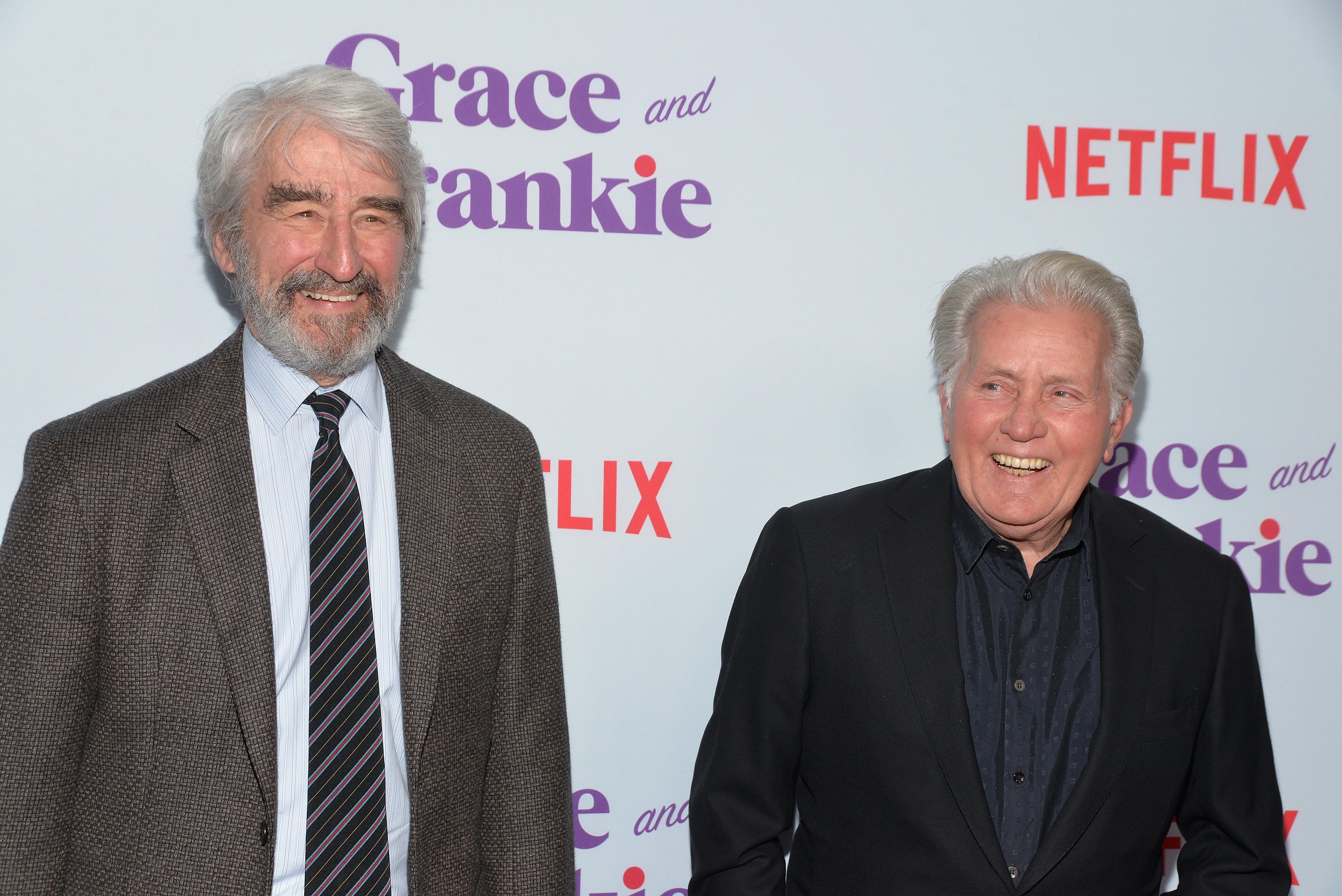 Martin Sheen and Sam Waterston are an on-screen couple on 'Grace and Frankie'
Sam Waterston and Martin Sheen have played an on-screen couple on Grace and Frankie for over five years. Before joining the comedy series, both actors worked on very different types of shows. Sheen is probably best known for his role as President Josiah Bartlet in The West Wing, a political drama series. Waterston joined the cast of Law and Order as attorney Jack McCoy back in 1994.
Now Waterston and Sheen are a couple on a comedy series, and they couldn't be happier. On Ellen, Jane Fonda asked Waterston what it was like to switch to comedy. "What a relief," Waterston responded. "What a relief to be able to laugh and have fun."
Sheen and Waterston's relationships
Waterston and Sheen are both in happy relationships in real life as well. Sheen and his wife Janet recently celebrated their 60th wedding anniversary. He once said the secret to their long marriage is that Janet is very honest and calls him out when necessary. The pair raised four children together and have been through it all as a Hollywood couple.
Waterston has been married to his wife, Lynn Louisa Woodruff, since 1976. The pair had two daughters and a son together. Waterston also has a son named James from a previous marriage to Barbara Rutledge Johns. Waterston's daughters and James became actors just like him.
Martin Sheen and Sam Waterston's first kiss on 'Grace and Frankie'
Over five years ago, Sheen and Waterston shared their first on-screen kiss on Grace and Frankie. Fonda and Lily Tomlin discussed the experience with them on Ellen. Fonda asked, "When you two kissed, what was it like?" Waterston and Sheen began to laugh. "Well, Martin, he's a very nice guy," Waterston said. "And he sort of takes the sting out of an awkward situation." Fonda wanted to know if there was any tongue involved in the kiss. "No, no. We get extra for that," joked Sheen.
Grace and Frankie is a great comedy series to binge-watch on Netflix. The first four episodes of season 7 were recently added to the platform. In their interview, Fonda asked Sheen and Waterston if they were familiar with the term "Netflix and chill." "No we just heard about it backstage about 10 minutes ago," Waterston responded.
Fans will have to keep an eye on Netflix to see how Grace, Frankie, Sol, and Robert's stories will end in the final season of Grace and Frankie.