'Grace and Frankie' Star Jane Fonda Is Shunning Plastic Surgery
Jane Fonda, now at the age of 82, has lived a long and exciting life and doesn't seem to be slowing down any time soon. Fonda originally got her start as a model and actress and was from daughter to acting legend Henry Fonda.
Earlier in her career, she starred in such iconic films as Barbarella, 9 to 5, and On Golden Pond. She won two Best Actress Oscars for her roles in Klute in 1971, and Coming Home in 1978. After a long break, she started acting again, debuting in her film Monster-in-Law.
Fonda is known for far more than her acting, however. She is also an author, fitness advocate, and activist. She loves to relate to people and make connections, and as she ages, she has gotten more open and honest with herself and with her fans. Her honesty has led her to a decision concerning her life: no more plastic surgery.
Jane Fonda has a long history of activism
Fonda is a force in the world and knows how to bring people together. She got quite a reputation for her anti-war activism during the Vietnam War, not all of which left a positive legacy. Missteps aside, however, she's always been outspoken and proud of the work she does, and far from losing hope with age, she's remained just as adamant in her efforts to change the world.
Currently, she is filming her seventh and final season of Grace & Frankie in Los Angeles, but prior to that, she negotiated a four-month break for her activism efforts. During the four months, inspired by environmental activist Greta Thunberg, Fonda moved to Washington, DC.
Fonda began what's called "Fire Drill Fridays" where she lead demonstrations on Capitol Hill. She was arrested several times for civil disobedience in the process.
Fonda is well aware of the privilege she has, and never disparages those that can't be as active in the fight as she is.
Jane Fonda feels even more joyful now than when she was younger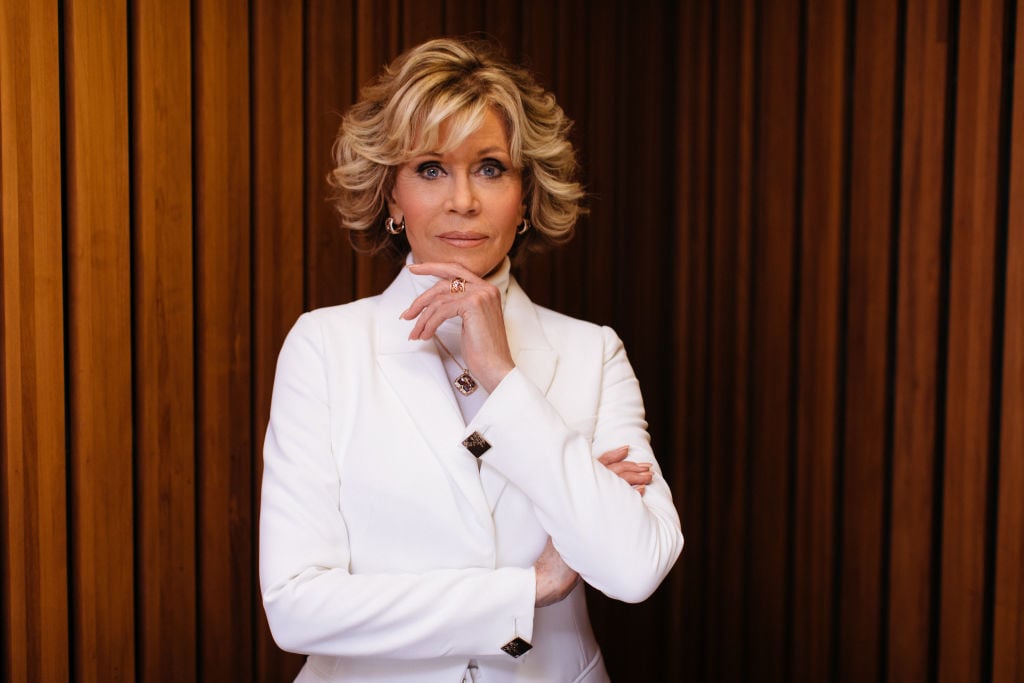 Fonda regularly blogs on her website to speak directly to her fans. Though she usually sticks to the topic of activism, from time to time she discusses how she feels about aging, a topic she has also covered in several books.
In a blog post from 2013, she wrote: "I feel joyful more often now than I did in my 20's or 30's… and most definitely more often than in my 40's." She goes on to say she enjoys remembering the Los Angeles of her childhood, "without freeways and traffic jams and smog."
Just last year she echoed the same sentiment in a post writing: "I never would have expected my life to get so much fuller and, in some ways, more meaningful as I moved into my 8th decade."
Jane Fonda has struggled with insecurity and health issues
Fonda was not only an Oscar-winning actress, in the 1980s she made her mark on the fitness world with her series of workout videos called Jane Fonda's Workout. She was 45 at the time and had just overcome a long-time battle with her eating disorder, bulimia.
Despite her many successes, she still struggled then, and still does now, with her self image. Creating those workouts was a way for her to help overcome that and deal with her body image issues in a positive way.
Fonda has had a lot of surgeries, some of which were medically necessary, and others not so much. She has osteoarthritis and has had several joint replacement surgeries to help deal with the effects of that. Despite medical care, she has said she is dealing with chronic pain.
Fonda has also been very open about her elective plastic surgeries, which may come in part from a different ailment entirely, what she calls "the disease to please." Among her procedures have been breast implants, two facelifts, a chin lift, and removal of bags under her eyes. This is all going to change now, she says.
Just days ago Fonda told Elle Canada: "I can't pretend that I'm not vain, but there isn't going to be any more plastic surgery—I'm not going to cut myself up anymore. I have to work every day to be self-accepting; it doesn't come easy to me."
Fonda now does her best to spend time focusing on her activism and female friendships more than impressing and pleasing others.