Is Grace VanderWaal an Actress? Here's What We Know About the New Movie Coming to Disney+, 'Stargirl'
There's something magical coming to Disney's streaming service, and we're not just talking about the next season of The Mandalorian. An original movie titled Stargirl premieres on the platform during March 2020, and the teaser trailer already has subscribers eager to learn more.
What is the Disney+ original movie Stargirl about? Who does Grace VanderWaal play in this film? Here's what we know about the upcoming original and its cast.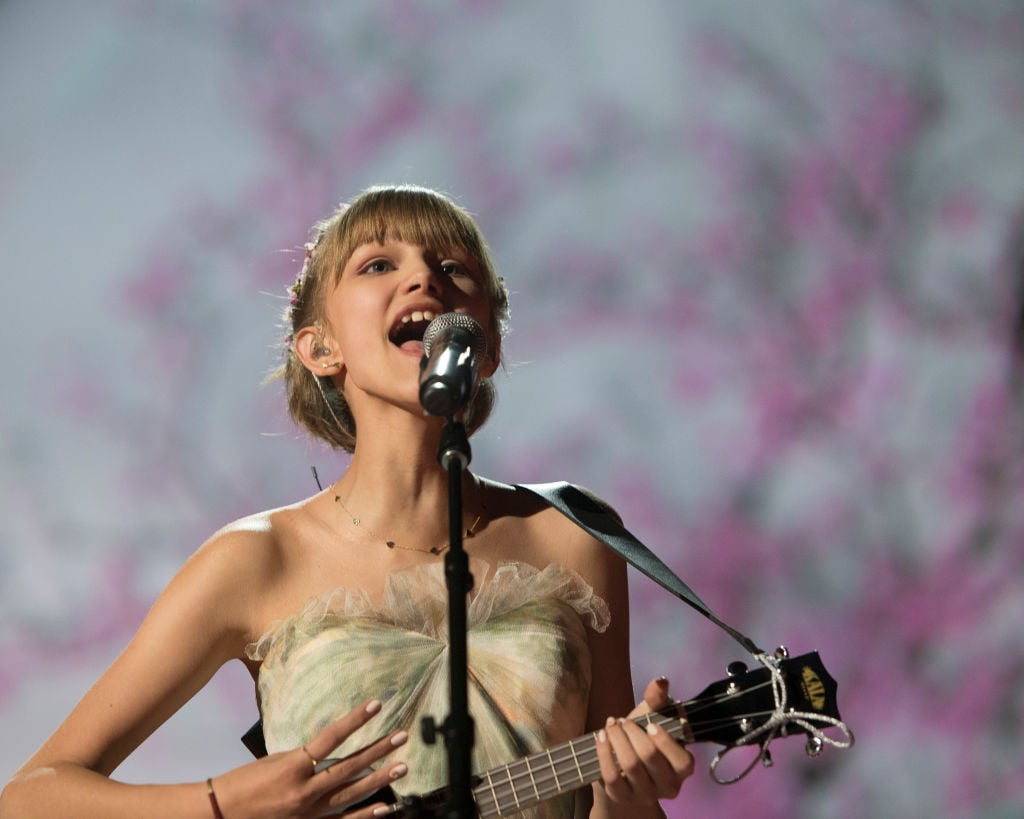 A new original movie is coming to Disney+ titled 'Stargirl'
Disney+ isn't just for already released animated films by Pixar, Marvel, Lucasfilm, and National Geographic. Similar to Netflix, Disney has a few original series' and movies set to premiere exclusively on this streaming platform. Although some became available at this platform's launch date during November 2019, some content is set for its 2020 premiere.
One of those original movies is Stargirl, a feature film based on Jerry Spinelli's 2000 novel of the same title. This movie features cast members Giancarlo Esposito of The Mandalorian, Darby Stanchfield of Scandal, and Maximiliano Hernández of Avengers: Endgame. One of its most notable cast members is America's Got Talent winner Grace VanderWaal.
'Stargirl' features the ukulele-playing Grace VanderWaal, known for her song 'I Don't Know My Name'
She may be known for her appearance in America's Got Talent, where she performed an original song accompanied by her ukulele. Now, VanderWaal will appear in the Disney+ original movie, Stargirl, as the title character.
This will be VanderWaal's first film credit, though she already has songs available on most streaming platforms. The teaser trailer, which premiered during January 2020 (on VanderWaal's 16th birthday), tells the magical story of one young girl who loves music and her newfound friend, Leo Borlock.
According to Screenrant, "Stargirl follows the experience of Leo Borlock (Graham Verchere), a student at Mica High School in Arizona. When the mysterious yet endearing Susan 'Stargirl' Caraway (VanderWaal) shows up, Leo forms a crush and learns to become more comfortable in his own skin. The two outsiders share a special bond, and the perils of high school force them to confront some difficult truths about the present and future."
Is 'Stargirl' only available on Disney's streaming platform, Disney+?
As a Disney+ original movie, Stargirl will presumably only be available on this streaming service. The movie could eventually end up on Disney Channel or another Disney-funded television network. However, according to Disney's Instagram, it will premiere exclusively on Disney+.
Disney funded other original movies and television shows exclusively for this streaming platform. That includes the live-action adaptation of Lady and the Tramp and the holiday movie starring Anna Kendrick, Noelle. Television series' already available on this streaming platform include the Star Wars spin-off, The Mandalorian and High School Musical: The Musical: The Series.
Presumably, more information regarding this film will be announced by Disney in the coming months. Subscribers can start streaming Stargirl on March 13, 2020. Until then, fans can listen to VanderWaal's music on Spotify, Apple Music, and most major streaming platforms.