Grammy-Nominated Album, 'Love & War,' Was Not Tamar Braxton's First Album
Tamar Braxton achieved great success with the release of her album 'Love & War' in 2012 but it was not the singer's first album.
Tamar Braxton has had massive solo success as a singer and reality star but it was a hard climb to the top. The songstress performed with her sisters, and had five solo record deals that she was dropped from. She worked as a background singer to maintain her name in the industry while she awaited another chance. The success of her album, Love & War, solidified her place in music but it was not her first project.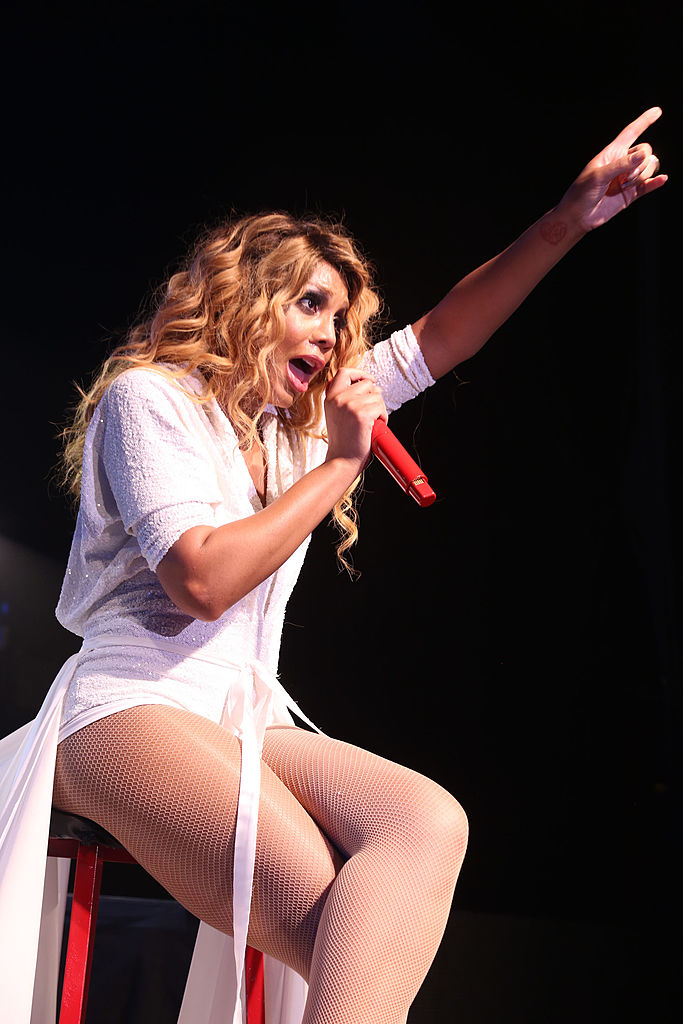 Tamar Braxton releases album with her sisters as part of the group, The Braxtons
Before solo superstardom, Braxton was in a group with her sisters. They initially were a quintet and released their first album in 1989 but the album failed to chart. Toni went solo and enlisted the help of her sisters as her background singers while they also worked on an album as a four-member group. 
Traci left the group after becoming pregnant with her son and chose not to sign a new record deal under pressure from her label to choose family over career. Towanda, Trina, and Tamar recorded the album as a trio and their first album, So Many Ways, was released in 1996.
The album produced four singles; "So Many Ways", "Only Love", "Slow Flow," and a remake of The Supremes hit "The Boss." "So Many Ways" peaked at number 26 on the Billboard R&B/Hip-Hop Albums charts and "The Boss" reached number one on the Billboard Dance Chart. 
Tamar Braxton releases self-titled debut album in 2000
The Braxtons disbanded after the So Many Ways album due to infighting. Tamar embarked on a solo career and signed a deal with DreamWorks Records. Her self-titled debut album was released in March 2000.
The album produced two singles; a ballad, "If You Don't Wanna Love Me," and the uptempo track, "Get None" that featured rappers Jermaine Dupri and Amil. The album debuted at number 127 on the US Billboard 200 and number 42 on the Top R&B/Hip-Hop Albums.
Tamar has admitted in interviews during promotion for her sophomore album that she is not fond of her first due to not having any creative control. She spoke openly about her label trying to market her as the second coming of her older sister Toni and claimed they handpicked songs that mimicked her sister's style. 
Tamar Braxton achieves solo success with sophomore album, 'Love & War'
Tamar and her sisters' reality show, Braxton Family Values, premiered on WeTV in 2011. Tamar's outspoken personality instantly made her a fan favorite. Viewers also had the chance to see Tamar's vocal talent and she fought for another chance at solo stardom.
After much anticipation, she released her sophomore album, Love & War, in December 2012. The recording process was documented on her spinoff series, Tamar & Vince. The first single shot to number one and was eventually certified platinum. Three other singles were also released.
Love & War received well received by music critics. Rick Florino of Artistdirect gave the album five out of five stars, writing, "If there's one thing that you'll take away from Tamar Braxton's triumphant Love and War, it's that this girl can sing like few can. Like all classic R&B records, it's Tamar's marvelous voice that resounds the loudest throughout—and long after it's over. It's like she's been the music industry's best-kept secret for all of these years, and she's finally getting the attention she deserves. It's definitely her time."
To promote the album, Tamar toured with John Legend. She headlined her own tour a year later to sold-out venues across the country. She was also nominated for two Grammy Awards and won a Soul Train Award. 
Tamar's since released three additional albums and is currently working on new music.