Grammy Winner Meghan Trainor Announces Pregnancy on the 'Today Show'
"All About That Bass" singer Meghan Trainor shared some happy news during a surprise visit on Today with Hoda & Jenna. Revealing to pals Hoda Kotb and Jenna Bush Hager that she's expecting her first child with husband Daryl Sabara, Trainor was all smiles as the couple gave details of their upcoming arrival.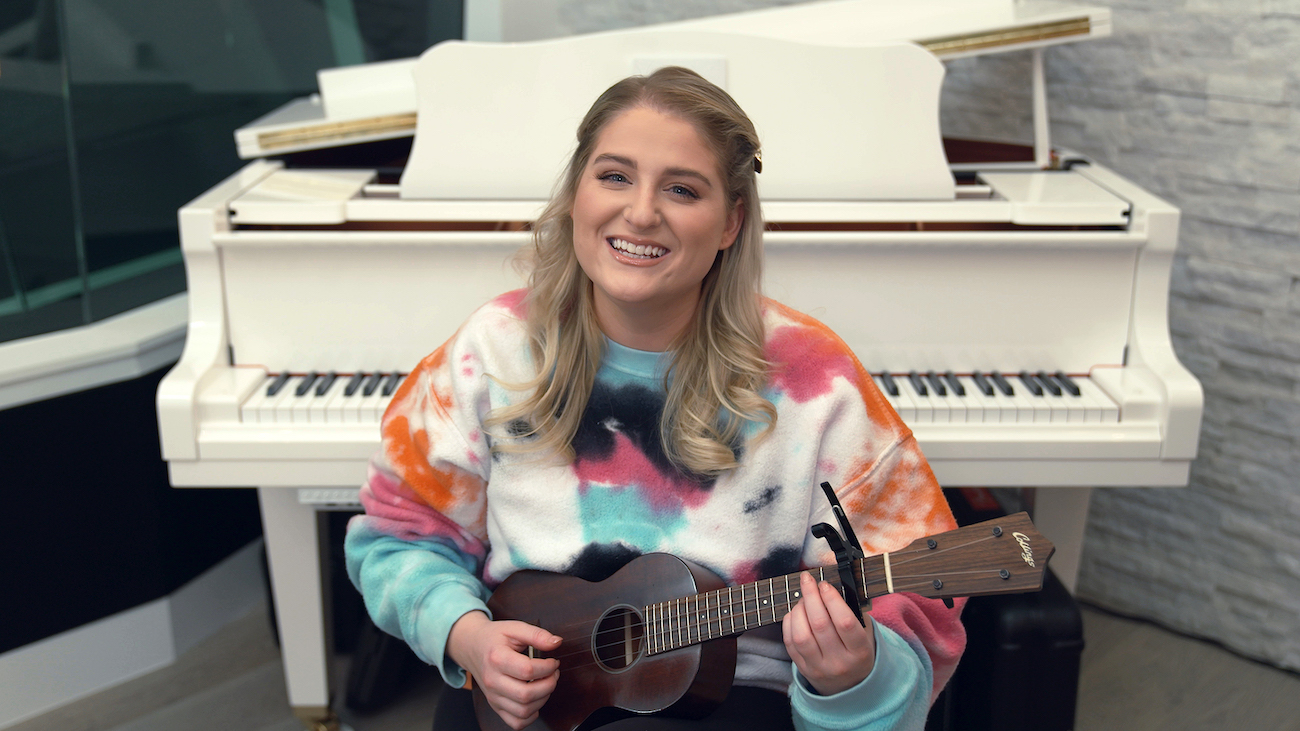 Meghan Trainor gives 'Today' the scoop
While it began as a typical show for Kotb and Hager, they were soon interrupted on the air by a loud ringing phone. Surprising the co-hosts, Trainor joined the show via video complete with a "Hoda" sweatshirt on and festive holiday decorations in the background in honor of her upcoming Christmas album.
"There's been other news [besides the album] that I've been dying to tell you," Trainor shared on Oct. 7, according to Today.com. "My heart's pounding out of my chest, and, hit it, Daryl!'
Trainor's cue led to her husband slowly dropping down a baby onesie with Kotb's name and face on it, just like the singer's sweatshirt.
"We're pregnant!" Trainer exclaimed, with Sabara (in a matching "Kotb-themed" sweatshirt") joining her on camera.
Why the Grammy winner chose to tell Hoda Kotb first
Trainor has a long history on the Today Show, where she has sometimes served as a substitute co-host alongside Kotb. The Grammy Award-winner thought the morning news program was the perfect venue to make her announcement for the first time.
"We were thinking about who do I tell first, and I was like, I told Hoda since I was 19 going to the TODAY show (that) I will have the most babies in the world," Trainor explained. "It finally happened and we're so excited."
Kotb asked how Trainor's family is taking the big baby news, where the singer explained she had given everyone a heads-up in advance on her hopes of becoming a mom.
"Well I made it very clear in the household, like, 'Hey, we're trying! We're gonna have a baby!'" Trainor shared. "So I was like, obnoxious about it, so that it wasn't too big of a surprise. But they are so excited."
Meghan Trainor says she's 'about halfway' to her due date
The "No Excuses" singer is clearly enjoying this joyful phase and remarked on the pregnancy process being quite an education.
"I'm very lucky. My pregnancy has been pretty easy so far," Trainor said. "I do feel like I'm learning new things every single day. … I realized how amazing women are. We're all like, women are superheroes. This is crazy."
Trainor also revealed the stage of her pregnancy, saying "I'm over 20 weeks. I'm about halfway."
The musician has previously shared her desire for a family, commenting on the subject right before her wedding to Sabara in December 2018.
RELATED: Singer Meghan Trainor Marries Longtime Boyfriend Daryl Sabara in Backyard Wedding
"If we could do it how we want to, we'd be, like, totally preggo right now!" Trainor told People at the time. "We're ready to rumble. I want some children! I want kids! We're both so excited for it."
Apparently the pair has been training for parenthood with the help of online tutorials.
"We both constantly watch baby YouTube videos and lessons on YouTube, like 'How to take care of an infant,'" Trainor shared with a laugh. "We're just getting prepared every single day."
Congratulations to the happy couple!