Grammys 2021: Taylor Swift Is Nominated for 6 Awards, But That Doesn't Break Her Record
At the 2021 Grammys, Taylor Swift is among the many artists nominated for multiple awards. Her six nominations put her ahead of nearly everyone else (save for Beyoncé, who's up for a whopping 10). Despite the impressive number, 2021 isn't even Swift's best year when it comes to Grammy nods.
At the Grammys, Taylor Swift has won many awards
Swift's been attending the Grammys since she was just a teenager. After breaking out with her self-titled debut album, she was nominated for Best New Artist at the 2008 Grammy Awards. At the time, she'd scooped up a couple of awards from other award shows, but when she finally won a Grammy, it meant more.
"I just keep thinking back to like when you're in second grade, and you sing at your talent show for the first time," she said in one of her first acceptance speeches (via Access). "People joke around, and they say, 'Oh, maybe we'll see you at the Grammys someday.' But that seems like an impossible dream."
She earned 6 nominations at the 2021 Grammys
Today, Swift is a veteran Grammy nominee, award-winner, presenter, and performer. After a lackluster past few years — she received just one nomination for Reputation, which impacted her greatly, as seen in her 2020 documentary, Miss Americana — the singer-songwriter made a big splash with Folklore.
The album, which Swift produced with Jack Antonoff and Aaron Dessner, topped many 2020 best-of lists. Folklore's nominated for Album of the Year and Best Pop Vocal Album. "Cardigan" is up for Best Pop Solo Performance and Song of the Year. Swift's duet with Bon Iver, "Exile," is nominated for Best Pop Duo/Group Performance. Finally, Swift's song from Cats, "Beautiful Ghosts," could win Best Song Written for Visual Media.
Swift's received more Grammy nominations 2 other years
Though 2021 marks an impressive Grammy-nominated year for Swift, it's not her best. That was her second year at the award show in 2010. For her second studio album, Fearless, Swift received eight nominations, including the highly coveted Album of the Year — which she won.
Swift's next most-nominated Grammys year was 2016, when she received seven. Her first official foray into pop, 1989, which debuted in late 2014, took home a few awards. Once again, Swift scored a nomination for Album of the Year — and again, she won. She became the first woman ever to win that award twice.
How many Grammys does Taylor Swift have?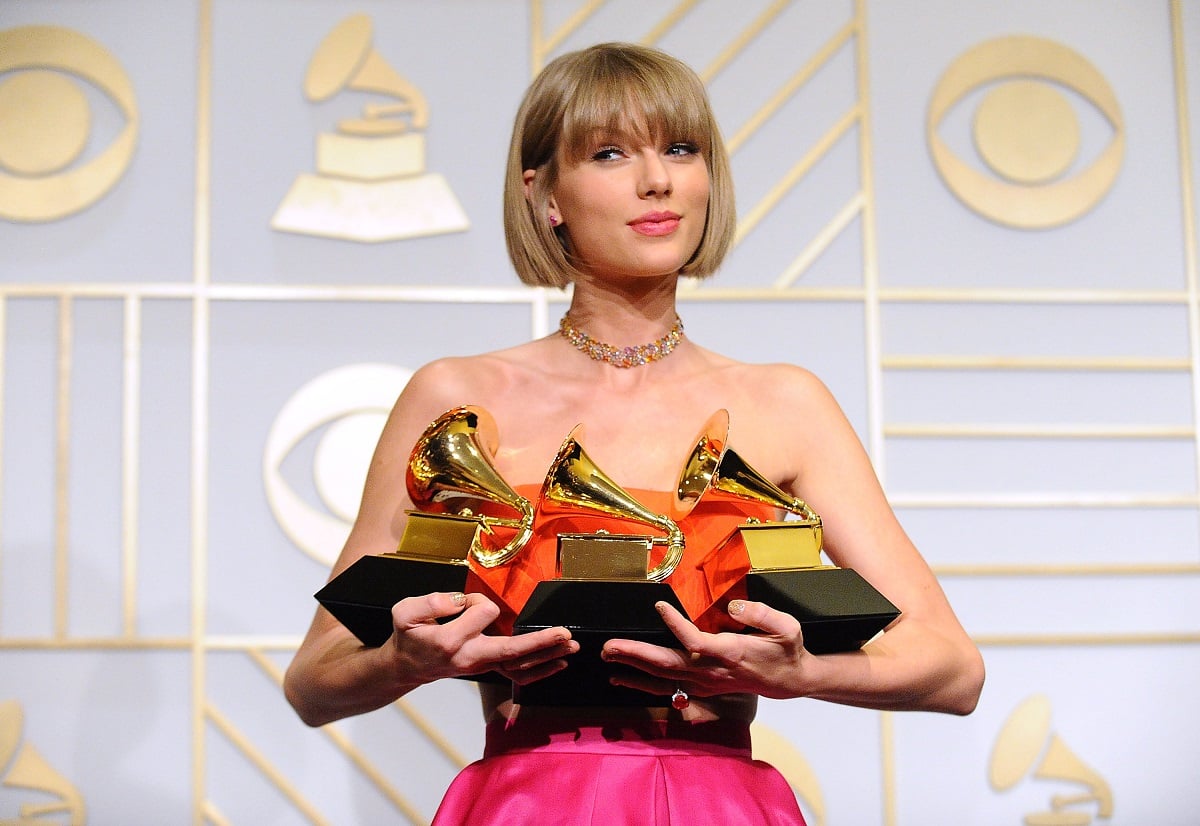 In addition to her two Album of the Year Grammys, Taylor Swift has several others sitting on her shelves. The same year she won her first, she also took home Best Country Album, plus Best Female Country Vocal Performance and Best Country Song for her single "White Horse."
Since winning those first four Grammy Awards, Swift's gotten six more. Her Speak Now single "Mean" won Best Country Solo Performance and Best Country Song in 2012. In 2013, Swift won Best Song Written for Visual Media for "Safe & Sound" from The Hunger Games. Finally, in addition to Album of the Year, 1989 won Best Pop Vocal Album, and its single "Bad Blood" won Best Music Video.