Grammys 2022: Does Bruno Mars Have More Grammys Than Silk Sonic Partner Anderson .Paak?
Bruno Mars and Anderson .Paak each paved their way in the music industry as fan-favorite and chart-topping solo artists. And when the two superstar artists joined forces to collaborate under the duo name Silk Sonic last year, fans can expect big things. Since it's Grammy season, it'll be interesting to see if the pair goes home with some hardware. And you may be wondering how many Grammys Mars and Anderson already have? Who has more awards? Nominations? And is Silk Sonic up for recognition?
Who is Silk Sonic?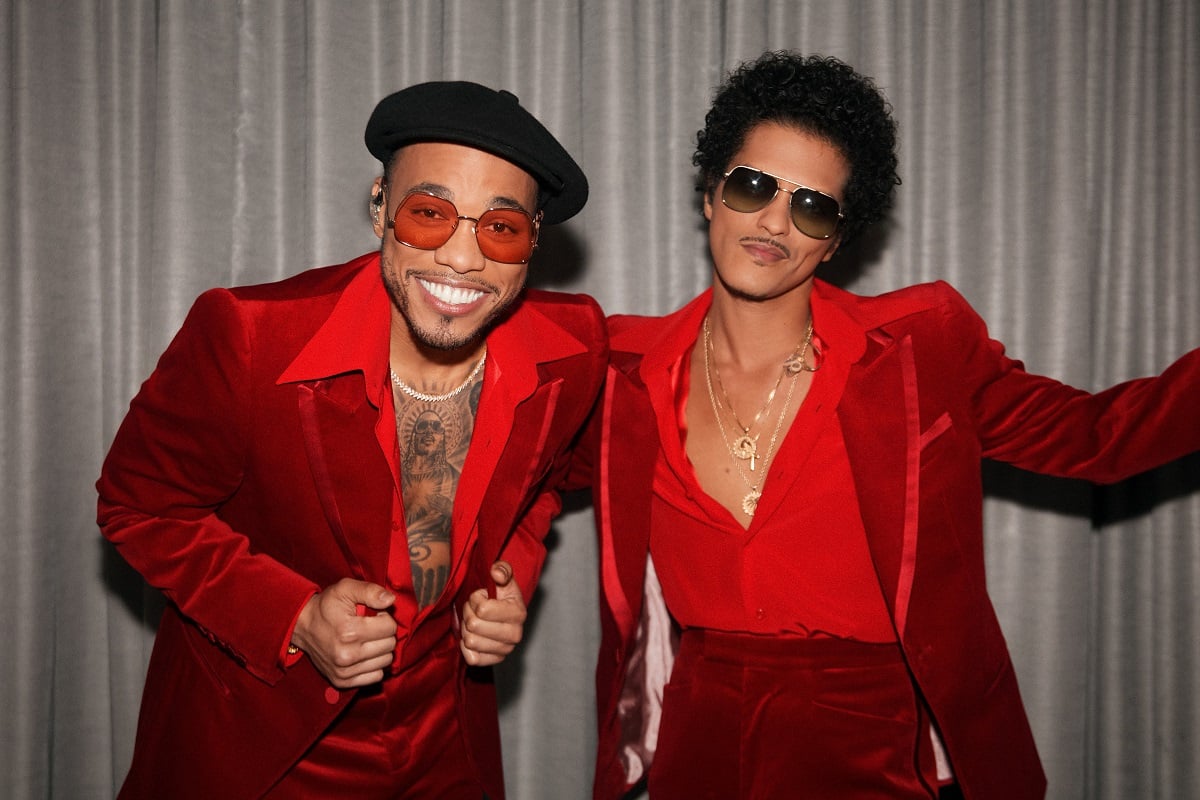 Bruno Mars and Anderson .Paak go way back. The two traveled together in 2017 and 2018 during Mars' 24K Magic World Tour. Anderson was an opening act with Mars, delighting fans with every performance.
The pair grew a friendship into a monster collaboration.
Rather than just releasing one song together as many artists do, the musicians created a group and put out a full album. They called the band Silk Sonic, titling their LP An Evening with Silk Sonic.
"It was organic and natural, and every day we would get to the studio and it was a blast," Anderson told Apple Music.
The first single, "Leave the Door Open," quickly made waves. Soaring up the Billboard Hot 100 and scoring some Grammy recognition, it's clear this new super band has longevity. And this first single is a first No. 1 hit for Anderson.
How many Grammys do the Silk Sonic duo each have?
According to the Grammy website, Bruno Mars has 30 nominations to his name, with 11 Grammy wins. This exceeds that of Mars' Silk Sonic partner, Anderson .Paak, who has four wins from 10 nominations, according to his Grammy profile.
Considering how many artists go their entire careers without a single Grammy win, Anderson and Mars are certainly at the top of their respective games. The former took home his first Grammy Award back in 2019 for his hit song, "Bubblin." In 2020, he earned two more Grammys, one for Best R&B Performance and another for Best R&B Album, proving he has staying power.
The other half of Silk Sonic, Bruno Mars, needs no introduction. His debut album in 2010, called Doo-Wops & Hooligans, was a massive sensation, with more than 15 million global copies sold. In 2012, he roared back with an encore, and his Unorthodox Jukebox album sold six million copies. His 2016 release, 24K Magic, sold five million copies, proving fans eat up nearly everything Mars creates.
What Bruno Mars and Anderson .Paak are nominated for in 2022
For this year, Bruno Mars and Anderson .Paak celebrated Silk Sonic's Grammy nominations for Record of the Year, Song of the Year, Best R&B Song, and Best R&B Performance, all for "Leave the Door Open." Their debut album, An Evening With Silk Sonic, will officially be eligible for Grammy album recognition in next year's award ceremony. But for now, Silk Sonic's song is already entering the superfan stratosphere.
This year's Grammy Awards will be telecast live from the MGM Grand Garden Arena in Las Vegas. And opening this year's show will be Silk Sonic, with a sure-to-be fan-favorite performance. Tune in to see these two powerhouses of music to see them perform as Silk Sonic and maybe even take home another piece of Grammy hardware.
RELATED: Bruno Mars and Anderson .Paak Announce Silk Sonic Las Vegas Residency