Grammys Will Reunite Run-DMC and Aerosmith for 'Walk This Way'
Grammy nominations were announced back in November but with the ceremony airing on Jan. 26, artists and fans are anticipating the performances. Lizzo, Billie Eilish, H.E.R., Blake Shelton, and Gwen Stefani are among this year's entertainers taking the stage, but so are some legends. Aerosmith and Run-DMC are getting together just like old times.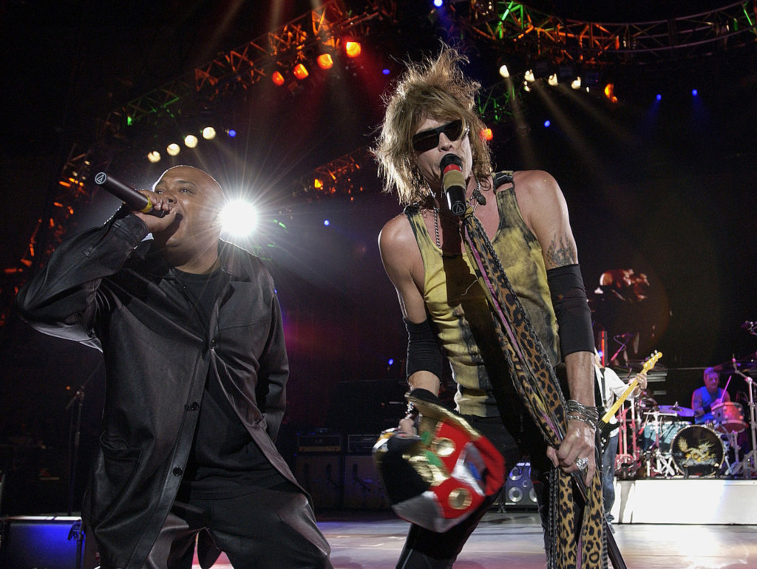 Aerosmith and Run-DMC to rock the Grammys
Who remembers when the video for "Walk This Way" came out in 1986? Visually, Run-DMC and Aerosmith staged a rap/rock battle then eventually brought their two styles together. Sonically, they fused things together and made a memorable hit that crossed over to multiple audiences.
At this year's Grammys, the two groups are coming together to bring "Walk This Way" to the viewing audience. We can't imagine it being anything other than a party. According to Variety, Run-DMC will only be on hand to join the band for this one song, which is set to be part of a medley.  
Aerosmith is receiving a special honor this year
This is the first time Aerosmith has performed at the Grammys since 1991, and this year, they are the recipients of the MusiCares Person of the Year, according to grammy.com. Per the site, the group is being recognized for their charitable efforts:
"In the midst of celebrating 50 years as a band, Aerosmith will be recognized for their considerable philanthropic efforts and undeniable impact on American music history. Over the years, Aerosmith has shown support for a number of charity organizations around the world, including MusiCares and vocalist Steven Tyler's own philanthropic initiative Janie's Fund, which supports young women who've suffered the trauma of abuse and neglect."
Aerosmith will receive their award at a gala days before the Grammys, and in addition to that, they'll be honored with a tribute concert.
How 'Walk This Way' came to be
Originally, Aerosmith released the song in 1975 but didn't break onto the charts until it was re-released in 1976. The 1986 remix with Run-DMC came about through Rick Rubin, the group's manager in the '80s. Rubin told The Washington Post he didn't think it'd be realistic for Aerosmith to do a hip-hop song, saying it would be a dream.
Steve Tyler told the outlet he loved rap, but bandmate Joe Perry said he had reservations about the collaboration because he was worried about their fan base. Run and DMC didn't like the idea at all and going in to recording, they still weren't on board.
After the record came out, it took off for Aerosmith, but Run-DMC said they put it out of their minds—until they saw it take off too.
It was a hit across genres and helped boost records sales and well as both groups' popularity. To this day, "Walk This Way" remains a pop culture hit and both Aerosmith and Run-DMC continue to perform the song.
The 62nd Grammy Awards will air on CBS on Jan. 26 at 8 p.m. EST. Catch Aerosmith perform a string of their hits and the history-making "Walk This Way" with Run-DMC.