Does Greek Tennis Star Stefanos Tsitsipas Have a Girlfriend?
Stefanos Tsitsipas is one of the biggest names in tennis — does he have a girlfriend?
Stefanos Tsitsipas is an incredibly talented young athlete who is quickly rising through the rankings in tennis. He is currently ranked No. 4, and defeated the "Big 3" of tennis — Djokovic, Federer, and Nadal — before turning 21. He just keeps getting better, and he's beginning to catch many people's attention–whether they're tennis fans or not.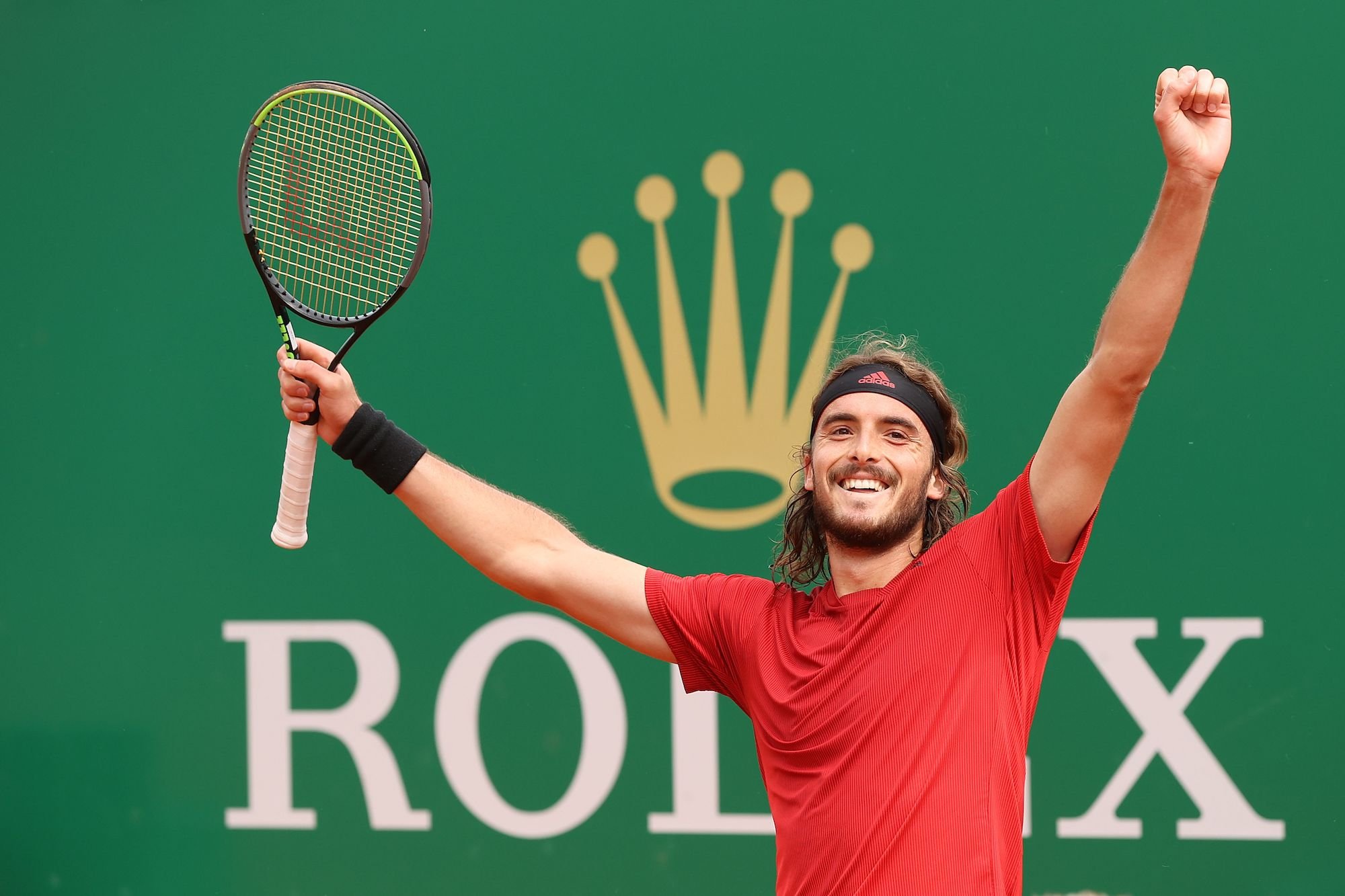 Tsitsipas' fans speculated that the young athlete was dating his frequent doubles partner, Maria Sakkari. Sakkari had some interesting things to say about those rumors…
Did he date Maria Sakkari? 
Rumors recently swirled that Stefanos Tsitsipas was dating his doubles partner, Maria Sakkari. Sakkari is also a Greek tennis player, and the two make a perfect pair on the court. 
Fans wondered about the pair after Tsitsipas gave Sakkari a kiss after winning a game. They also frequently post photos of one another on their social media accounts, but the two insist that they are just very good friends. 
According to Greek Reporter, Sakkari replied to questions about the kiss in an interview, "The kiss meant nothing erotic. One never knows what the future will bring, but that's how it is." Fans were quick to catch on to the cryptic "future" comment, wondering if Sakkari might think they could end up together one day. 
The two are still very good friends on and off the court. They were planning to participate in the 2020 Olympics, but the Coronavirus pandemic postponed the festivities. Tsitsipas and Sakkari are supposed to be playing in the 2021 Tokyo Olympics this summer, and fans are looking forward to seeing them team up once again.
Who is Stefanos Tsitsipas dating now? 
Tsitsipas isn't dating Sakkari, but he does have a girlfriend. Her name is Theodora Petalas, and the two met about three years ago when Tsitsipas was in New York City. At the time, Petalas was working for a hospitality organization. Tsitsipas says he was too shy to ask her out when they met, but when they saw each other a year later, he asked for a date. 
Their first date was a stroll around Brooklyn, where they took pictures and enjoyed one another's company. They hit it off right away, and Tsitsipas says she is a positive influence on him, always helping him to find balance. According to Tennis Tonic, Tsitsipas says the relationship is very special:
"She is someone who has supported me a lot, she's brought me great balance and I have a lot of feelings for her. I think she feels the same! Our relationship is something very special. The fact that we understand each other and have things in common, personality-wise, helps a lot."
Petalas lives in London, which can be a challenge at times. As Tsitsipas's tennis career requires a lot of travel, Petalas often travels with him. Even when they are apart, they talk every day. Petalas also loves tennis, and Tsitsipas says playing with her is his favorite time spent on the tennis courts. 
Stefanos Tsitsipas career is taking off in 2021
Stefanos Tsitsipas is the highest-ranked Greek tennis player in history. He was named Greek Male Athlete of the Year in 2019, at the age of 19. Tsitsipas has been playing professionally since 2016, and he is the youngest player to be ranked in ATP's Top 10. 
Tsitsipas was born in Athens, and both of his parents were tennis coaches at a local resort. He's the oldest child in his family, with three younger siblings. The tennis star grew up in a small suburb south of Athens. He developed a passion for tennis at a young age, probably because his parents shared their love of the game with him. 
He began taking lessons when he was six years old. His first coach, Giorgos Spiliopoulos, taught him the rules of the sport, basic techniques, and helped him establish a good work ethic. After he played for a couple of years, he switched coaches. Giorgios Fountoukos has been teaching Tsitsipas since he was eight years old and is still his current coach back in Greece. 
When Tsitsipas was 12 years old, he decided to pursue a professional career in tennis. Becoming the star that he is today took many sleepless nights, a taxing traveling schedule, lots of anxiety, and many mistakes. However, Tsitsipas says he is thankful for the opportunity to turn his childhood hobby into a career, and tennis has made him a better person.