'Gretel & Hansel' Movie Review: Sophia Lillis Overcomes It Again
Sophia Lillis just can't catch a break. First she's terrorized by Pennywise in It. Then she's traumatized in Sharp Objects and covered in blood in I Am Not Okay With This. Now she's in an intensified Grimm fairy tale in Gretel & Hansel. It's working for her though. Her characters always seem to overcome, and she'll always be Nancy Drew. 
Sophia Lillis is Gretel
Gretel & Hansel is not messing around. Gretel (Lillis)'s mother (Fiona O'Shaughnessy) tries to marry her off, and when Gretel doesn't impress the guy she tells her daughter to smile more. Women will still be dealing with that one for another few centuries.
Mom drives her kids away with an axe, so Gretel and Hansel (Samuel J. Leakey) take their chances on their own. Such a violent rejection by their mother doesn't seem to phase them much, but they don't have much time to consider it. They're assaulted in the next shelter, save for a kindly man rescuing and cooking for them. Then, of course, they wind up at the house of a witch (Alice Krige).
The horror of 'Gretel & Hansel'
The story of "Hansel and Gretel" is already pretty intense. A witch is trying to cook and eat them, until they turn the tables. Director Osgood Perkins ramps up the intensity of his Gretel & Hansel with more subtlety.
He creates a lot of surreal imagery just with a low camera, creating space in a room or the woods around Gretel. She begins to fill the frame more and more as the camera gets closer, gradually changing the feeling of the scene. Angles and corners also play a role in the aesthetic. The sets are the most compelling aspect of Gretel & Hansel.
Within the house, Perkins creates surreal scenes just by where he places Gretel and Hansel in the room in relation to each other. Gretel's dreams get even trippier than the mushrooms they eat in the woods.
There is something not quite right about everything. The witch has endless food but no cattle or garden. Gretel suspects something, but it's subtle. She's not just shoving them into an oven. By the time the witch puts on a pointy hat and slings a shovel over her shoulder like a broom, she very subtly looks wicked but it's natural.
Sophia Lillis empowers Gretel
Perkins and screenwriter Rob Hayes use the Brothers Grimm story to tell a tale of youth empowerment. Gretel comes into supernatural powers, but even more importantly she learns the balance between caretaking and independence. With both, no adult stands in her way, and many try to.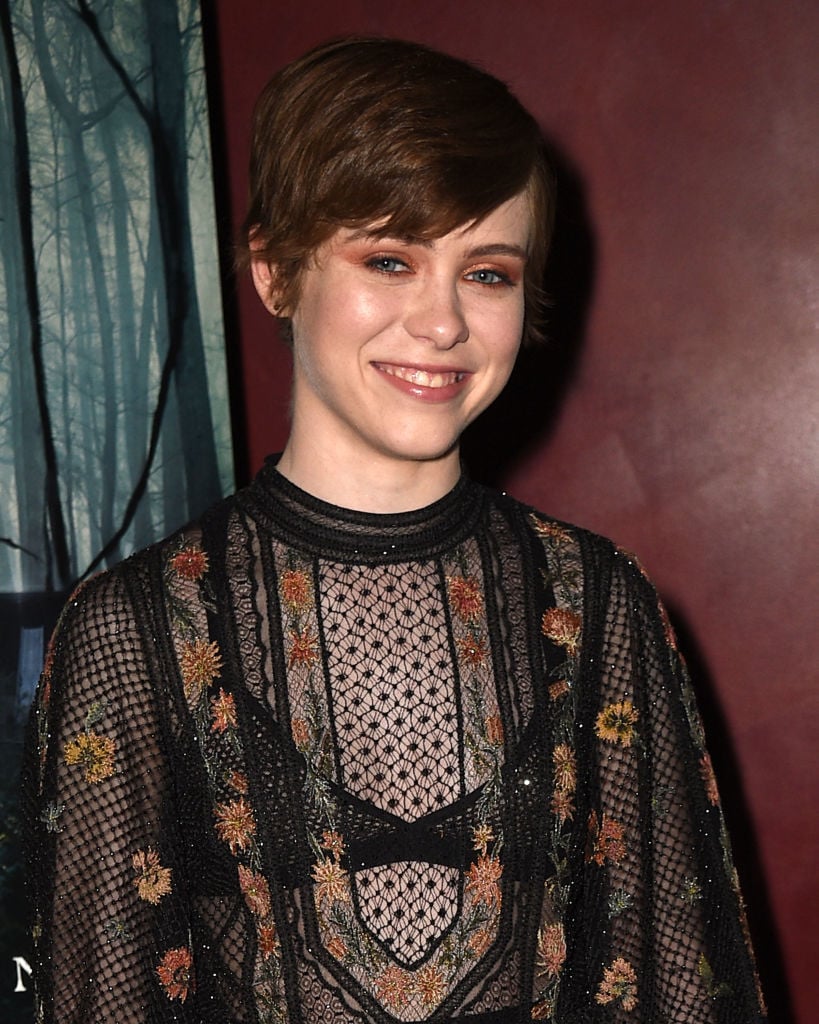 She talks in a semi-old timey way and pace. "Frankly" is a word that seems modern, and sources say it emerged in the 19th century. Aside from that word, the script makes an effort to make the dialogue sound like a bygone era, but it's not so authentic it sounds foreign.
Gretel & Hansel is now on VOD, DVD and Blu-ray. The Blu-ray and DVD include a storybook version of the film with illustrations resembling Lillis and Leakey's likenesses.