'Grey's Anatomy': The 1 Japril Scene That Was 'Agonizing' for Sarah Drew
Grey's Anatomy stars Jesse Williams and Sarah Drew filmed many scenes from season 6 until season 14. While playing doctors Jackson Avery and April Kepner, they acted out one of the show's most famous love stories. The characters also earned the nickname "Japril" before Drew left Grey's in 2018.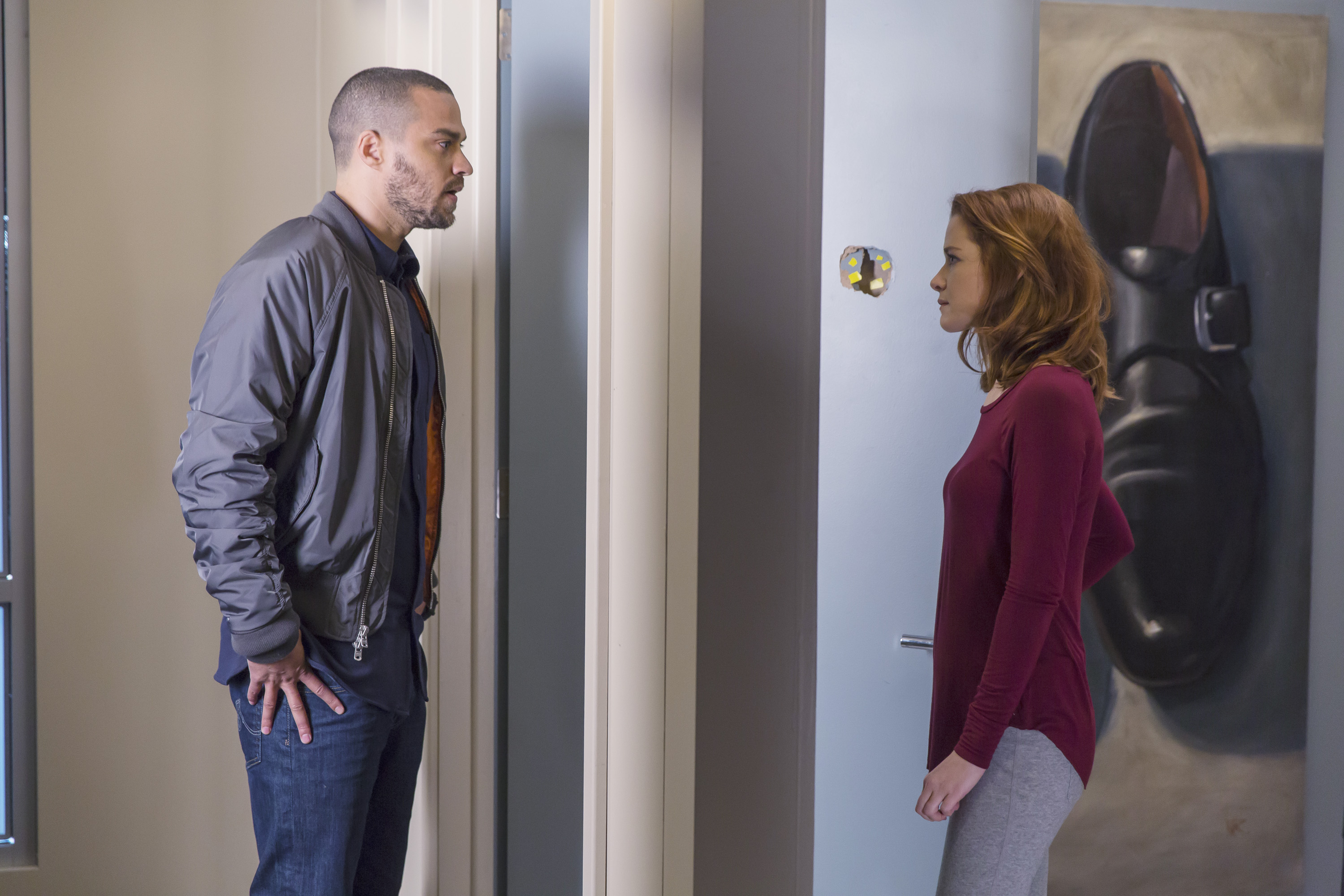 'Grey's Anatomy' co-stars Jesse Willams and Sarah Drew both wanted Japril to reunite with each other
Williams and Drew landed recurring roles on Grey's Anatomy in 2008. Although they got hired  as temporary characters, their portrayals of Dr. Jackson Avery and Dr. April Kepner got them hired for several more seasons. In season 8, the characters' storylines brought them together as a couple. During that time, April lost her virginity to Jackson, despite her plans to have sex for the first time on her wedding night. 
Following their initial affair, Jackson and April tried to keep their relationship platonic. In season 9, she meets a paramedic named Matthew Taylor (Justin Bruenig) and agrees to marry him. However, the couple never made it down the aisle, as Jackson professed his love for April on her wedding day. Once April left Matthew, she and Jackson got married, and "Japril" began. 
Throughout the on-screen relationship, the couple faced multiple challenges. In later seasons, they experienced the death of their son, Samuel, and differences in faith and childhood rearing. Eventually, the couple divorced, and April married Matthew in season 14. Drew and Dr.  Arizona Robbins actor Jessica Capshaw left Grey's Anatomy in 2018. While Japril is now only co-parents, Williams told Entertainment Tonight that he wants to see the former couple reunite at some point. 
"They are incredible together," Williams said of Jackson and April in Feb. 2021. "I am a fan [of Drew's], and she is absolutely one of the most special people I've worked with. We developed those storylines together with our incredible writers, so it'll always hold a very real place in my heart and memories. We stay in contact. She is the sweetest."
Sarah Drew and Jesse Williams 'leaned on each other' for many Japril scenes
As previously mentioned, Drew and Williams endured many emotional rollercoasters while shooting Grey's Anatomy. In Sept. 2020, the Private Practice actor said she and Williams worked "12-13 hours" to shoot an episode centered around Japril's breakup. The episode, titled "UnBreak My Heart," followed Jackson and April's journey from friendship to divorcees. 
Although the season 12 episode was difficult to film, Drew said a scene from season 14 "destroyed" her. While filming season 14, episode 23, "Cold As Ice," the doctors at Grey Sloan Memorial try to save April's life after her heart stopped from drowning in a lake. Distraught from seeing his ex-wife in pain, Jackson prays for April's recovery. Shortly after, the trauma surgeon wakes up while surrounded by her friends. 
Once the episode aired, Drew posted a photo of her embracing Williams on Instagram. Afterward, she shared a lengthy caption and said the actors typically console each other during complex scenes. 
"Jesse and I had some very trying stories to tell over the years, and there were many moments when we really needed to lean on each other to get through them," Drew wrote. 
The Japril scene that 'agonized' Sarah Drew
In her caption, the actor continued to say that filming the season 14 episode provided a unique challenge for her. Because she couldn't move in the scene where Jackson prays for April, Drew and Williams had to console each other after they shot the episode. 
"It was agonizing for me," she recalled. "Because I wanted so badly to reach out and offer him support in the scene- to let him lean on me – cuz that's what we do for each other- but I had to just lie there unconscious letting him do his beautiful work alone. So, after he finished his coverage, I reached out to hug him, and our makeup artist @lovveeani caught it on film."
Drew remained on Grey's Anatomy for one more episode after "Cold As Ice." Although she left the show full-time, she will appear as April Kepner in a season 17 episode.