'Grey's Anatomy': 2 Jackson Avery Speeches That Prove He Is Still Madly in Love With April Kepner
Jackson Avery gave 2 lengthy speeches during previous 'Grey's Anatomy' episodes that prove his love for April Kepner is stronger than ever.
Jackson Avery (Jesse Williams) and April Kepner (Sarah Drew) on Grey's Anatomy reunite on May 6, 2021. Many fans are hopeful that this episode means Japril is endgame. So, viewers dug up two monumental speeches that Jackson gave since April left the show in season 14. They prove that he is still madly in love with his ex-wife and father of his child.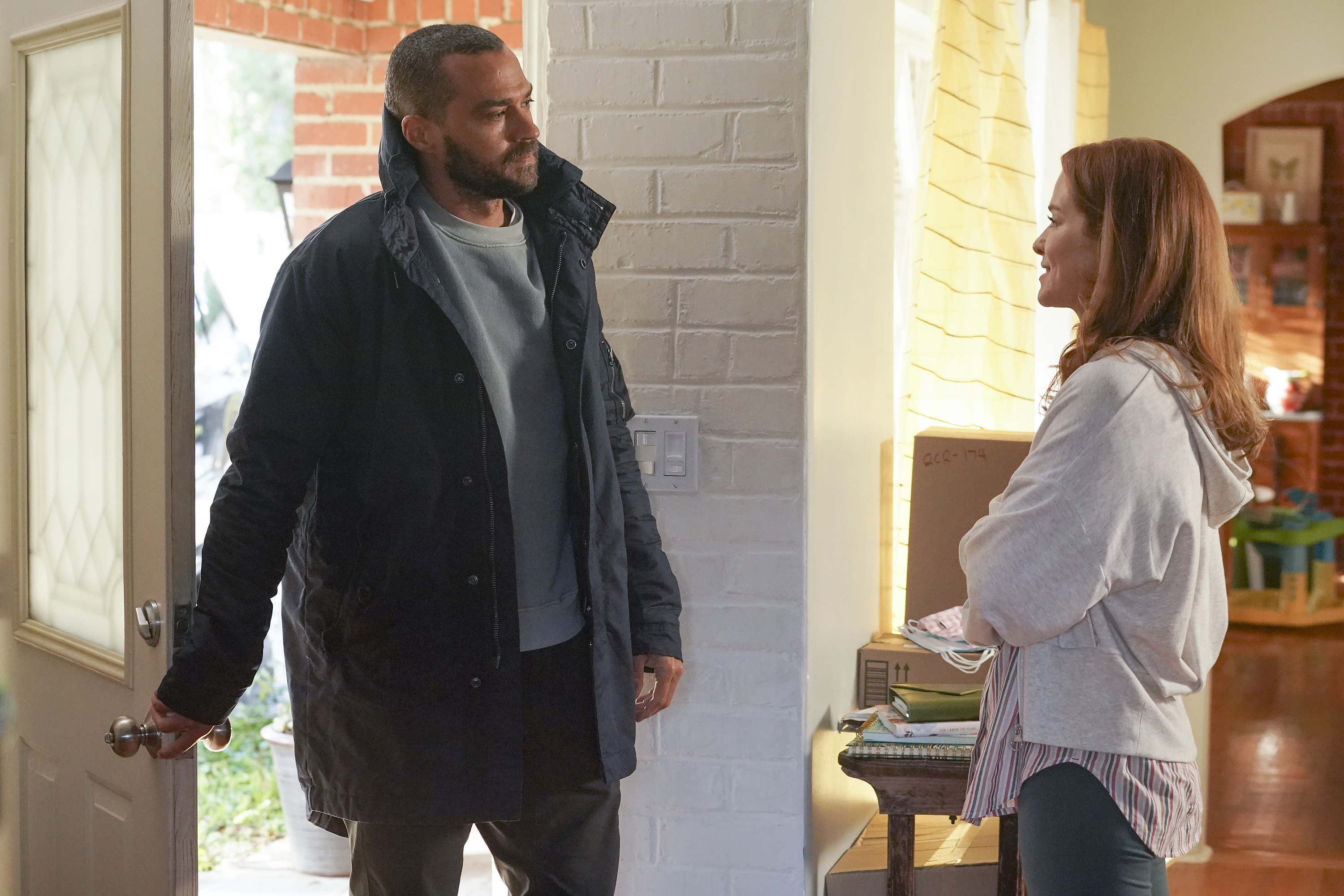 Where did Jackson Avery go?
When Grey's Anatomy Season 17 Episode 12 ended on April 15, fans wanted to know where Jackson Avery went. After a heated argument with his mother, Catherine Avery (Debbie Allen), he tossed a suitcase in his trunk. The surgeon set his GPS for an 11-hour trip. Many fans guessed he was heading to visit his father because Catherine told him he sounded like his father.
ABC's press photos for episode 14 confirmed the Jackson fan theories. He took a long trip to visit Robert Avery (Eric Roberts). In a new Grey's Anatomy Season 17 Episode 14 promo, viewers watched as Jackson knocked on April's door.
"Jackson pays a visit to his father that helps set him on the right path," the Grey's Anatomy episode 14 promo says.
It looks like the "right path" is to visit his ex-wife, April Kepner.
'Grey's Anatomy' Season 17 Episode 2: Jackson Avery gave a heartfelt speech to Richard Webber
When Grey's Anatomy Season 17 began, Jackson's girlfriend, Vic (Barrett Doss) appeared at his door wearing nothing but a puffy coat. However, Jackson was holding Harriet and had to shield her eyes. Vic realized she didn't want to be a stepmom and broke things off with Jackson.
Newly single Jackson Avery talked sense into his stepfather, Richard Webber (James Pickens, Jr.) in the following episode. 
"You're still not yourself," Jackson told Richard. "You're not even fighting for your damn reputation or your career, Richard, 'cause your wife isn't here. Why is that? 'Cause you sent her away. I know with all of my being that you need to get over this stubborn ego, stubborn pride, and go call and claim the woman that you love, 'cause you're not gonna get over it. And you're damn sure never gonna get over her."
Maybe, he was speaking to himself at that point as well one fan pointed out on Reddit. The entire monologue reflected his feelings toward his relationship with April. 
'Grey's Anatomy' Season 15 Episode 7: Jackson told Maggie about April
April Kepner was the reason that Maggie Pierce (Kelly McCreary) and Jackson Avery broke up in season 15. After Maggie and Jackson nearly died, he took a leave of absence at work to "clear his head" and "get some answers." When he returned Maggie wanted to know what he found in the wilderness. The answer to that question was complicated and not what Maggie expected.
"The one thing that April and I could never see eye to eye on was God," Jackson told Maggie in Grey's Anatomy Season 15 Episode 7. "She believed and I never could. Now that I do, now that I really do, it's too late. She's married. She's happy with someone else."
Although Jackson insisted he was happy for April, he never got over her. Maggie got up and left the plastic surgeon alone. The Grey's Anatomy writers planted many seeds throughout the past few years that Jackson was not over April. Will he get her back when he shows up on her doorstep on May 6? Viewers have to wait and see if Jackson Avery and April Kepner are endgame. Grey's Anatomy airs Thursdays at 9 p.m. EST on ABC.