'Grey's Anatomy': 3 Breakups Fans are Still Upset Over—Years Later—Aside from Meredith and McDreamy
Find out which couples fans will never be over—complete with Ship names.
Grey's Anatomy fans have been through a lot of relationships and breakups over the 16 years the series has been running. Some hurt more than others when they ended. Fans were devastated when Meredith's (Ellen Pompeo) husband, Derek Shepherd (Patrick Dempsey), died in season 11; however, there are three more couples that fans are still upset that they didn't last. Let's take a look at who they are.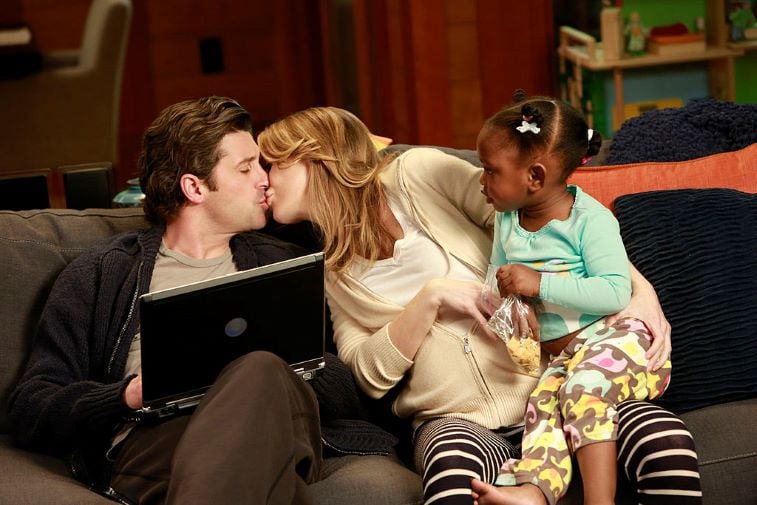 'Calzona': Callie Torres and Arizona Robbins were the perfect LGBTQ couple
Callie (Sara Ramirez) and Arizona (Jessica Capshaw) had a five-year relationship on Grey's Anatomy. They married during season 7 and divorced in season 11. Callie began a new relationship with Penny and left to go to New York with her in the season 12 finale. Fans are still heartbroken that the two did not end up together. Some like to imagine that they reconciled and got back together in New York.
"Words can't describe how much I loved Arizona and Callie," reminisced one Reddit user. "Am I the only one who misses them? I thought they were perfect."
"I miss them too," another fan agreed. "Not just the LGBT representation, but the dynamic between them was realistic and refreshing."
"Right?" added another Redditor. "There was something so 'perfect' about them that at the same time, was entertaining and awesome for the show. It still hurts."
"Their break up," confessed one fan, "may have been the thing that broke my heart the most out of any of the ENTIRE show, which is saying a lot with some of the stuff Shonda throws at us!!"
'Slexie': Mark Sloan and Lexie Grey were star-crossed lovers
As often as fans talk about Meredith and Derek, they talk about the devastation of Mark Sloan (Eric Dane) and Lexie Grey (Chyler Leigh) even more. Meredith's little sister, Lexie, began her relationship with "McSteamy" during season 5, but it was a very on-again-off-again thing. Mark often professed his love for Lexie; however, their timing was always off. They finally both end up together in season 8; however, they both die due to complications from a plane crash. 
"Slexie, though," wrote one fan on Reddit, "I will be salty forever about Mark and Lexie dying. Forever"
"Mark was never that great to Lexie," countered another fan, "I never understand why their relationship was so memorialized."
"He wasn't, but he truly WANTED to be, and that's why I loved it," explained another Redditor. "He wanted to be better for her. There was so much growth potential for Mark that we never got to see. He was like a lost boy. I really wanted to see him be a dad to Sofia and to learn how to deserve Lexie properly."
Although the pair had a rocky relationship, fans like to believe that the couple is together in the after-life. 
'Japril': Jackson and April's relationship status still leaves fans 'salty'
April Kepner (Sarah Drew) embarks on a relationship with Jackson Avery (Jesse Williams) at the end of season 8. The couple also jumps in and out of relationships with either other, often. At one point, April leaves Matthew Taylor (Justin Bruening) at the altar to run off with Jackson. The couple gets pregnant, but their son has a rare disease, and he only lives for a few hours. They both cope in their own ways, and the situation ends up tearing them apart.
"I loved all of these couples, but it breaks my heart, knowing that Japril could and should have been endgame," added another fan. "Well, there's always hope for the series finale, since Shonda will likely write it, then maybe just maybe we'll get a Jarpil reunion."
"Shonda, you can not separate Japril," wrote one fan on Instagram during one of the many Jackson and April breakups. "They have to come back."
"Please do not break this couple up again, Shondra," one fan wrote on Instagram following another Japril fight. "Fans need a couple to believe in, especially when you broke everyone's hearts when you had Derek killed!"
The showrunner, Shonda Rhimes, did not listen to fans on this one. April and Jackson are no longer together on the show, and there isn't much hope for their reconciliation. April left the show in season 14 to marry her ex-boyfriend, Matthew.
The most likely couple to get back together might be Callie and Arizona since they are currently living in New York together. Until that happens, we will have to watch reruns of our favorite couples together — Grey's Anatomy returns from fall break on Jan. 23, 2020.