'Grey's Anatomy': Krista Vernoff Knows Alex Karev's Exit Felt 'Like a Betrayal' to Some Fans
Grey's Anatomy fans were devastated when Alex Karev (Justin Chambers) left in season 16. The character went from Evil Spawn to Meredith Grey's (Ellen Pompeo) person and Jo Karev's (Camilla Luddington) loving husband. However, Alex dropped everything to get back together with his ex-wife, Izzie Stevens (Katherine Heigl).
After Alex's final Grey's Anatomy episode, many viewers called out the Shondaland drama for character regression. Then recently, Grey's Anatomy showrunner Krista Vernoff acknowledged the criticism. But even so, there are a number of reasons why Alex's arc ended the way it did.
Why did Alex Karev (Justin Chambers) leave 'Grey's Anatomy'?
RELATED: 'Grey's Anatomy' Season 17: Jo 'Builds a New Life' After Alex's Surprising Exit
Fans said goodbye to Alex in Grey's Anatomy Season 16 Episode 16, which is titled "Leave a Light On." The character left letters to Meredith, Jo, Miranda Bailey (Chandra Wilson), and Richard Webber (James Pickens Jr.) in an attempt to explain his departure. He also delivered signed divorce papers to Jo, confirming the end of their relationship.
As mentioned, Alex left Grey's Anatomy to be with Izzie. The couple reconnected when Alex reached out to Meredith's colleagues for her medical license hearing. Then on a phone call, Alex found out Izzie used the embryos they made when she was diagnosed with Stage 4 metastatic melanoma. So she gave birth to twins, Eli and Alexis. Now, Alex and Izzie will live out their happily ever after on a farm in Kansas. 
Meanwhile, Chambers released a statement about his Grey's Anatomy exit in January 2020. "There's no good time to say goodbye to a show and character that's defined so much of my life for the past 15 years," the actor wrote, per Deadline. "For some time now, however, I have hoped to diversify my acting roles and career choices. And, as I turn 50 and am blessed with my remarkable, supportive wife and five wonderful children, now is that time."
Krista Vernoff opens up about Alex Karev's ending on 'Grey's Anatomy'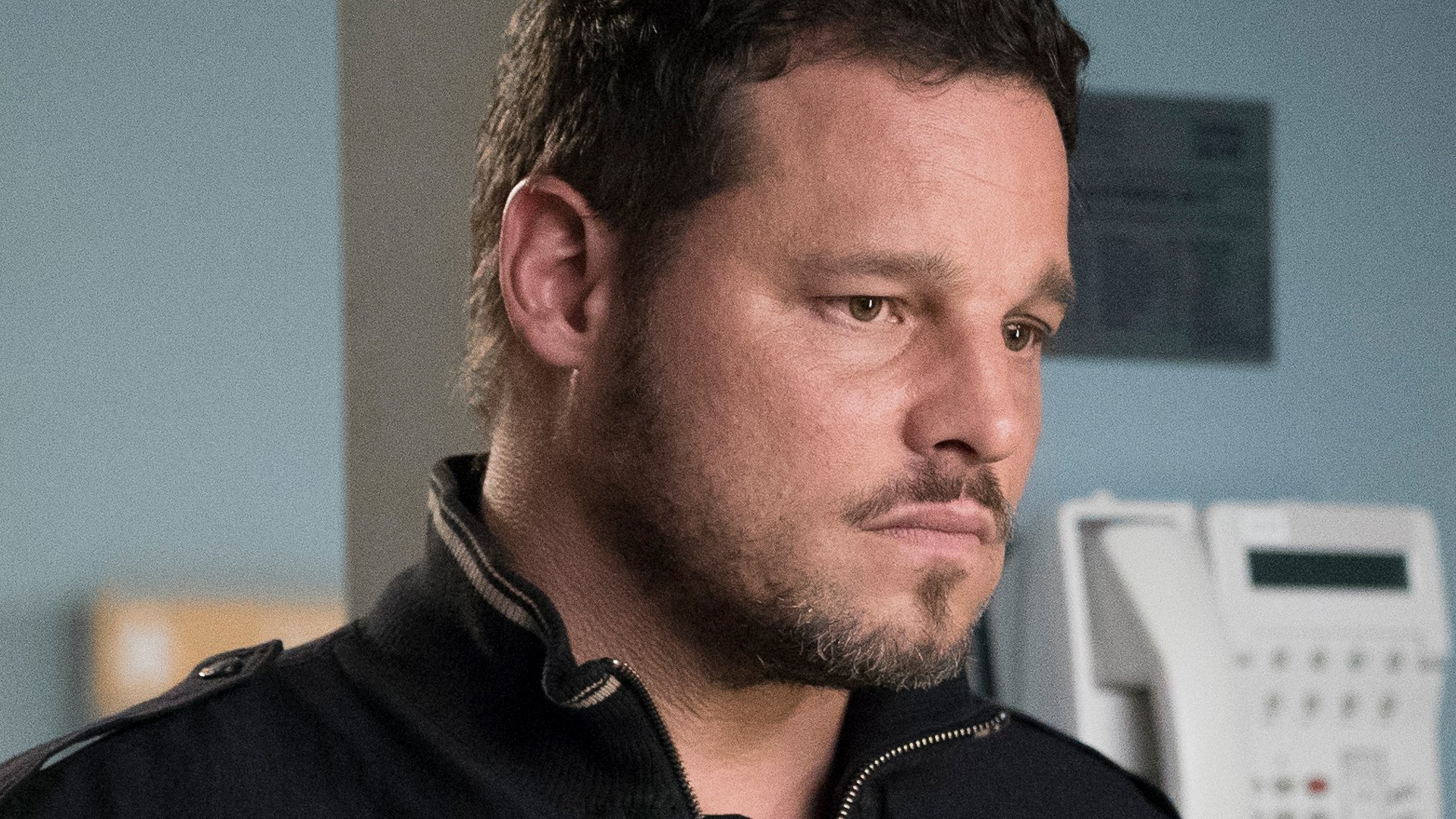 RELATED: The 'Grey's Anatomy' Season 17 Episode 4 Trailer Teases Another Big Reunion for Meredith Grey
In Grey's Anatomy Season 6, Izzie left Alex. Then when she came back a few episodes later, Alex turned her down. He pointed out he deserved someone who was willing to stay. He also told her to leave and never come back.
As time went on, Alex found Jo. The couple started an extraordinary romance, even getting married twice. Then in an interview with Variety from November 2020, Vernoff revealed she thought of Alex and Jo as "endgame" for many years. Thus, she understood why Grey's fans felt so strongly about Alex's exit.
"For many years writing them, I had thought they were endgame," Vernoff said. "And so I understood why to some people this felt like a betrayal of that character development."
Then Vernoff explained why the Grey's Anatomy writers chose to wrap Alex's storyline with Izzie, despite their original ending back in season 6.
"Izzie had disappeared when Alex was very much in love with her. And yes, he had said, 'I deserve better than you.' But that was rooted in his pain," the showrunner said. "It was something that we had to write pretty abruptly back in the day that hadn't quite felt true. So it was, like, 'Oh, wait a minute — there's a way to bring all of this full circle.'"
RELATED: 'Grey's Anatomy': Why Sandra Oh Won't Return as Cristina Yang, Even for the Series Finale
She continued, "For us, what had driven Alex Karev as a character his whole life was a desire for an intact family. A desire for sanity was a desire for pancake breakfasts — like, he wanted a childhood that nothing in his life had ever given him."
Vernoff also pointed out the Grey's Anatomy team couldn't kill Alex, noting the emotional impact and grief it would cause the characters — and fans. 
"In addition to not wanting to put the actors through sustained grief, I didn't want to put the characters through another sustained grief," Vernoff said. "That was probably the more significant thing. I don't want Meredith Grey to lose Alex Karev to death. … And I didn't want the audience to go through it. That character was so sacred. He was so sacred."
But ultimately, it seems Vernoff is happy with Alex's last episode on Grey's Anatomy. 
"Alex went and discovered this other thing, and he couldn't leave. And that felt true. And it felt fair," Vernoff said. "It felt OK to our writers, who also grew up with these characters. These people are real to us, too. And that felt like the way we could say goodbye to Alex."
Check out Showbiz Cheat Sheet on Facebook!