'Grey's Anatomy': Alex Leaves Jo for [SPOILER] and Fans Are Absolutely Gutted
[Spoiler alert: Grey's Anatomy Season 16, Episode 16.] It's a beautiful day to ruin lives, isn't it Grey's Anatomy fans? On Thursday, March 5, the Shondaland series addressed Alex Karev's (Justin Chambers) exit. Of course, the real reason why Alex left Grey Sloan Memorial had fans screaming — but not necessarily in a good way. The episode — titled "Leave the Light On" — had the character saying goodbye to everyone, including his wife, Jo Wilson (Camilla Luddington). And if that wasn't heartbreaking enough, Grey's Anatomy dropped another bomb — Alex abandoned his life in Seattle for Izzie Stevens (Katherine Heigl). 
What happened to Alex Karev in 'Grey's Anatomy' Season 16?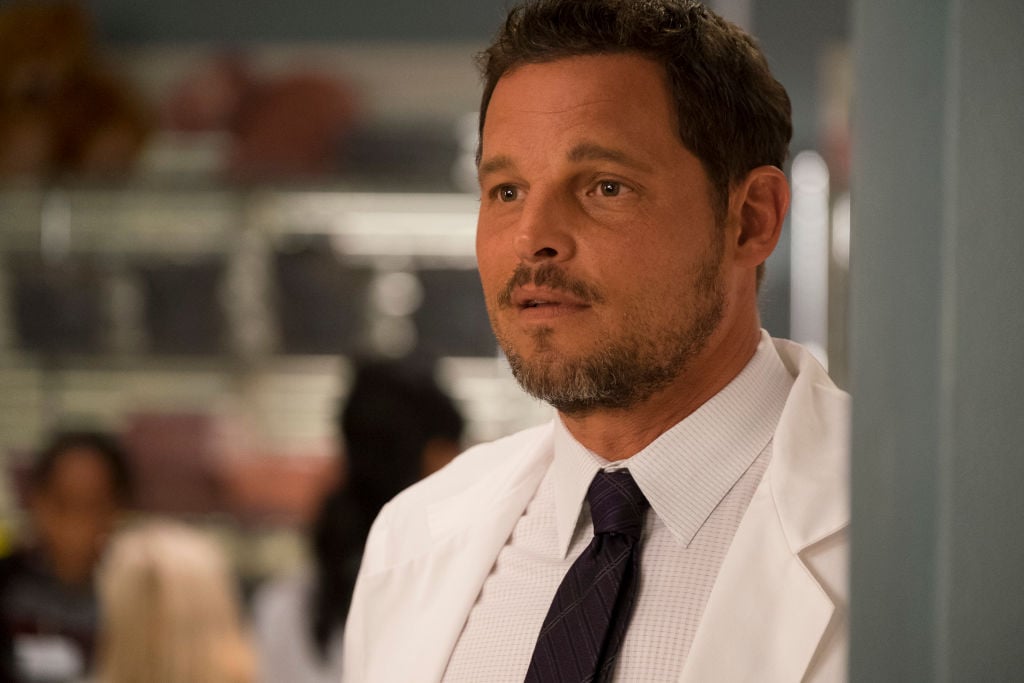 At the start of Grey's Anatomy Season 16, Episode 16, Meredith Grey (Ellen Pompeo), Miranda Bailey (Chandra Wilson), Richard Webber (James Pickens Jr.), and Jo receive letters from Alex. As we learned in the previous episode, Alex lied about being in Iowa. The letters are from Kansas.
Then in a series of voiceovers done by Chambers, Alex confirms he isn't returning to Seattle and he is back together with Izzie. Apparently, Alex reconnected with his ex-wife after reaching out for Meredith's hearing in the 350th episode. And when they talked on the phone, Alex found out Izzie used their embryos made in Grey's Anatomy Season 5 when Izzie had metastatic melanoma. 
Now, Izzie has two 5-year-old children — Eli and Alexis. She is also a surgical oncologist, and Alex wants to stay with her to raise the kids. He's applying to the hospital nearby. So, just as Jo predicted earlier this season, one thing led to another.
In addition to the shocking news, Alex's letters give a personal touch to each recipient. He tells Meredith she doesn't need a person — she is her own, she is the sun. Meanwhile, Alex leaves Jo with signed divorce papers and his shares of the hospital.
He also shares kind words with Bailey and Richard, thanking them for believing in him and helping him transform from Evil Spawn to the man he is today. All the while, old Grey's Anatomy episodes flash by. And basically, by the end of the episode, fans were either in a puddle of tears or a frenzy of anger.
'Grey's Anatomy' fans react to Alex Karev's last episode
Following the Grey's Anatomy episode on March 5, fans rushed to social media to express their heartbreak over Alex's last episode.
"Y'all, check on your grey's anatomy watching friends," a fan wrote on Twitter. "We are NOT okay."
Now, it's always difficult to lose a character on the ABC drama, especially if they're a beloved original. But for the most part, Grey's Anatomy fans weren't upset that Alex left, it was more about the way it happened.
"This is worse than Derek Shepherd being killed off. This is abandonment of a character that has been through hell and back and who GREW from it," a fan wrote. "A character that is now inflicting intentional pain on his fragile wife. Alex Karev would NEVER have done this. Never."
Another fan wrote: "Alex Karev, who has had an incredible character arc over 16 seasons of #greysanatomy, beloved by fans, is doing VOICEOVER of letters like op sorry not coming back live in Kansas now with my ex-wife and secret children, Ok bye bye now. & we are supposed to say SOUNDS GOOD? NO!!!"
Meanwhile, other fans suggested they would have rather seen Alex die than witness his character regression.
"I'm just going to say it… I would have preferred that Alex died than left Jo like this #GreysAnatomy," a fan wrote.
But ultimately, Grey's Anatomy fans believed Alex — and everyone involved — deserved a better ending.
"Mer didn't deserve this. Jo didn't deserve this. Bailey didn't deserve this," a fan wrote. "Lame a** GOODBYES!!! Karev's character DESERVED MORE THAN THIS."
Clearly, the Grey's Anatomy fandom is feeling everything right now. Alex's final episode highlighted all the character development he has gone through, while simultaneously deconstructing everything he built towards. It was a lot. But as the show mentioned in its final moments, "there's really no good way to say goodbye." So farewell, Evil Spawn. It's been one wild ride.
Read more: 'Grey's Anatomy': Is Richard Webber Leaving? Fans Are Worried About the Character's Future