'Grey's Anatomy' Alum Jeffrey Dean Morgan Says He Pleaded With Shonda Rhimes to Keep Denny Duquette Alive
Longtime fans of Grey's Anatomy are sure to remember the ill-fated romance between heart transplant patient Denny Duquette, played by Jeffrey Dean Morgan, and Dr. Isobel "Izzie" Stevens, portrayed by Katherine Heigl. Followers of the show were devastated when Denny died in Season 2, leaving Izzie brokenhearted over the loss of her bedridden soul mate.
Though Morgan went on to plenty of roles in high-profile series including Weeds, The Good Wife, and his portrayal of Negan on The Walking Dead, the actor was truly saddened by the loss of his part on Grey's. Morgan previously shared how he even approached show creator Shonda Rhimes in the hopes of keeping Denny and the storyline with Izzie alive.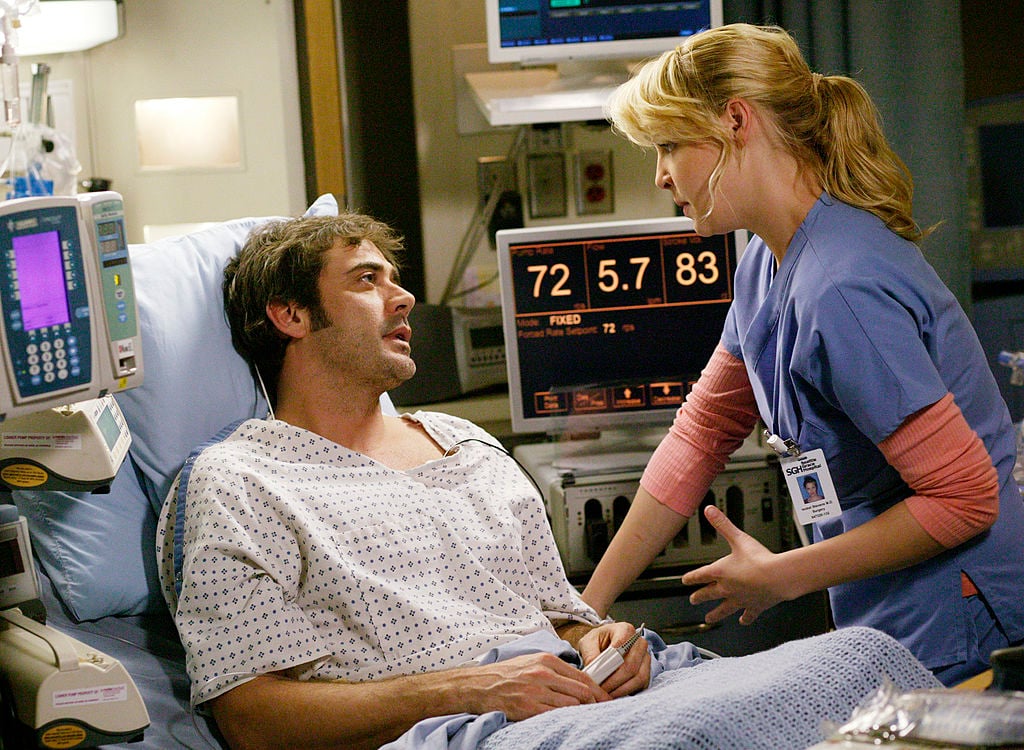 'It broke my heart' says Jeffrey Dean Morgan
The Izzie-Denny storyline had fans riveted from the beginning. When Denny survived a heart transplant after months of lying in a hospital bed to then woo Izzie to the point of saying 'yes' to his marriage proposal, viewers assumed their love story was headed for smooth sailing. Yet Denny took his last breath after having a stroke in the last moments of the Season 2 finale, leaving show loyalists grief-stricken.
"It was a grim day, let me tell you," Morgan told the Los Angeles Times in 2006 of his death scene. "A dark, grim day. I'm still not over it. It broke my heart to leave that show."
Morgan revealed that he even lobbied to keep Denny alive, pleading with the show creator to have a change of heart. "Please, please, just let me live," he asked Rhimes.
The actor pitched Rhimes suggestions on how he could stay on the show. "Oh, I came up with lots of ideas for how I could come back," he said. "I mean, what if Denny had a twin brother named Lenny, who was a pediatric surgeon? They need a pediatric surgeon in that hospital." But Rhimes was unmoved.
'Grey's Anatomy' alum got attached to Denny
At first, Morgan's character was considered to be a potential romantic interest of Dr. Meredith Grey, played by Ellen Pompeo. But Rhimes opted for Izzie to be the object of Denny's affections, and as usual, was dead on with her choice.
"No one knew how much the story would take on a life of its own," Morgan said. "I don't think even Shonda knew how the fans would be drawn to the romance. It was pretty incredible. I definitely give it to the writers that they created a guy who could charm a room without moving, but it took a lot of effort sometimes."
The actor had very few scenes out of bed, where the few times he was shot standing up was a welcomed change of pace.
"I cannot tell you how excited I was to see a scene with him walking," Morgan said. "I started thinking, 'oh maybe he'll be able to go outside, maybe we'll get to go to Seattle.' Then I turn the page and nope, he's falling down the stairs and back to bed."
Morgan admitted the role had become very significant to him. "I had no idea what it would be like," the Grey's alum said. "How attached I would get. To Denny and everyone there. It is such a great show, such a great group of people. It was the only time in my career when I didn't mind getting up at 5:30 in the morning, didn't mind the 16-hour days. I couldn't believe it. So … yes, I fought to stay."
Saying goodbye to Denny
The Walking Dead star confessed that when he read the script of Denny's death, it was a blow.
"It was very emotional. … I have definitely been laying low for the last few weeks," he said after filming had wrapped. "I mean, how can they do the show without me? What's going to happen to Izzie?"
As Grey's historians know, Izzie went on to marry Alex Karev (and recently reconciled with him, but that's another storyline). Morgan ended up getting his wish … somewhat. He returned to play Denny in a near-death vision of Meredith's, then later to reprise his role in 2008 as the ghost of Denny coming to warn her of an illness. Though again his time on the medical drama was temporary, Morgan's reappearance with Izzie gave fans a taste of the past.
While his character didn't remain as many seasons as several others, the former Grey's star looks back fondly at his time on the show. "It's been great," Morgan said. "I mean, it is great. Really great."