'Grey's Anatomy' Alums McDreamy and McSteamy Post Social Distancing Pic Together and Fans Are Loving It
Grey's Anatomy fans are in McHeaven after checking out a recent post from former hot doc Eric Dane. Better known as Dr. Mark 'McSteamy' Sloan from the medical drama, Dane wanted to share an example of social distancing with pal and former co-star Patrick Dempsey, the infamous Derek 'McDreamy' Shepherd from the ABC hit show.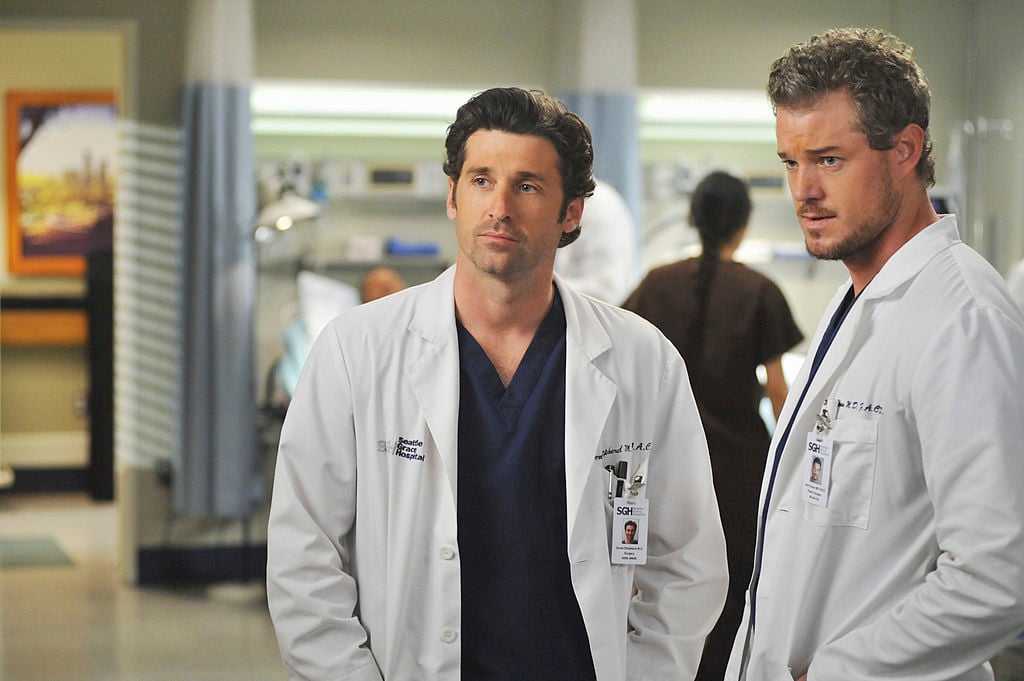 The death of Mark Sloan
What true Grey's follower didn't love the bromance between McDreamy and McSteamy? Unfortunately, both characters were eventually killed off the show, leaving a huge McVoid of fans' favorite hunky docs.
Dane was the first to leave in 2012 to pursue the lead role in Michael Bay's TNT series The Last Ship. Dane's McSteamy character died in the beginning of Season 9 after complications from a plane crash.
"Grey's Anatomy is a world — it's not about any one individual actor and the storylines were sort of, you know, heading in different directions," he told Entertainment Weekly in 2013. "So it was an opportunity for me to go and I was interested in something different. I loved doing Grey's Anatomy. I would have done it until the final episode, but this was something I couldn't pass up."
Show creator Shonda Rhimes also had Sloan's longtime love Lexie (played by Chyler Leigh) meet her demise at the end of Season 8, and decided that this would be the best way to reunite the plastic surgeon with his soul mate.
"I fought it and I debated it and tossed and turned about it but in the end, I had to do what was right for the integrity of the character," Rhimes wrote in a blog post. "So Mark dies. And he and Lexie get to be together in a way. Their love remains true."
Patrick Dempsey departs after 11 seasons
McDreamy fans went into mourning after Derek Shepherd took his last breath at the end of Season 11. Longtime viewers had to deal with the devastating loss of the delectable doc and his idyllic romance with Dr. Meredith Grey (played by Ellen Pompeo). Despite the public outcry of the beloved character's fate, Rhimes felt she had no choice but to have Derek meet a timely death.
"The decision to have the character die the way that he did was not a difficult one in the sense of what were the options?" Rhimes said in 2015, according to E! News. "Either Derek was going to walk out on Meredith and leave her high and dry, and what was that going to mean? That was going to suggest that the love was not true, the thing we had said for 11 years was a lie and McDreamy wasn't McDreamy. For me, that was untenable."
While Dempsey was thankful for his tenure on the iconic show, he felt it was time to move on. "I'm very grateful for Grey's Anatomy," he told People in 2015. "It's given me the opportunity to do everything. But at the same time, there was a cost. … I think after a certain period of time, no matter how much money you make, you want control out of your own schedule."
Dempsey and Dane present an epic post
In the spirit of social distancing amid the coronavirus crisis, Dane posted a pic to his social media accounts to give his followers a demonstration of the practice with his Grey's pal.
"Blurry pic of how to hang out 6 feet apart," he captioned the epic post, with Dempsey standing in the background at a distance.
Naturally, fans ate it up. "Now I have to watch Grey's from the beginning again," one follower wrote. "Crying rn," another posted. "OH MY GOD I CANT WITH THIS," a fan commented.
The post made some nostalgic for the show's previous seasons. "Talk about throwback Thursday… when GA was still GA," one fan posted.
Since both characters are deceased, there is little chance they will be seen walking the halls of Grey Sloan Memorial again – though you never know with Rhimes and her storylines. In the meantime, fans can hold onto this little taste of the old days of Grey's.