'Grey's Anatomy': Will Amelia and Link Get Married or Back Together in Season 18?
Many Grey's Anatomy fans were hoping Amelia Shepherd (Caterina Scorsone) and Atticus "Link" Lincoln (Chris Carmack) would end up getting their happily ever after together with their baby. But the final moments of the season 17 finale changed everything. Now, viewers are wondering whether Link and Amelia get married or back together in Grey's Anatomy Season 18. So what's next? Recently, Carmack teased what to expect for "Amelink" when new episodes return.
Why did Amelia Shepherd and Atticus 'Link' Lincoln break up after they had a baby together in 'Grey's Anatomy'?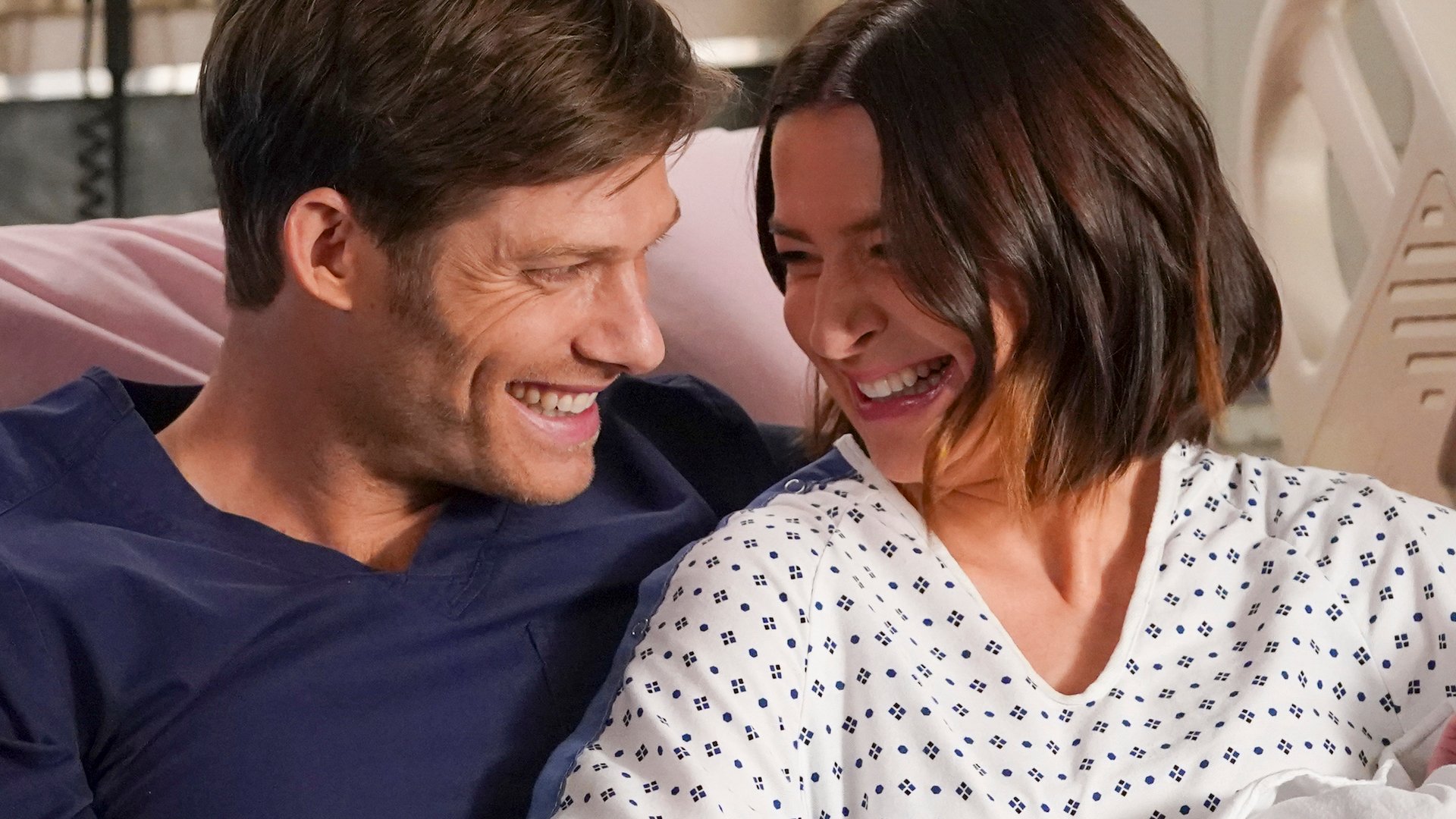 In Grey's Anatomy Season 17, many fans wondered whether Link and Amelia were headed for marriage after they welcomed their baby, Scout Derek Shepherd Lincoln, to the world. Viewers started seeing Link as part of the family amid the coronavirus (COVID-19) pandemic. But Amelia began to realize she didn't want a traditional marriage or more children.
Eventually, Link proposed to Amelia with multiple engagement rings in the Grey's Anatomy Season 17 finale. But when he got down on one knee, Amelia said nothing. She stared at her boyfriend with sadness. Then Link's smile disappeared, and he knew it was over. 
At the end of the episode, Link went to Jo Wilson's (Camilla Luddington) house. Link looked heartbroken and devastated as he asked his person for a place to crash, indicating that he might've broken up with Amelia. But given that Link and Amelia must co-parent baby Scout together, the complicated situation will not simply disappear in Grey's Anatomy Season 18.
'Grey's Anatomy' Season 18 star hints whether Link and Amelia get married or back together
For now, Grey's Anatomy fans will have to watch whether Amelia and Link get back together — or even married — in season 18. But Carmack recently opened up about the aftermath of Amelink's rejected marriage proposal, and it seems like both parties still want different things at the start of the new season. Ahead of the premiere, the actor told TV Guide:
"I'm really interested in Link exploring what his relationship with Amelia means now. Currently, he's very of the mind that 'we have to get married and we have to have a family, and this is what I want.' And it is really what he wants, but obviously, she's got different ideas. He's going to have to really break [it] down in his head and find out what this means."
That said, it seems Link will have some growing to do in Grey's Anatomy Season 18. Carmack revealed his character will "really mature this season" in terms of relationships and co-parenting. Now, it's possible that Link could expand his definition of a family because a successful relationship doesn't necessarily have to equate to marriage. But whatever happens next, it's not going to be easy.
"The rejection was a lot so [Link] is crawling back into his hole and trying to recover," Carmack told Entertainment Tonight. "Meanwhile, he co-parents Scout with Amelia and having to coexist with her in that world and it's a little bit of friction."
Link and Jo could potentially end up together in 'Grey's Anatomy'
While many Grey's Anatomy fans are hoping to see Link and Amelia back together, some viewers are wondering whether Link will end up with Jo. As mentioned, Link went to his person's house when Amelia turned down his proposal. Link was also the one who helped Jo adopt baby Luna. 
Nevertheless, it doesn't look like Jo and Link will get together in Grey's Anatomy — at least not in the first few episodes of season 18. In the above interview with TV Guide, Luddington revealed that she hasn't read a script where Link and Jo cross the line and form a romance. Rather, the two new parents are leaning on each other for support.
"[Jo's] a new single mama and navigating babies by herself and Link is her guy to lean on," Luddington said. "They are living together, but it's very much best friends just living together in the penthouse."
We'll have to watch how the Amelia-Link-Jo situation turns out in Grey's Anatomy Season 18. But for now, it seems like the door is still open for Link and Amelia. So stay tuned.
Grey's Anatomy Season 18 airs Thursday nights on ABC.