It's Time to Meet the Fourth Shepherd Sister On 'Grey's Anatomy'
Siblings, specifically sisters, have always been a big part of Grey's Anatomy. Meredith learns in Season 2 that she has two half-sisters, Lexie and Molly. Lexie becomes a part of the show before her untimely death in Season 8. Today, Meredith lives with two different sisters: Half-sister (on her mom's side) Maggie Pierce and sister-in-law Amelia Shepherd. However, she has three other sisters-in-law, and we're about to meet the last one.

We met Derek's first sister in Season 3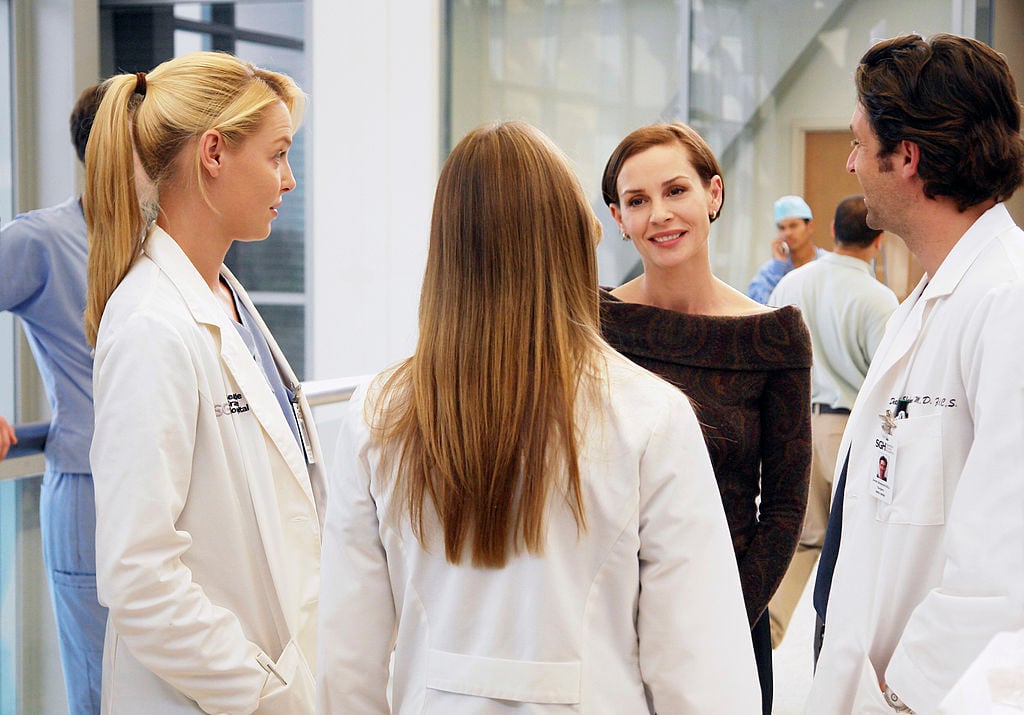 Prior to their appearances, we knew that Derek Shepherd, Meredith's love interest from Episode 1, had four sisters. In Season 3 Episode 6, "Let the Angels Commit," Meredith meets Nancy (Embeth Davidtz), an OB/GYN who lives in Connecticut, and who is still angry at Derek for leaving his wife, Addison. She's there to report back to their mom about how he's doing and leaves after a day. During their last conversation, she gives him advice, and he says, "Kathleen's the shrink, not you," referring to another, unseen sister.

Another sister doesn't enter the picture for years

Though Derek and Meredith's relationship continues to evolve, it's years before another one of the Shepherd sisters enters the picture. Amelia (Caterina Scorsone) is actually introduced on an episode of Private Practice, which was a spinoff of Grey's Anatomy following Addison Montgomery. She played a main role on the show for the last few seasons.

Amelia is a neurosurgeon like her brother, and the two are seen butting heads over the years. They work on various cases together, and Amelia eventually takes over Derek's job at the hospital in Season 11, which she continues to hold after his death. Amelia has had a lot of her own storylines and, in the upcoming episode in question, is the focal point, bringing the action away from Seattle.

Now, we meet Kathleen

As previously mentioned, Derek has a sister, Kathleen, who is a psychiatrist. We've yet to see her on screen, but now she's finally making her debut. Kathleen is played by Amy Acker in the episode appropriately titled "Good Shepherd." The description is as follows: "Amelia and Link travel to New York to operate on a patient with a severe spinal deformity, but they're in for more than they bargained for when Nancy Shepherd invites them to dinner at her home."

Acker is perhaps best known for her starring role in the series Person of Interest. She's played a prominent role in several other TV shows, including Alias and, at present on The Gifted. Acker is a frequent participant in the Whedonverse (series/films created by or involving Joss Whedon), having starred on Angel and Dollhouse and appearing in movies The Cabin in the Woods and Much Ado About Nothing, as well as on an episode of Agents of SHIELD.

There's one more sister who's not in the episode

If you've been counting, that's three sisters in one episode: Amelia, Nancy, and Kathleen. But there's actually one more Shepherd sister who we've already met. Neve Campbell played Dr. Liz Shepherd in Season 10 Episode 8 "Love Turns You Upside Down" and 9 "Run Baby Run." Liz comes in order to donate live nerve cells to help Derek's hand, and she becomes the first member of the family to learn that Meredith is pregnant with Bailey. From the promo, it looks like she'll be missing out on the big reunion. Still, it will be exciting to see how it all goes down for Amelia.