'Grey's Anatomy' and 'Station 19': Do Fans Love or Hate the Excessive Crossovers?
With yet another 'unofficial' crossover tonight, Grey's Anatomy fans are getting confused. Many fans were not sure if they were supposed to watch Station 19 before Grey's Anatomy tonight. Let's take a look at how fans feel about the crossovers between the two shows.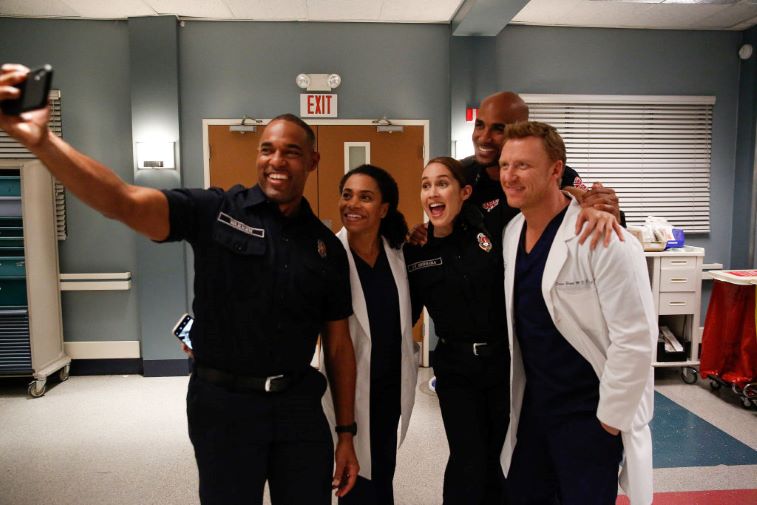 What's with the 'Grey's Anatomy' and 'Station 19' crossovers?
Station 19 began as a spin-off to Grey's Anatomy in March 2018. Originally only Ben Warren (Jason George) left the medical drama to become a firefighter at Station 19. A few crossovers were in the works, and some characters would appear on both shows every so often.
"We don't want to do it every week, we don't want to create a mold, we don't want to fall into any kind of pattern, we don't want people to ever know what to expect," showrunner Krista Vernoff told Deadline.
On Jan. 23, 2020, the two shows collided for a massive crossover as Grey's Anatomy's midseason premiere with Station 19's Season 3 premiere. ABC dominated ratings that Thursday night with the two shows. Since the ratings are doing so well, more crossovers are in the works.
How do 'Grey's Anatomy' fans feel about the 'Station 19' crossovers?
Some fans feel forced to watch the spinoff and aren't happy about it. Others view the crossover events but do not watch Station 19 on the regular. In those cases, they rely on other fans to fill them in on why certain things are happening. 
"Is there tension between the two S19 people?" one fan asked on Reddit. "This is why crossover sucks, I'm lost on a potential relationship."
Another fan of both shows filled in the lost Grey's Anatomy fan about what happened. This week's episodes wasn't a crossover, so most fans only watched the later evening show. 
"I know it's hard to find a storyline after 16 seasons, but please stop trying to make Station 19 happen," wrote another fan. "I have enough trouble caring about the actual Grey's cast; I don't need a new group of extras with lines to not care about."
Others are downright mad that they now have more new characters to worry about.
Is anyone happy about 'Grey's Anatomy' and 'Station 19' crossovers?
Although many viewers are confused about whether or not they should watch both shows every week, some do watch and love both. A few fans even like Station 19 more than Grey's Anatomy.
"Wow, this show is incredible," wrote one fan on Twitter. "It was expected since it's a spinoff of Grey's Anatomy but being honest? It's way better than Grey's, I mean, in character development and rep. It's so emotional, funny, well written!"
However, other viewers cannot get on board with both shows. 
"OMG, another crossover," another Grey's Anatomy fan tweeted. "Really….really….how many more crossovers do we have to sit through before they realize we don't want them. If Station 19 can't stand on its own, then bye, but stop bringing #GreysAnatomy, and it's characters down with it."
The bottom line is that you might miss out on some back story with your Grey's Anatomy characters if you do not watch both shows. Station 19 airs at 8 pm ET on Thursday nights, with Grey's Anatomy, immediately following at 9 pm ET. 
We do have weekly updates for Grey's fans who do not want to watch Station 19 right here: 'Grey's Anatomy's Ben Warren Just Solidified Endless Crossovers with 'Station 19' — Here's What Happened Tonight to the Grey's Characters on 'Station 19'
Read more: 'Grey's Anatomy': The Shocking Reason Ben Warren Runs Into Fires—Straight From 'Station 19'