'Grey's Anatomy': Why Andrew DeLuca's Death Pushed Teddy Altman to Her Breaking Point in Season 17
On March 25, Grey's Anatomy Season 17 will dive into Teddy Altman's (Kim Raver) trauma, which includes the deaths of Andrew DeLuca (Giacomo Gianniotti), Henry Burton (Scott Foley), and Allison Robin Brown (Sherri Saum). But why is Teddy facing her past now after all these years? Recently, Raver explained why DeLuca's death drove Teddy to her breaking point in Grey's Anatomy Season 17.
What happened to Teddy Altman and Andrew DeLuca in 'Grey's Anatomy' Season 17?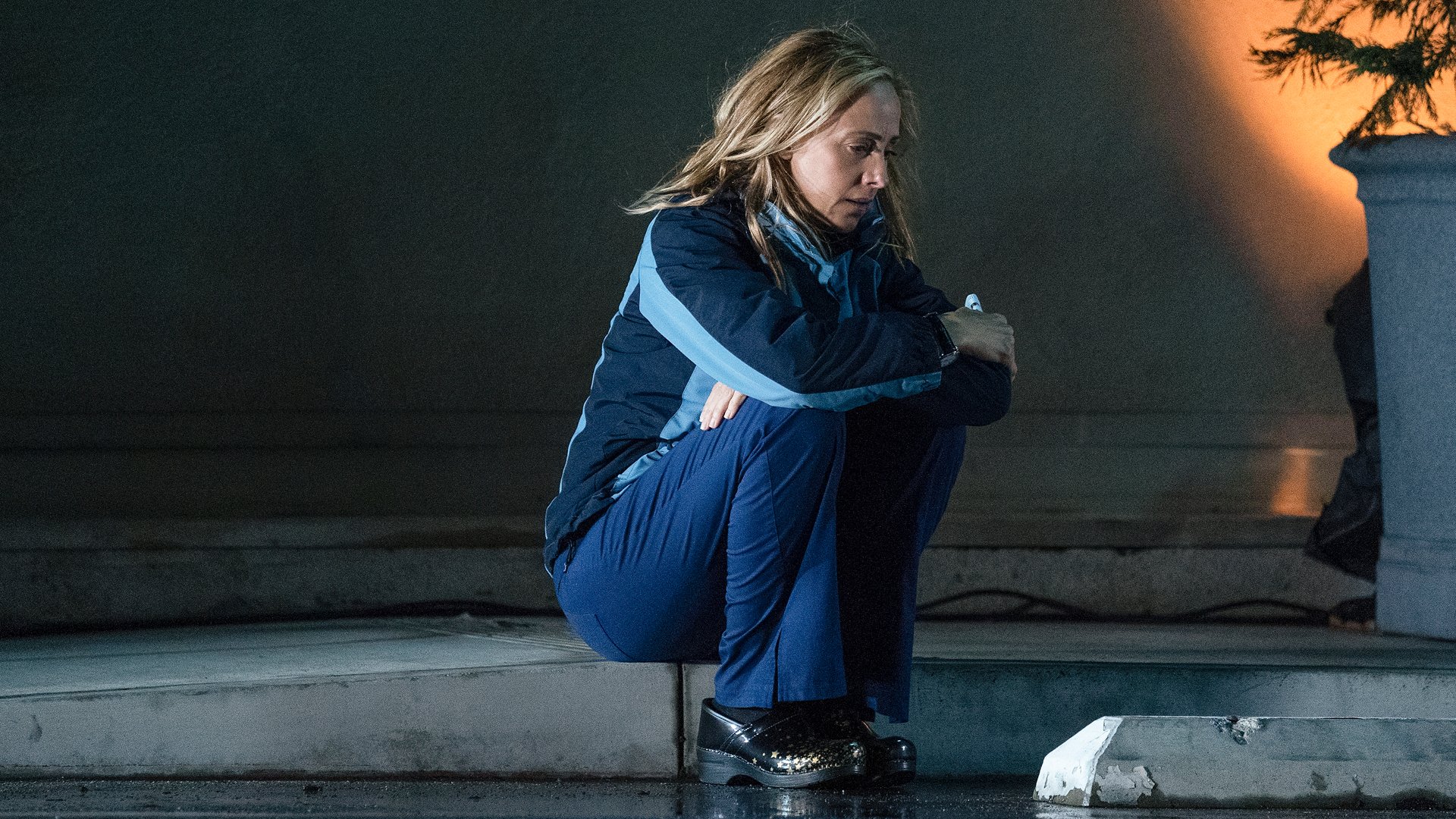 At the start of Grey's Anatomy Season 17, DeLuca and Teddy worked together to save Meredith Grey (Ellen Pompeo), who contracted the coronavirus (COVID-19). Then when DeLuca was stabbed in the Station 19 Season 4 crossover, Teddy and Owen Hunt (Kevin McKidd) did everything they could to keep their co-worker alive. But DeLuca died in the end.
The tragic loss hit everyone at Grey Sloan Memorial. But after DeLuca's death, something broke within Teddy. Throughout Grey's Anatomy Season 17 Episode 8 — titled "It's All Too Much" — Teddy kept seeing DeLuca at the hospital. Miranda Bailey (Chandra Wilson) also asked for DeLuca's autopsy report, suggesting Owen or Teddy could have done something wrong. 
That said, the autopsy showed DeLuca lost too much blood, and nothing could have saved his life. Even so, the weight of DeLuca's death still weighed on Teddy's shoulders. Then at the end of DeLuca's memorial service, Teddy was completely unresponsive, and Owen had to carry her away.
'Grey's Anatomy' star reveals how Andrew DeLuca's death impacted Teddy Altman
Ahead of Grey's Anatomy Season 17 Episode 9 — titled "In My Life" — Raver opened up about Teddy's heavy storyline in an email interview with TV Guide.
"I think she has severe PTSD and never faced it," Raver said. "The episode does a beautiful job of explaining the loss she's gone through. … I think this episode is Teddy's rock bottom."
Raver also noted that the pressures of the pandemic "greatly" impacted Teddy. "She has been working across the clock non-stop and all of that has sent her over the edge," the actor said.
That said, Raver confirmed DeLuca's death was Teddy's breaking point. She explained:
Losing DeLuca — her and DeLuca have worked a lot together side-by-side on the COVID floor to try to get Meredith healthy, while also working frontlines. She knows deep down [what] she did right which makes the feeling of not knowing what she could've done (re: DeLuca) even harder.
Andrew DeLuca will return in 'Grey's Anatomy' Season 17 Episode 9
It seems Teddy will face DeLuca in Grey's Anatomy Season 17 Episode 9. In the preview for the March 25 episode, Teddy was spotted crying in the operating room.
"What if it's not too late?" Teddy said. Then it became clear that the character was in a dream state. Teddy was speaking to DeLuca, who looked back at his former co-worker with concern. 
Meanwhile, Raver hinted that a character will return in Grey's Anatomy Season 17 Episode 9. When speaking with Extra on March 24, Raver described a scene where she's eating cherry pie, and a character comes back. 
Of course, Raver could be talking about DeLuca's return in the promo. But there are plenty of other characters who Teddy needs to confront before she's able to move forward. She said:
She never confronted the death and the loss that she had between Henry — played by the amazing Scott Foley — and Allison. Then losing DeLuca, it's definitely an explanation as to why she was behaving kind of so crazy. I can't wait to see her figure out how to heal.
Now, will Henry or Allison appear in the new Grey's Anatomy Season 17 episode? Only time will tell. But even if DeLuca is the only returning character, it seems Teddy's arc will be worth the watch. So stay tuned.
Grey's Anatomy Season 17 airs Thursday nights on ABC.