Will 'Grey's Anatomy' Address Anti-Maskers? Krista Vernoff Teases the Coronavirus Pandemic Storyline in Season 17
Grey's Anatomy fans know the Shondaland series doesn't shy away from real-life events, and the coronavirus (COVID-19) pandemic is no exception.
In July 2020, the ABC medical drama confirmed it will cover the current crisis. But how will the show handle a story that continues to impact every human across the globe? Recently, showrunner Krista Vernoff shared details on what to expect in Grey's Anatomy Season 17, including whether or not the series plans to directly address anti-maskers.
'Grey's Anatomy' Season 17 will cover the coronavirus pandemic
RELATED: 'Grey's Anatomy' Season 17: Kevin McKidd Teases Owen Hunt's Storyline and It Sounds Messy
During the Grey's Anatomy panel on Quaranstreaming: Comfort TV That Keeps Us Going, Vernoff revealed the surgeons at Grey Sloan Memorial will deal with the coronavirus pandemic in season 17.
"We're going to address this pandemic for sure," she said. "There's no way to be a long-running medical show and not do the medical story of our lifetimes."
The Grey's Anatomy team has also been speaking with real-life doctors to gain perspective.
"The doctors come in and we're the first people they're talking to about these types of experiences they're having," Vernoff said. "They are literally shaking and trying not to cry. They're pale, and they're talking about it as war — a war that they were not trained for."
She later added, "I feel like our show has an opportunity and a responsibility to tell some of those stories."
'Grey's Anatomy' showrunner answers whether season 17 will 'take on' anti-maskers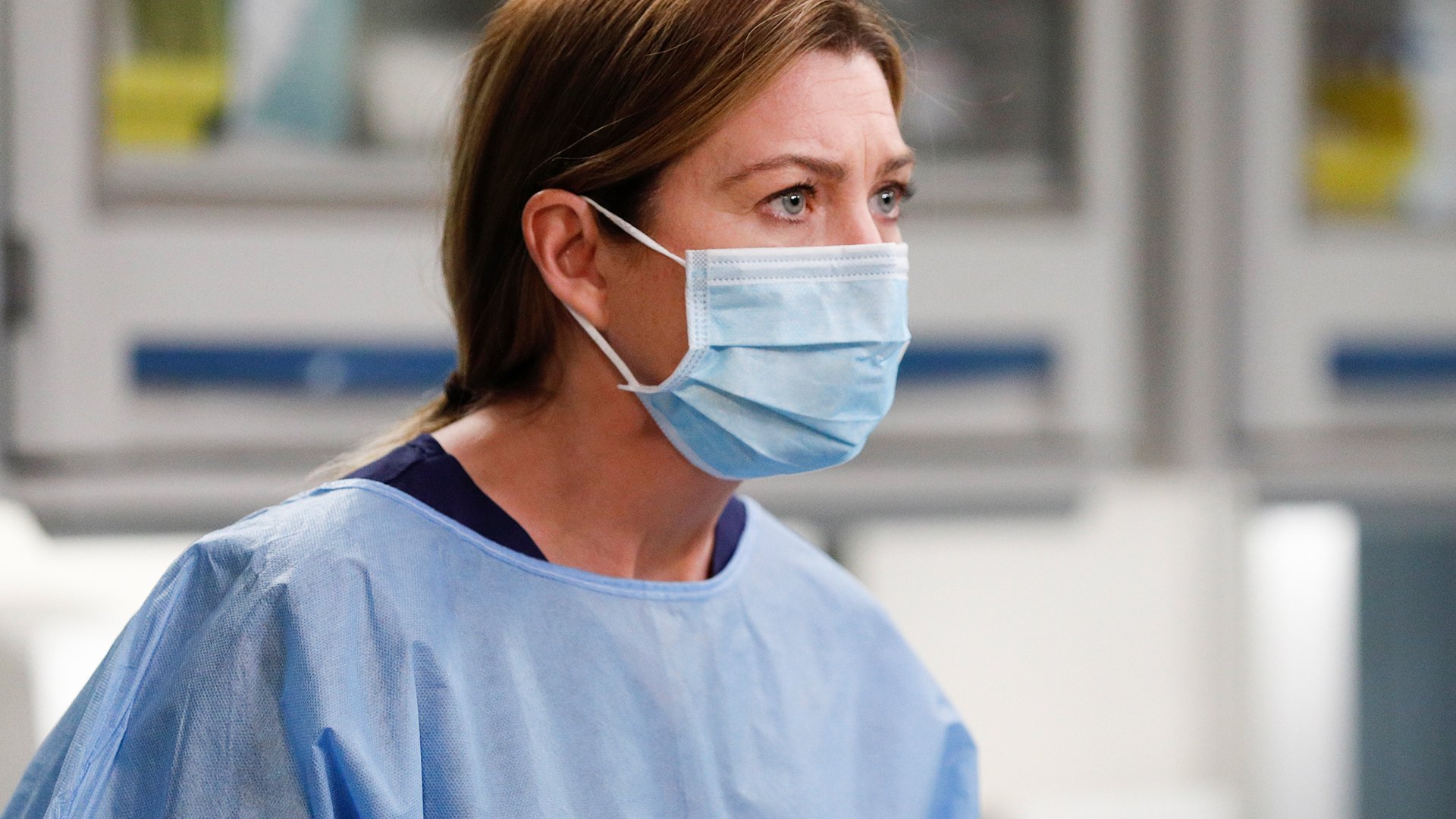 RELATED: What Your Favorite 'Grey's Anatomy' Characters Would Say to Those Not Taking Coronavirus Protocol Seriously
On Twitter in April 2020, Vernoff shared how Meredith Grey (Ellen Pompeo), Maggie Pierce (Kelly McCreary), Miranda Bailey (Chandra Wilson), and Amelia Shepherd (Caterina Scorsone) would react to the current crisis. The characters urged people to stay home and wear masks. They also challenged individuals who blatantly ignored safety precautions due to political affiliations.
Now, will Grey's Anatomy Season 17 address similar issues moving forward? In an interview with The Hollywood Reporter's TV's Top 5 podcast, Vernoff was asked whether or not she plans to address anti-maskers. But overall, the showrunner doesn't think it should be a political debate, and the doctors will just wear masks.
RELATED: Patrick Dempsey's Recent Instagram Post Brought 'Grey's Anatomy' Fans To Tears
"I don't think it's a political debate," Vernoff said. "I don't have plans to take on anti-maskers, which feels like a strange and desperate distraction from the reality that's happening in this country. It's like people are having cognitive dissonance. They don't want to believe that the country's in the shape that it's in. They don't want to believe that this virus is real and killing as many people as it is because that would mean that … so many of the things that hold dear, maybe politically, are failing."
She added, "But no, I don't have a plan to 'take on' anti-maskers. We're just gonna wear masks."
Vernoff also hinted Grey's Anatomy Season 17 could potentially start production earlier than other shows because cast members are already expected to wear masks.
"The fact is, we're so lucky as a medical show that we can have our actors in masks so much of the time," she said. "You can't be in a hospital without a mask right now. So that's actually gonna allow us to get back to work safely maybe before some of the other shows can."
Krista Vernoff reveals what fans can expect from the coronavirus pandemic storyline in 'Grey's Anatomy' Season 17
RELATED: 'Grey's Anatomy': Ellen Pompeo Gets Really Honest About Why She Didn't Leave the Show After the First Six Years
Still speaking with The Hollywood Reporter's TV's Top 5 podcast, Vernoff detailed what Grey's Anatomy Season 17 hopes to accomplish in regard to the coronavirus pandemic storyline.
The showrunner noted she didn't want to cover the pandemic early on. She initially thought the show should allow viewers to escape real-life. However, the other writers convinced her it would be "irresponsible to the medical community" if they ignored the "biggest medical story of the century." So now, Grey's Anatomy Season 17 hopes to provide fans with an escape while also addressing the pandemic.
"I feel like we're going to be able to tell these stories and honor the heroes on the frontlines and provide some escapism, romance, and laughs," Vernoff said. "Depending on the episode, there's a joy to be had for people who are quarantining away from the hospital … Many of them aren't going home to their families. They're getting AirBNBs, they're living together. They don't want to expose their kids."
She continued, "There are a lot of stories to tell that are COVID-19 related, but not about death and despair."
Meanwhile, Vernoff hinted Grey's Anatomy Season 17 will see a shift when it comes to intimacy. Though it seems the team will just have to get creative to keep everyone safe.
"There's been a lot of sex on Grey's Anatomy that doesn't involve kissing. There's a lot of sexy, lifting of clothes, and pulling down of clothes, and taking off of things, and standing behind a person in a sexy way," Vernoff said. "I think it's safe to say there's going to be less kissing across the board this year."
Check out Showbiz Cheat Sheet on Facebook!