'Grey's Anatomy': Are Jesse Williams and Sarah Drew Friends in Real Life?
A lot of the cast members of Grey's Anatomy have relationships with each other that extend outside of the show. Sarah Drew and Jesse Williams have shared a good amount of their scenes on the show together. Have the two kept up their friendship after Drew's exit from the show?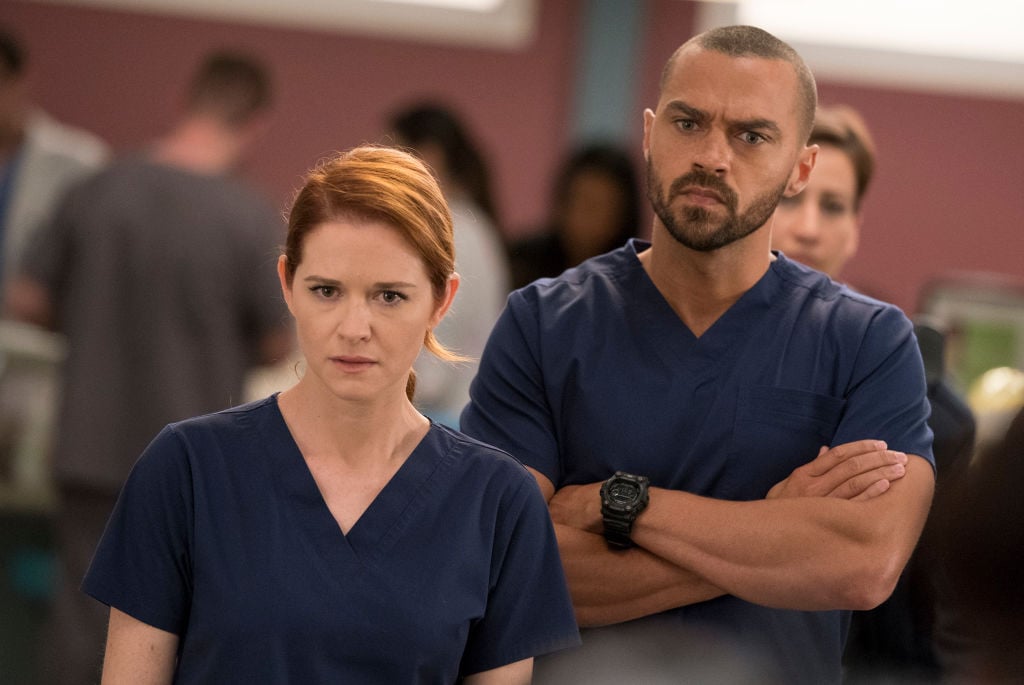 Sarah Drew and Jesse Williams on 'Grey's Anatomy'
Both Drew and Williams first joined the show at the same time as April Kepner and Jackson Avery in 2009 for the medical drama's sixth season. They first began appearing in the season's fifth episode and started off as recurring cast members.
Their characters, April and Jackson were in a relationship for a good amount of the time that the two were on the show together. When April thinks she's pregnant, Jackson proposes soon after. However, when they realize she's not pregnant, they decide not to get married before announcing it to others.
They then just have a friendship, and April gets engaged to Matthew Taylor. Jackson stands up during the wedding and confesses his love and they end up eloping. April becomes pregnant around the time they realize they have different views on how to raise their children when it comes to religion.
In the womb, the baby is diagnosed with a disorder that makes it clear that it won't survive long after birth. They differ on what they want to do, as Jackson thinks the pregnancy should be terminated while Sarah would rather give birth, knowing the fact that the baby won't live long. They end up having the baby at 24 weeks. Their son is baptized right after he is born and dies soon after.
In season 11 she leaves to serve in the Army, which she believes will help her cope with their son's death. Their relationship continues to deteriorate in season 12 and they officially get a divorce. All of this occurs, despite the fact that April finds out she's pregnant and gives birth to their daughter.
April ends up getting back together with Matthew and they get married. She resigns from the hospital to work full-time giving medical services to the homeless in Seattle.
Here's how their friendship is going
In an interview in US Weekly back in late 2018, Williams was asked about his friendship with Drew, who had just made her last appearance on the show a few months earlier in May.
"That's my buddy," he said. "We absolutely talk and see each other regularly, happily, easily. She's a tremendous, tremendous actress who has a film out now. She produced it and she's starring in it. She's a tremendous, tremendous person."
The film Williams referring to was the Christian drama movie, Invincible, which also starred Grey's Anatomy alums Justin Bruening and Jason George, as well as Tia Mowry.
When asked if Drew would ever return to Grey's Anatomy, Williams said he had "no idea" but would "love" if she were able to do so.
"That is the light of my career on the show, being her acting partner," he continued.
Grey's Anatomy airs Thursdays on ABC.