'Grey's Anatomy': Callie Torres and Arizona Robbins Return for Season 18? This Child Actor Knows Something
After the plethora of fan-favorites who returned in Grey's Anatomy Season 17, it's no surprise that season 18 is shaping up to be the same, and it looks like Calzona could be next on the list. Sara Ramirez told news outlets in December 2021 that they would "absolutely" return to the series. Then, the child actor who portrays Callie and Arizona's daughter, Eva Ariel Binder, teased "big news." Could Callie Torres and Arizona Robbins (Jessica Capshaw) return to Grey's Anatomy for season 18?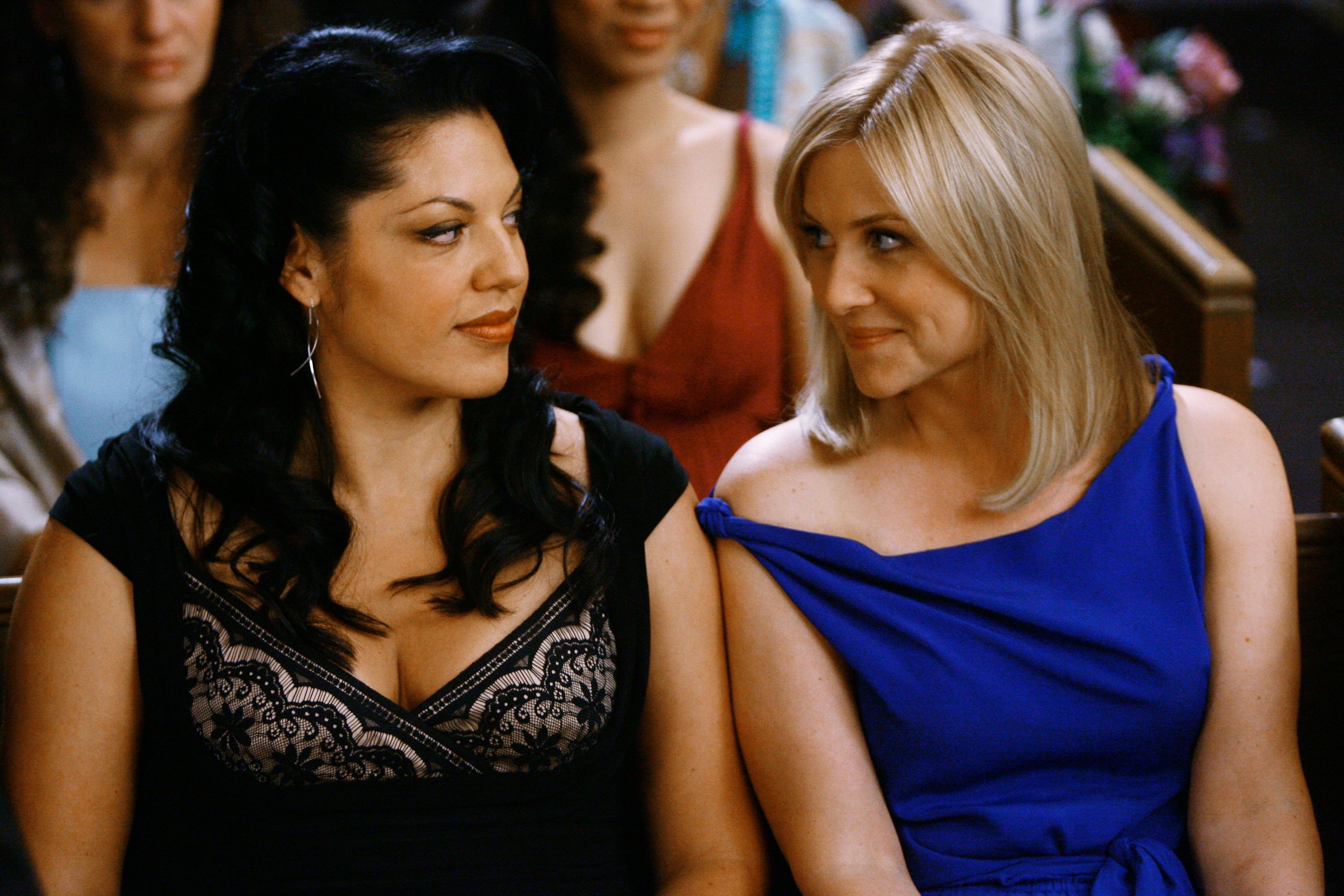 Why did Callie Torres leave 'Grey's Anatomy'?
Sarah Ramirez's last episode was the Grey's Anatomy Season 12 finale. After a challenging custody battle with Arizona, Callie moved to New York with her girlfriend, Penny (Samantha Sloyan). However, after the finale aired on ABC, Ramirez gave a public statement about their departure from the show. The actor moved on to other things, citing the need for a break from the long-running medical drama. 
Although Callie, Arizona, and Mark Sloan's (Eric Dane) daughter, Sofia, split her time between New York and Seattle, she still missed both mothers. At the end of Grey's Anatomy Season 14, Arizona left Seattle to take Sofia to live in New York near Callie. She added that she couldn't help but smile when texting her ex, so viewers hope that the two rekindled their romance in the Big Apple. Hopefully when they both return it will be together in Grey's Anatomy Season 18.
Sara Ramirez said they would "absolutely" return to 'Grey's Anatomy'
In an interview with Glamour on Dec. 10, Ramirez shared their thoughts about playing the first nonbinary character in the Sex and the City world. The actor portrays Che Diaz in the HBO Max reboot, And Just Like That… The journalist asked if Ramirez might consider returning to Grey's Anatomy at any point in time. 
"Absolutely," Ramirez laughed. "You didn't expect that answer, did ya? If the stars align in a way that makes it make sense, absolutely. I love my Grey's Anatomy family. I'm so proud of them for introducing trans characters and nonbinary characters. It's a beautiful universe that they've created over there, and I'm so grateful that I got to be a part of it."
The actor also added that they aren't quite sure what Callie might be up to in season 18.
"I imagine that Callie is in New York," they added. "I'm not really sure what else is going on for Dr. Callie Torres, but I'm just as curious as the fans are. I think it would be really exciting to see what Dr. Callie Torres is doing these days. So yeah, I'm definitely open to it. I would love to see it."
Sofia teased 'big news' for 'Grey's Anatomy' fans
After ABC renewed Grey's Anatomy for Season 19, Eva Ariel Binder — who portrays Sofia — shared a congratulatory post on Instagram. 
"Just a big Congrats from your Sofia to Grey's Anatomy on a SEASON 19!" Binder wrote in the caption. "Super excited! Also, to my amazing Grey's fans I have some big news coming! Hope you will like it!! @abcnetwork @greysabc #sofia #sofiarobbinssloantorres #greysanatomy #greysanatomyedits #greysanatomybrasil"
Many fans hope that the "big news" indicates either Callie or Arizona (or hopefully both) return to Seattle with Sofia. However, ABC did not break the news about either return yet for Grey's Anatomy Season 18. Luckily, the ABC renewed the series for season 19 and promoted Ellen Pompeo, so if Calzona doesn't return this season, there's always next year.
Grey's Anatomy returns to ABC on Feb. 24, 2022, for a crossover event with Station 19.
RELATED: 'Grey's Anatomy': Jessica Capshaw Reunites With the Cast and Fans Hope Arizona Robbins Will Come Back in Season 17