'Grey's Anatomy': Christina Yang Returned to the Show—with More Than Just a Text This Time—Fans Shed Happy Tears
Producers of 'Grey's Anatomy' give fans another Christina Yang tease.
Throughout Grey's Anatomy's 16 seasons, we have seen many actors come and go. Every time someone leaves, fans beg to have them back. Stars such as Patrick Dempsey (Derek Shepherd) and Kate Walsh (Addison Montgomery) are on the top of the list. However, no one is more requested than Meredith's (Ellen Pompeo) person, Christina Yang (Sandra Oh). 
On October 17, 2019, Yang made a 'cameo' within a text conversation between Mer and Christina—but it wasn't exactly what fans had in mind. The producers heard fans' cries for more, and this time came through with an even bigger tease during the November 14, 2019 episode.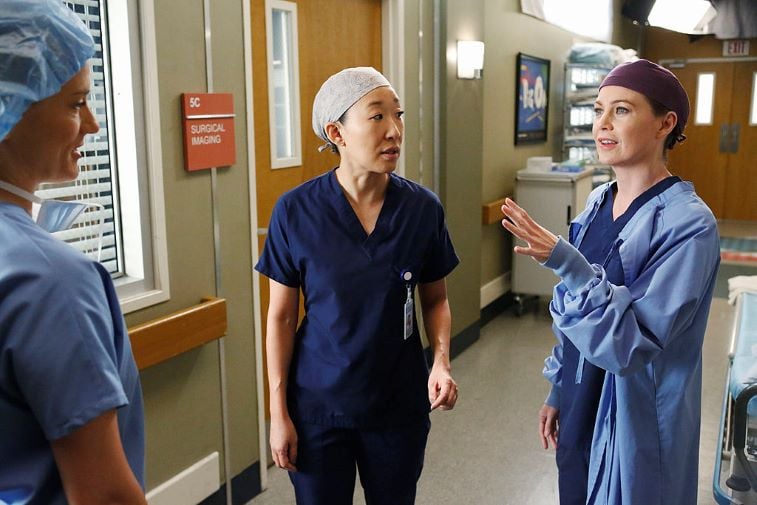 Here's a quick recap of Yang's departure and appearances since she left 'Grey's Anatomy'
When Christina Yang left Grey's Anatomy after season 10, fans were devastated. She moved to Zurich, Switzerland, to take a job alongside her old fling, Preston Burke (Isaiah Washington). Hopefuls thought we might see short scenes of Yang working in Zurich in future seasons, but the wish never materialized.
Yang made a brief appearance at Derek's funeral in season 11. There was a clip in which we see the back of Meredith's head standing next to a brunette. 
"Cristina was there," Director Kevin McKidd told TV Line. "I presume Sandra was busy and unavailable for that episode, which was the only reason why [a body double was used]. That funeral sequence was meant to imply that Cristina was obviously there for Meredith. Her presence was felt."
Mer's person also sent her a text during the episode titled, "It's Raining Men." Meredith was catching a ton of heat from Bailey (Chandra Wilson) over an article that took Meredith's words out of context. 
"Move to Switzerland before Bailey murders you in your sleep," read the text from Christina to Mer. Fans screamed over the excitement of the text, but it just wasn't enough to quench their thirst for Yang's return to Grey's Anatomy.
'Grey's Anatomy' teases fans with another—sort of—return of Christina Yang
During the episode titled, "My shot," fans were given another colossal tease from Christina Yang. Meredith is on trial—at a hearing—awaiting the final decision regarding whether or not she will get to keep her medical license. 
Things are not looking good for her professional career when her past patients begin filtering into the room. They start speaking on her behalf, thanking her for saving their lives. Then, to fans' excitement, Alex Karev (Justin Chambers) begins reading a letter from one of Mer's co-workers. Diehard fans of Grey's Anatomy knew it was Christina who wrote the letter. 
"I can honestly tell you that if a surgery stood between me and death," read Karev, "Dr. Grey's hands are the only ones that I'd want inside my body. She's the light in a broken system that she'll fix. She is the sun, and she is unstoppable. Sincerely, Dr. Cristina Yang."
The letter was not exactly what fans were hoping for in the way of a Yang return, but it did make viewers very happy.
Fan reactions to Christina Yang's letter to defend Meredith
"As soon as he (Alex) started reading that letter," wrote one fan on Reddit, "I KNEW it was her and started happy crying!"
Although Sandra Oh was not brought back for the episode, fans seem genuinely happy to have such a heartfelt letter from Christina read.
"Christina is still present in Mer's life, even if she isn't there physically," wrote another Reddit user. "And we've seen that reflected especially well in this season." They continued, "In life: You can't make an actor who left a show return, but you can do your best to make sure their character still exists within the universe."
Fans understand that Oh may not be able to make appearances on the show, as much as they ask for it. For the time being, fans are pleased with the way that the producers chose to add Christina to this critical moment in Meredith's life. 
Catch new episodes of Grey's Anatomy on Thursday nights at 8 p.m. on ABC.