'Grey's Anatomy': Could an Illness Bring Teddy and Owen Back Together This Season?
Owen Hunt has had one of the longest and least fruitful searches for love in the Grey's Anatomy series. He thought he had finally found a forever romance when he proposed to his longtime friend Teddy Altman. But at the end of season 16, Owen discovered that Altman had been cheating on him. Do the two stay together this season?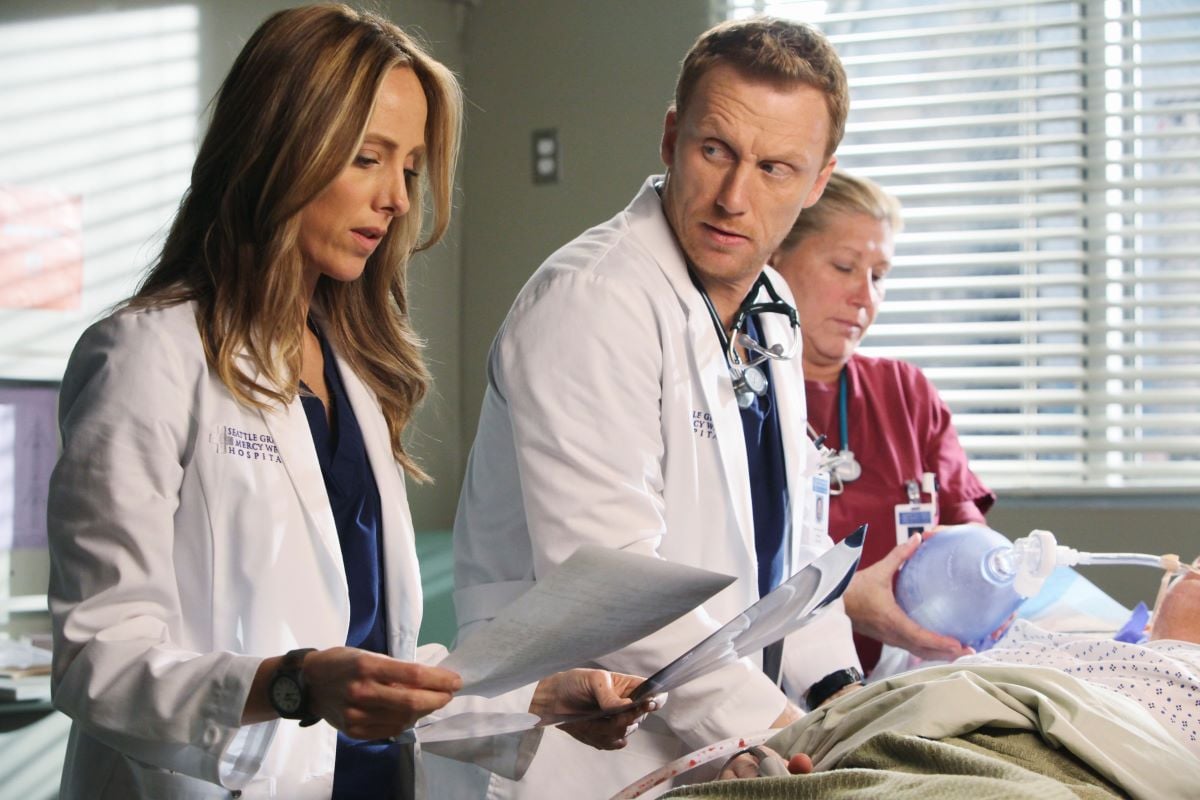 What happened at the end of season 16?
Altman and Hunt have gone through years of being on and off. When Altman first came into town, Hunt was with Cristina Yang. When they broke up, Hunt got together with Amelia Shepherd. During a brief break with Shepherd, Hunt and Altman slept together and she got pregnant with his baby. When Shepard and Hunt officially broke things off, Hunt and Altman finally decided to give their relationship a shot.
During one of their off times, Altman started dating Tom Koracick. Even when she and Hunt got back together, she continued sleeping with Koracik. On the day of her wedding, Altman had one last goodbye hoorah with Koracik. Unfortunately, she accidentally sent a voicemail of the encounter to Hunt.
Does COVID bring Teddy and Owen together?
At the end of last season, Hunt didn't show up to his and Altman's wedding, leaving fans to believe that he was possibly done with her.
RELATED: 'Grey's Anatomy': Kim Raver Says Chris Carmack (Link) Wrote 'Teddy and Owen's Song'
This season, the show is going to largely reflect what is going on in the real world by showcasing the coronavirus (COVID-19) pandemic. And the pandemic might actually bring Hunt and Altman together.
"I think you're right that out of anyone, Teddy and Owen are kind of prepared for this because of their army training," Kim Raver, who plays Altman, recently told Entertainment Weekly. "You have to put everything on hold during this pandemic and just get everyone kind of to safety, so to speak. So I think that that's exactly the path that we're following. They have their huge, gaping wounds that Teddy caused. Then we have this pandemic and how are they facing it?"
Ultimately, the pandemic could cause Altman and Hunt to put aside their personal issues.
"I think that that's also what's interesting about healthcare workers is that they put others first," Raver told the outlet. "And so many people, the real healthcare workers, were putting their kids and everything on hold and they were going into a war zone. It's an amazing storyline to be able to tell with Teddy and Owen and Koracick, how are they going to heal themselves? They're going to have to put the healthcare job first and saving others first and then simultaneously try to heal, if they can."
RELATED: 'Grey's Anatomy' Fans Could See the Return of the 'Most Underrated Intern' This Season
Fans are still mad at Teddy
Raver's character has gotten a lot of grief from fans for her actions, but Raver doesn't think all of it is necessarily fair.
"I think it's interesting that it's a woman going through this because there seems to be more forgiveness when it's a man," she said." I know that the fans are very upset and I'm upset with Teddy. There's a universal thing of when you have what you want, the healthy people make it blossom, and the people that need work kind of blow it up. And I think we've all been there."