'Grey's Anatomy' Creator Shonda Rhimes Says Women Need To Do More Of This
Producing powerhouse Shonda Rhimes has some advice for women when it comes to their successes.
Media mogul Shonda Rhimes is known for her prime time television hits including Grey's Anatomy, Scandal, and Private Practice. Now moving on to Netflix after signing a multi-million dollar development deal, Rhimes has firmly established herself as a producing powerhouse.
In a 2018 awards ceremony for Elle's Women in Hollywood, Rhimes encouraged women to take up a new practice when it comes to their successes.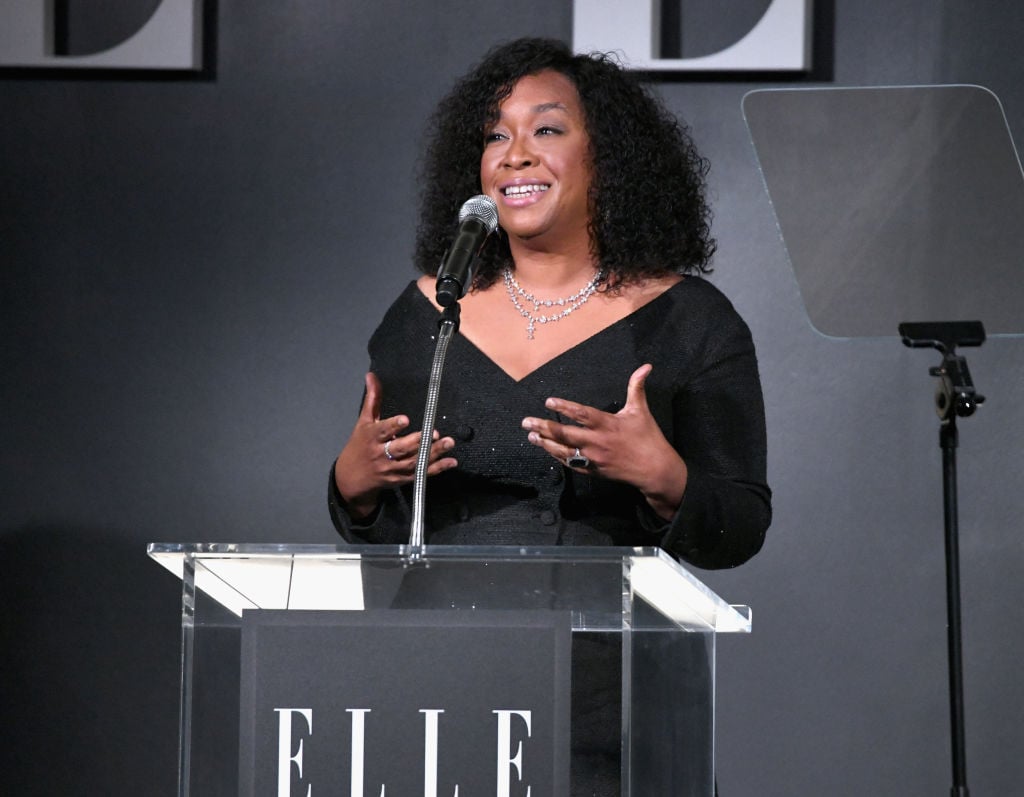 'Scandal' creator's partnership with Ellen Pompeo
Since Grey's Anatomy's debut in 2005, Ellen Pompeo has portrayed Dr. Meredith Grey from intern to successful surgeon. Rhimes partnership with Pompeo for 15-plus years has become a force to be reckoned with.
"Over the years on this show, Ellen and I have discovered how powerful we are — both separately and together," Rhimes said at the awards ceremony, according to her website Shondaland.com. "When Ellen and I are working together to get what we want, what we deserve, we make a truly terrifyingly powerful awesome pair of badass women warriors."
Rhimes noted that their successful collaboration gave them more clout as time went on. "See, over the course of our 15 seasons, Ellen and I went from believing we were employees of a network to understanding WE were the network," the Grey's creator explained.
Ellen Pompeo's article sets an example
Pompeo fought for a huge salary bump after co-star Patrick Dempsey left the show in 2015 and wasn't shy about sharing her process in getting the raise. In an interview with the Hollywood Reporter, Pompeo openly shared how she fought for the wage she felt she deserved. Rhimes applauded her colleague for taking such a groundbreaking step for women.
"A little while ago, in an inspiring article, Ellen told the world she was the highest paid woman in dramatic television," Rhimes recalled. "She did not hide. She bragged. She said she was powerful. And she said she deserved it."
Rhimes also addressed the flak Pompeo soon received after the article was published. "There was some blow back. And there should not have been," the television producer stated. "I have seen a thousand articles like that from men. But she's a woman. And people felt she shouldn't say things like that."
The media mogul confessed that she felt compelled to hide her success in her agreement with Netflix for fear of a backlash. "When I made a deal with Netflix, I let them report my salary wrong in the press and then did as few interviews as possible," Rhimes admitted. "I put my head down and worked. In other words, I hid… How can I inspire anyone if I am hiding?"
Shonda Rhimes encourages women to sing their own praises
After giving examples of Pompeo's experience and her own, Rhimes came to a valuable conclusion. "Women do not brag enough. The other day, I came to the conclusion that men brag and women hide," she said. "And when men do deserve to brag… oh my gosh, they are so good at it… Men brag about EVERYTHING. Even things that aren't things."
To illustrate her point, Rhimes decided to set an example. "Let me take a deep breath. And on behalf of women everywhere and in the name of not leaving my sister hanging, I will… brag," she stated, adding, "I am the highest paid showrunner in television. And I deserve it."
The Netflix producer drove home her speech with reminding the audience to believe in themselves and stop hiding their successes.
"We need to set an example. I am awesome. We are awesome," Rhimes declared. "Which is another way of saying we have power. We are powerful women. And when we say we have power, what we are really saying is, we DESERVE to have power. We DESERVE whatever good thing it is we are getting."