The 'Grey's Anatomy' Crossover in the 'Station 19' Season 3 Finale Features a 'Life-Threatening Situation'
Grey's Anatomy Season 16 may have been cut short by four episodes due to the coronavirus (COVID-19) pandemic, but a few fan-favorite characters are popping up in the Station 19 Season 3 finale. Recently, showrunner Krista Vernoff teased another Grey's Anatomy and Station 19 crossover in the final two episodes of the spinoff's current season. Now ABC has released all the details, including which actors will be featured as guest stars.
Krista Vernoff teases the next 'Grey's Anatomy' and 'Station 19' crossover after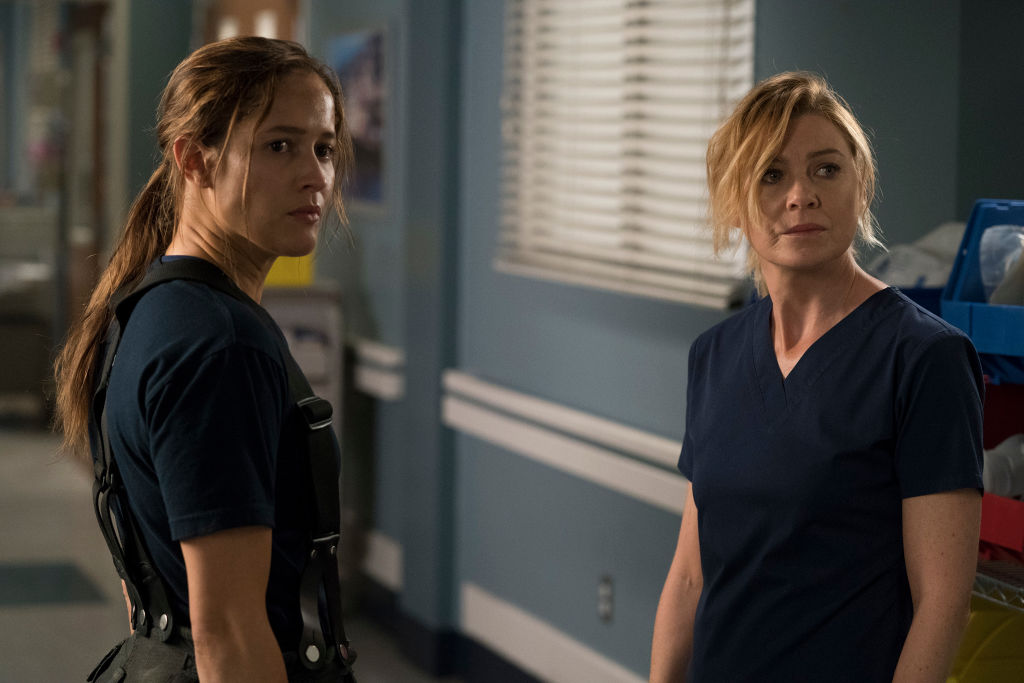 When Grey's Anatomy Season 16 wrapped on April 9, all the doctors were left safe and sound. Then on April 14, TVLine reported the original finale involved an event that could have potentially killed off a major character. The publication noted showrunner Krista Vernoff was unable to confirm the rumors. However, she teased the Station 19 Season 3 finale could show fans what was supposed to happen at the end of Grey's Anatomy Season 16.
"Ironically, when fans watch Episode 15 and 16 of Station 19, they will probably have a feeling of some of what we had planned for [the original Grey's finale]," Vernoff said at the time.
TVLine also confirmed Grey's Anatomy storylines pushed back to season 17 have been edited out of the Station 19 finale.
[Spoiler alert: Station 19 Season 3 Episodes 15 & 16.]
Which 'Grey's Anatomy' stars will guest star in the 'Station 19' finale?
Recently, ABC shared press releases for the 15th and 16th episodes of Station 19 Season 3. For the May 7 episode — titled "Bad Guy" — Miranda Bailey (Chandra Wilson), Jackson Avery (Jesse Williams), and Levi Schmitt (Jake Borelli) are set to appear.
According to the episode's synopsis, Ben, Jackson, and Emmett Dixon (Lachlan Buchanan) are put into a "dangerous position" alongside a potential victim. Meanwhile, Andy Herrera (Jaina Lee Ortiz) digs into her family's background as Vic Hughes (Barrett Doss) and Travis Montgomery (Jay Hayden) uncover a corruption scheme.
Then in the next Grey's Anatomy and Station 19 crossover in the finale on May 14, Ellen Pompeo, Caterina Scorsone, Kim Raver, and Stefania Spampinato guest star as Meredith Grey, Amelia Shepherd, Teddy Altman, and Carina DeLuca, respectively. The 16th episode — titled "Louder Than a Bomb" — also seems to continue where "Bad Guy" leaves off.
Per ABC, the synopsis reveals Andy grows suspicious of her mother's death and she goes to her aunt (Laura Ceron) for answers. Robert Sullivan (Boris Kodjoe) will also undergo surgery for his chronic leg pain. Then other members of the Station 19 crew must evacuate a doctor from Pac-North. But they end up in a "life-threatening situation."
Will 'Station 19' and 'Grey's Anatomy' receive another season?
For now, Grey's Anatomy and Station 19 fans must wait and see how the crossover unfolds. But it certainly feels like the third season finale will leave everyone on a cliffhanger. Luckily, both Shondaland shows have been renewed for another season.
In April 2019, Grey's Anatomy was renewed through season 17. That said, no one knows when the medical drama will end at this point. During an interview with Deadline in April 2020, Vernoff revealed those discussions won't come up until things return to normal. She said:
I will not start planning the end of Grey's Anatomy until Shonda [Rhimes] and Ellen and ABC all sit down together, tell me that this really the end this time. The truth is those conversations might be being had if we weren't dealing with a global pandemic, but everyone's gone home, and I suspect we'll start talking about that in a month, or two.
Meanwhile, Station 19 was picked up for a fourth season on March 11. In a statement, ABC Entertainment President Karey Burke said:
Krista Vernoff is a sharp, superb storyteller and we're so grateful to her – along with the talented cast and crew – for all they've done to make Station 19 thrive this season. This addictive, rich show is hitting series highs this year for a reason, and we can't wait to deliver more great stories to our passionate audience.
Read more: Will Jackson Avery Leave 'Grey's Anatomy' for 'Station 19?