'Grey's Anatomy': Debbie Allen and Jasmine Guy Remake' Relax, Relate, Repeat'—Fans Beg for 'A Different World' Reboot
Last season, Jasmine Guy joined the Grey's Anatomy cast as a guest. This season she is a recurring character, and she is having some fun with Debbie Allen off-screen.
In the drama, Guy plays Gemma, an old friend of Richard Webber (James Pickens Jr.). Gemma is adding to the relationship troubles between Allen's character, Katherine, and Richard. Let's take a look at the video Allen and Guy shared that has fans freaking out about the possibility of A Different World reboot.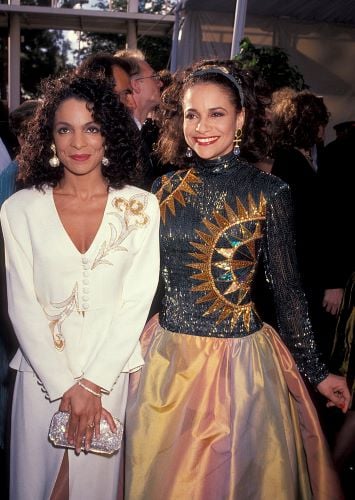 Allen and Guy share a video on social media that has 'A Different World' fans in a frenzy
In a recent video, Allen and Guy take a close-up video of the pair singing, "Back together again. Relax, relate, repeat." They are laughing and having a great time together, which is entirely different than what happens between the two in Grey's Anatomy.
The GIFS start flying as soon as the video was shared. We are shocked by the number of people who know what the duo is referring to with their "Relax, relate, repeat."
You may remember that Allen and Guy were in a show together once before, 20 years ago. Allen produced and directed the sitcom, A Different World, which Guy starred in as Whitley for all six seasons. 
Allen made guest appearances on the show as Whitley's psychiatrist. It is one of those therapy sessions that birthed the "Relax, relate, repeat," jingle that the social media video remakes.
One fan tweeted, "I remember this and still say it to this day." Other fans replied, "Me too!" The short video clip gained almost 4,000 retweets and 22,000 likes on Twitter alone.
'A Different World' fans beg for a reboot or at the very least a reunion
Debbie Allen initially tweeted the video that has fans in an uproar of excitement. The Hollywood Reporter wrote that Debbie Allen transformed the show 'from a bland Cosby spin-off into a lively, socially responsible, ensemble situation comedy."
The media confirmed what the Hollywood Reporter wrote so many years ago with their emphatic requests to reboot the series.
"This is my childhood restored," wrote one fan on Twitter.
"My childhood, we were so lucky to have such strong female role models on television like these two legends," commented another.
Then the requests started coming in fast, "isn't it time for an OFFICIAL A DIFFERENT WORLD reunion show/movie?" To which, another fan replied, "Yessss a live show like how they did The Jeffersons, [and] All In The Family." Many other fans responded, "Yes, it's time."
At the very least, fans would like to stream episodes of their favorite show. One fan wrote, "I really really REALLY wish episodes of A Different World were either on Hulu or Netflix."
Is there a possibility that Debbie Allen will reboot 'A Different World'?
It is plausible that this short video clip could have reignited potential ideas for A Different World reboot or reunion. 
Back in August of 2012, Allen wrote on Twitter that she wants to reboot A Different World. Over 1 million people on Facebook and Twitter reacted to the tweet and approved the potential reboot. 
There are entire fan pages on Facebook, Twitter, and Instagram dedicated to the reboot. Fans create shirts, sweatshirts, and other gear that feature Hillman College as well as the names of all of the characters.
Anytime actors from the show get together, fans are quick to share the video clips and photos. In 2017, Kadeem Harrison, who played Dwayne, did an interview with Guy sharing that he had a crush on her back in the day. Everyone loved seeing the two back together and continually request a whole cast reunion.
Fans imagine the reboot of the show back at Hillman College with their favorite stars as professors and a whole cast of new students coming in. As of now, there is nothing in the works, but with reboots being all the rage in Hollywood right now, we would not be surprised if it happened.
Until then, you can catch Allen and Guy on Grey's Anatomy together Thursday nights at 8 p.m. on ABC.